Fill this Form to Get 5 Day Free Course on Options And Immediately Get an email to Download eBook on Option Greeks
Today on Saturday, 03-June-2017, at 7.07 am morning I received an SMS which was quite shocking.
Here is the screen shot: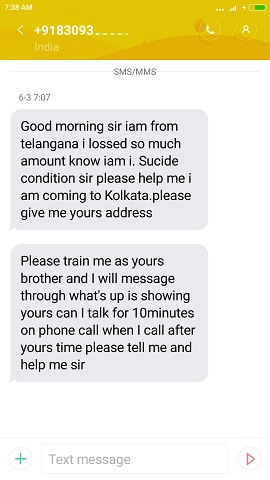 Here is the text (spelling mistakes corrected):
Good morning Sir, I am from Telangana. I lost so much amount know, I am in Suicide condition sir please help me, I am coming to Kolkata. Please give me your address.

Please train me as yours brother and I will message through what's up is showing yours, can I talk for 10 minutes on phone call when I call after yours time please tell me and help me sir.
Imagine seeing this first message as soon as you get up on your phone.
There are a lot of things which are clear:
1. Emotional blackmail: Well I keep getting such messages and calls. But such emotional messages are mostly from South India (please do not take it personally if you are from south India, I am just telling a fact). 60% of my customers are from South India. Yesterday I got a call from someone speaking in very good English. He said. "Sir I am a farmer selling vegetables. It is very hard to survive, please help me. I will pay Rs.1000/- please send me your strategies."
Speaking English like well educated person, but giving an excuse to save 4000. Obviously I said, "No rules is same for all, when you sell vegetables to a poor man, do you give him 80% discount?" He kept down the phone.
But this morning SMS was shocking. Not even once he said he will pay the course fee, but he is willing to come to Kolkata from Telangana and learn personally from me.
Lets calculate the approximate cost to some to Kolkata from Telangana and learn the strategies personally from me without paying the course fees:
1. Travel cost by Airplane: Rs.7000/- or more approx (2000 more than the cost of my course)
2. Stay at a hotel for 2 days: Rs.4000/-
3. Food for 2 days: Rs.2000/-
4. If he decides sightseeing in Kolkata: Rs.3000/-
5. If he decides sightseeing near Kolkata like Darjeeling and Gangtok: Rs.12000/-
6. Course Fees he is not willing to pay: Rs.0/-
Total cost: 7000+4000+2000+3000+12000+0 = Rs.28,000/-
This guy has lost lot of money in stock trading so much so that you know what. He needs my personal coaching to learn my course strategies. For that he is willing to spend Rs.28,000/-, but is not willing to pay the fees of the course. Strange.
After taking the screen shot, I deleted the message. I did not reply, nor called him.
2. What is the truth behind the SMS? May be he is a crorepati who knows?
3. Giving a shot to emotionally blackmail to get the course for free.
A few months back one person called me. He was crying and said he is retired, aged 65, and lost 80% of his retirement money trading stock markets and he needs my help. Read – he wanted the course for free.
For 6-7 months, end 2013 to mid 2014, I gave a lot of advise for free, but no one bothered. Then I realized I am wasting my time, no one cares for free knowledge. Here is some proof. Only 13.1% read my absolutely free emails. This data is since 03-Aug-2013, when I started helping people for free. Paid course started in May 2014 only after I realized free is not valued. See this image:

Well I have more than 10,000+ mobile numbers in my database and I can easily keep one marketing guy to call people to do my course. I NEVER do it and will NEVER do it. Did you ever got a call from me after filing the form in my site? No, you will never get a call from me ever.
The email is taken to send you free emails that is all that too if you are interested and filled the form, and the phone number is taken to help you save money on brokerage, there is no other reason.
Both are to help you. But everything is your choice.
– You can unsubscribe from my emails anytime,
– You can reject the offer to save money on brokerage, though you will be doing a mistake. Saving money is making money, and,
– And you can enroll for my paid course or not enroll – it's your choice.
In fact all of the above is your choice.
Frankly at least 70% of my customers have done my course after 1 or more year of being my free subscriber and am sure after losing money trading, then thinking ok let me try to recover the lost money by doing this course. Most of them do my course as a "Last Chance" to recover lost money from stock markets.
What you should do now
1.
If you have still not subscribed for my free 5 days course you can do by filling the form above. You will learn a lot about option trading.
2.
If you are a new option trader, not much experienced and are making losses you can do my paid course. I recommend
Nifty Conservative Option Course
for beginners because it is easy to understand and easy to trade. Even a 18 year old young trader or a housewife can learn it and start trading from next day. It will help you to earn consistent monthly income without any software or speculation or stress or big risk. You will learn proper hedging strategies that works in any market condition.
3.
If you are banknifty weekly options trader you can do my
Bank Nifty Weekly Options & Futures Strategy Course
. You will learn future and option hedging strategies that works in volatile market condition.
Testimonials
What Traders Say About My Course
Course fees:
Click here to know the course fees
.
Here is complete process of my course
1.
Once you pay I will send you the course materials for studying to your email.
2.
You read and ask me questions via phone/whatsapp/email to clear doubts.
3.
Then you start paper trading and still can ask me questions.
4.
After about one month you can start trading.
5.
Since doubts can come anytime the support will be there for one year.
Within one month you can start trading on your own. No need to depend on anyone once you are on your own.
If you have any question you can
contact me
.
You can read
about me here
and
my trading mistakes here
.
TheOptionCourse.com Copyright @ All Rights Reserved
Dilip Shaw, Founder
Copyright Infringement: Any act of copying, reproducing or distributing any content in the site or newsletters, whether wholly or in part, for any purpose without my permission is strictly prohibited and shall be deemed to be copyright infringement.
INCOME DISCLAIMER: Any references in this site of income made by the traders are given to me by them either through Email or WhatsApp as a Thank You message. However every trade depends on the trader and his level of risk taking capability, knowledge and experience. Moreover stock market investments and trading are subject to market risks. Therefore there is no guarantee that everyone will achieve the same or similar results. My aim is to make you a better & disciplined trader with the stock trading and investing education and strategies you get from this website. Please note that I DO NOT give tips or advisory services by SMS, Email, or WhatsApp or any other form of social media. I strictly adhere to laws of my country. I only offer education on finance, investments on stock markets in the best possible way as much as I can through this website. Still, you must consult an authorized advisor or do thorough research before investing in any stock or derivative before trading any strategy given in this website. I am not responsible for any investment decision you take after reading any article given in this website. Knowledge is the only way to get success in stock markets. I try my best to give stock market investing and trading knowledge through the articles posted in this website. Thanks for visiting my website.