Open ZERO Brokerage FREE Share Trading Account - Buy and Sell Stocks Without Brokerage - Set Good Till Cancelled (GTT) on System and Forget
Traditional brokers charge a lot for brokerage; however, this broker does not charge anything for stock buying and selling. Also, you can set a Good Till Cancelled (GTT) order after buying stock so that the system can sell the stock automatically at your desired price even if you are not monitoring the market. Only 25k is blocked for option selling with hedge. It takes 5 minutes to open an account online. I will help you to learn options hedged trading if your account is opened today. Click here and Open Free Account with Them Today >>
I have been explaining for long why I do not offer my course for free, because people do not give value to anything free. This post will prove the point. This is an interesting post, nothing to do with options but human psychology. Please read and let me know what you think. There is something I have decided which you will know in the end.
Even before I started this blog, I acquired good knowledge of finance, money management, investing, stock markets etc. So whenever my friends talked about their financial advisers/bank managers giving them investing advice – I used to give them free advice – usually telling them not to go by their advice. I do not like advice from these people as most sell ULIP (Unit Linked Insurance Plans – A Unit Linked Insurance Plan (ULIP) is a product offered by insurance companies that, unlike a pure insurance policy, gives investors both insurance and investment under a single integrated plan) to generate commissions. Customers make almost nil returns when these plans mature, while the agents/employees make hefty commissions. Customers realize only when these products mature. Most do not even pay the full term and close the plan in 3-4 years making huge losses.
Unfortunately they used to confront me asking how come I know more than them, and invested in what their financial advisers sold them. So I have stopped advising my friends. Even if they ask for advice, I tell them to do what they think is the best for them, because deep down I know they will not listen to me.
When I started this blog in 2014 unknown people started asking me questions, of course stock markets in general and options in particular. At that time the site did not have my contact number, only the contact us form. Initially it was a couple of emails a day, but as the traffic grew, emails grew to 20-25 a day. I used to spend some 3-5 hours daily helping people for free. I was very happy doing it. I thought this time the pattern will differ, people will listen to me, but no Sir I was wrong. These people started sending me their own trades and "victories" in one or two trades. I did not receive a single thanks email in those 4-5 months of helping people for free. In fact I got back questions on my answers like – "why you think so?", "what if this happens – so I am not heeding to your advice", and when I used to give them good hedging advice I got answers like, "this will reduce my profits I don't like it."
I was started to getting frustrated when one day when my wife told me I was just wasting my time, I realized I really was. I therefore started a paid conservative option course.
What I found that when you advice for free, the pattern of response remains same. Friends or unknown people, no one appreciates free advice even if it comes from an expert.
However I kept giving free advice occasionally on my site to my subscribers. But recently something strange happened. Whenever I send emails to my 7000+ email subscribers (email subscribers only, not paid customers) a couple of them unsubscribe. That's OK, this is quite natural. But on 15th March 2016 more than 15 unsubscribed. This was my last email to book profit on 7000 PE sold that I advised to sell on 8th Mar 2016.
See this – I deleted a few emails could be around 5, as I thought it to be normal but then this happened:

15 unsubscribed in a single day – I was shocked. I mean here I am doing research like a fool, trying to help you to make money just because you subscribed to my site and told you an almost guaranteed trade to make money without taking a single paise from any one, and when I asked to booked profits you get annoyed. Strange.
Some in fact thought I am cheating people. See this: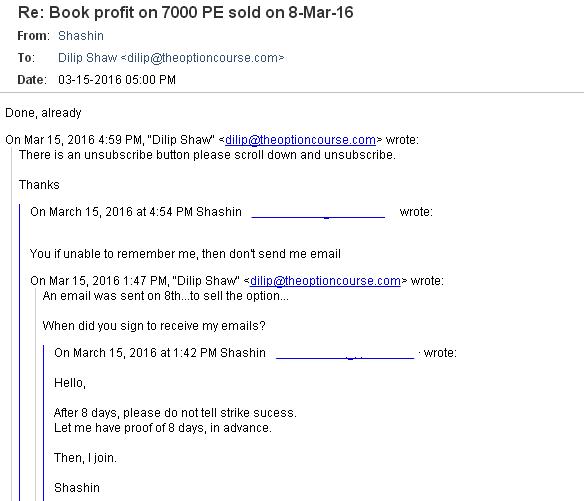 Basically he does not believe I sent an email on 8th. The email would have gone into SPAM folder, or he may not have opened it – is that my fault? So thought may be this person subscribed after 8th so I politely asked him the subscription date. His answer – if you do not remember then do not send email. Am I suppose to remember when 7000 people subscribed to receive my newsletters? How is that possible? Ok I could have seen it in my system but I thought he could be a recent subscriber so asked just to know what happened. But I got this strange reply. 🙁
One person thought this to be a joke.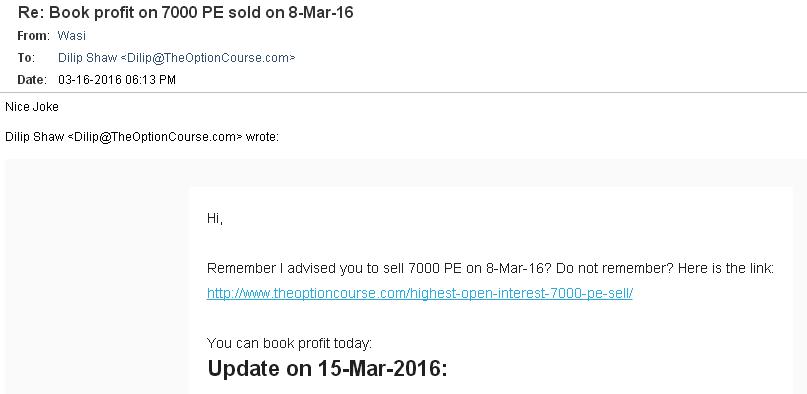 🙁 🙁 Joke??? Really???
I have given free advice on my site a lot of times:
ICICI Bank book profits 11.32% rerun in 35 days.
10% in 45 days.
India VIX Dropped book profits
How to trade the Budget Day 2016/
6800 bottom for Nifty and other ideas to trade
Puts Costly than Calls, Arbitrage Opportunity
Long Strangle book your profits
Book profits in Put Credit Spread/
And many more. Had people taken them seriously they would have made good profits. But did they?
After so many free advice I got only one response here:
Puts costly than Calls, Arbitrage Opportunity. See the comment there someone made 1016 bucks:

Could be 2 more people who did not bother to inform me. So out of thousands of subscribers only 3-4 actually made money off these free advice. The rest never bothered with free advice. Which proves free advice is useless.
One of my advice failed though:
http://www.theoptioncourse.com/buy-axis-bank-trade-the-directional-strategy/
This was buy Axis bank at 484. It is currently around 430. But frankly I doubt anyone invested, and if someone actually did they can hold their investments. After all its a good company like Axis bank and you are sure to make a profit – its just matter of time.
Looks like someone was waiting for something I said to fail. So I got a WhatsApp message a few days later when Axis bank stock fell 10% from that level – "someone with too much ego fails – what happened to your Axis bank"?
That message is deleted. I felt very embarrassed and was like scratching my head. I told him politely that I am no super computer and I can fail – this is part of our life and you are free to take my advice – after all its free. He then messaged me – "then do not advise".
One failure out of so many and you get scolded. 🙂
A few days back I got an email from a retired 60+ doctor. At the age of 60+ he involves in dangerous aggressive trading – selling naked puts. He was in huge losses. I thought I should help him and ask him to stop this aggressive trading as this can destroy his wealth that he made through years of savings. I also wanted him to do my option course as it is best suited to retired people – at least the conservative strategies. It is properly hedged, returns beat inflation by far, it makes passive income plus it gives time to enjoy life without too much stress thinking about the stock markets. In due course of time lots of emails got exchanged between us. Neither he listened to my advice, nor he did my course.
He wasted his time, I wasted mine. 🙁
When I emailed him after a few days telling him that he forgot me after the help, he replied by saying he did not forget, but he learned a lesson from the loss. Do not know what lesson he learned, but at the age of 60 you do not have time to learn lessons or do experiments with stock markets. Suppose he learns the perfect strategy by the time he is 65, where is the time to get the lost money back plus make a profit? It is strange he is not wiling to pay just 5000 for the course and learn a few conservative strategies. He is rather willing to lose lakhs of money and time trying to do things on his own. This at the age of 60. Strange.
Whatever happened, I felt like a fool. 🙂
See his email: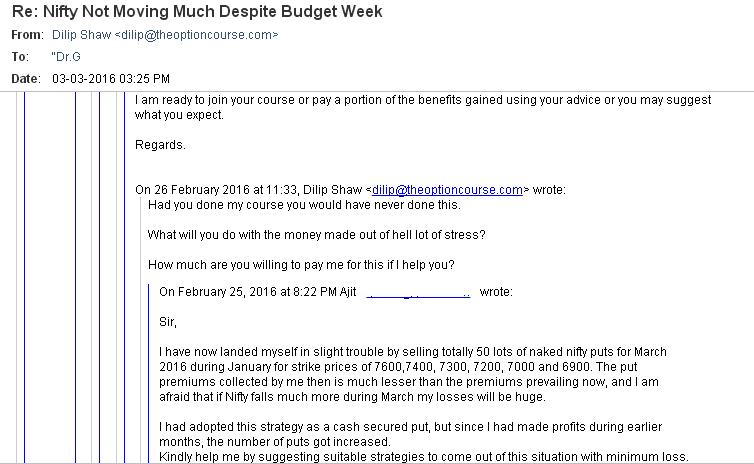 I have come to the conclusion that Free Advice is NOT respected or given value and none of my subscribers is trading them, so basically I am wasting my time.
Therefore hence:
"I will NEVER publish any Free Advice to Buy/Sell a Stock, Option or Future."
I may trade myself and make money, but never write in this site. I will also not offer free advice to anyone by emails.
Henceforth, my full attention will be my paid subscribers of the course.
And therefore all my future newsletters will ensure my paid subscribers get help to trade my strategies better. This includes when to trade my strategies and VIX related newsletters.
Of course I will keep writing articles on stock markets, options and futures, but I will NEVER directly endorse buying or selling a stock or option.
On all of the above free strategies, had I charged you even Rs. 1000/- you would have taken it very seriously, given it value and actually traded and made a profit. You would be happy and I would be happy too.
A lot of people make fake stories of losses and email me to send them the strategies for free to help them recover lost money. Emotional blackmail. Of course I ask them politely to pay so that they give it value. I hope all those people now understand why did not send them the strategies for free.
If you are thinking of doing my course you should pay to get the course otherwise you will never give a serious thought to it and you will not have the motivation to seriously trade them. If you do not pay the fees you will never have any respect for it and it will just by lying in your inbox just like all other dead emails.
Hundreds of customers testimonials. 80% success rate, 3% a month looks like joke when some people make lakhs per day. (Yes Ravi still doing great. I will share his latest email later this month.) Stress free trading. 5000 is not a big deal and my service for 1 year makes this a no brainier.
So please do not keep waiting for free tips, when you will get it, you will not value it. Learn to pay, buy the course today.
Disclaimer: I have never thought myself as an expert of stock markets. I consider myself a very conservative and hard working trader that is it. The topic of the post is to help you understand the basis of the post, because a lot of people think I am guru or expert but still do not give value to my free advice – that is why "expert" word is used in the topic of this post. When I started trading I was even worse than you. Knowledge changed me completely.
TheOptionCourse.com © Copyright Since 2013 ® All Rights Reserved
Click to Share this website with your friends on WhatsApp
COPYRIGHT INFRINGEMENT: Any act of copying, reproducing or distributing any content in the site or newsletters, whether wholly or in part, for any purpose without my permission is strictly prohibited and shall be deemed to be copyright infringement.
INCOME DISCLAIMER: Any references in this site of income made by the traders are given to me by them either through Email or WhatsApp as a Thank You message. However, every trade depends on the trader and his level of risk-taking capability, knowledge and experience. Moreover, stock market investments and trading are subject to market risks. Therefore there is no guarantee that everyone will achieve the same or similar results. My aim is to make you a better & disciplined trader with the stock trading and investing education and strategies you get from this website.
DISCLAIMER: I am NOT an Investment Adviser (IA). I am an Authorized Person (AP) of a Stock Broker. I do not give tips or advisory services by SMS, Email, WhatsApp or any other forms of social media. I strictly adhere to the laws of my country. I only offer education for free on finance, risk management & investments in stock markets through the articles on this website. You must consult an authorized Investment Adviser (IA) or do thorough research before investing in any stock or derivative using any strategy given on this website. I am not responsible for any investment decision you take after reading an article on this website. Click here to read the disclaimer in full.
Disclaimer | Privacy Policy | About Me | Conservative Option Course | What Traders Say About This Course

Traditional brokers charge a lot on brokerage, however this broker does not charge anything for stock buying and selling. Also, you can set a Good Till Cancelled order after buying stock so that the system can sell the stock automatically at your desired price even if you are not monitoring the market. Plus only 25k is blocked for option selling. It takes 5 minutes to open an account online. Click here and Open Stock Buy & Sell Free Account with Them Today >>