Stock Buy & Sell FREE Demat Account
Well this I received from one of my course subscriber on Teachers Day 2016 from Priyanka. She was so happy that she sent me a cake, a Flower Bouquet and of course a Thank You & Happy Teachers Day emotional letter.
Thank You Priyanka, Thank You. May God Bless You & Your Family.
I am extremely sorry from the bottom of my heart Priyanka that it took me one year to upload it in my site. What to do, I single handily write in this site, manage issues in site, help people who have done my course, answer emails, trade myself and on top of that I have two young kids to manage – their school, other responsibilities as a father and husband.
In fact I have lost count on the number of testimonials still lying in my computer which are yet to be uploaded in the site. My apologies to them as well. But I promise one day I will upload them.
You can see yourself what she sent by Send My Gift.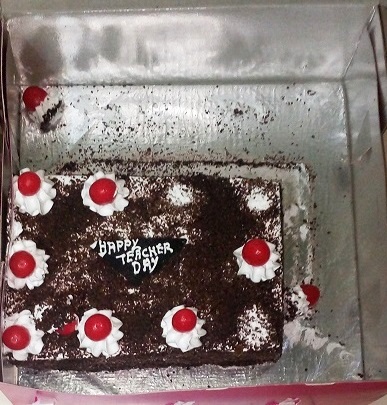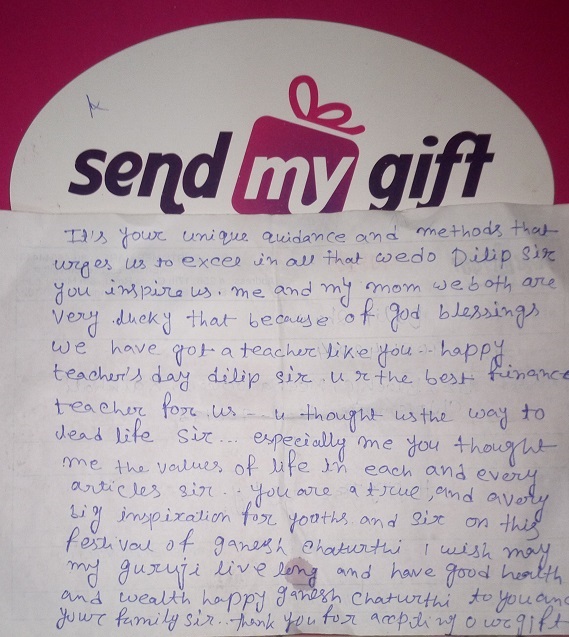 Thanks to Everyone who wish me on this day or any other day.
Links to All Course Testimonials Pages:
What Traders Say About This Course
Testimonials Year 2015
Testimonials Year 2015 Page 2
Testimonials Year 2015 & 2016
Testimonials Year 2016
Testimonials Year 2017
What People Say Just After Reading My Course
Emotional Testimonial by a Young Woman Trader and Her Mother
Privacy Policy | Disclaimer | Call 9051143004

TheOptionCourse.com Copyright @ All Rights Reserved
Dilip Shaw, Founder
Copyright Infringement: Any act of copying, reproducing or distributing any content in the site or newsletters, whether wholly or in part, for any purpose without my permission is strictly prohibited and shall be deemed to be copyright infringement.
INCOME DISCLAIMER: Any references in this site of income made by the traders are given to me by them either through Email or WhatsApp as a Thank You message. However every trade depends on the trader and his level of risk taking capability, knowledge and experience. Moreover stock market investments and trading are subject to market risks. Therefore there is no guarantee that everyone will achieve the same or similar results. My aim is to make you a better & disciplined trader with the stock trading and investing education and strategies you get from this website.

DISCLAIMER: I am NOT an Investment Adviser (IA). I am an Authorized Person (AP) of a Stock Broker. In other words I am a sub-broker. I DO NOT give tips or advisory services by SMS, Email, or WhatsApp or any other forms of social media. I strictly adhere to laws of my country. I only offer education for free on finance, risk management & investments in stock markets through the articles in this website. You must consult an authorized Investment Adviser (IA) or do thorough research before investing in any stock or derivative using any strategy given in this website. I am not responsible for any investment decision you take after reading any article in this website. Click here to read the disclaimer in full.