Open ZERO Brokerage FREE Share Trading Account - Buy and Sell Stocks Without Brokerage - Set GTT (Good Till Triggered) Orders on System and Forget
Traditional brokers charge a lot for brokerage; however,
this broker
does not charge anything for stock buying and selling
. Also, you can set
GTT (Good Till Triggered) order
after buying a stock, so that the system can sell the stock
automatically
at your target price even if you are
not monitoring the market
.
Only 25k is blocked for option selling with hedge
. Also,
you get a lifetime free account in Sensibull (virtual trading app & strategy builder) which charges Rs.800/-+GST a month. Learn option hedging strategy if you open an account today.
It takes 5 minutes to open an account online.
Click here and Open Free Account with Them Today >>
In this article you will learn some common mistakes first time investors do when investing in stocks and trading options and futures.
Well I have been there and done that. I have already written lot in the article mistakes I did while trading and am sure you have read it. If not please read it.
This is an extension to that article. In that article I wrote the mistakes I did in trading. Here I will write some common mistakes traders and investors do while trading, especially the new comers, the novice and sometimes experienced traders too.
Not everyone can become Warren Buffett or George Soros, neither can you copy their trading styles, but if you keep certain things in mind, you will be at least be a better investor than many failed investors.
Here is one investor/trader who was in the stock market for 20 years and made huge losses. This is historic blunder. Hope this does not happen to you in 20 years: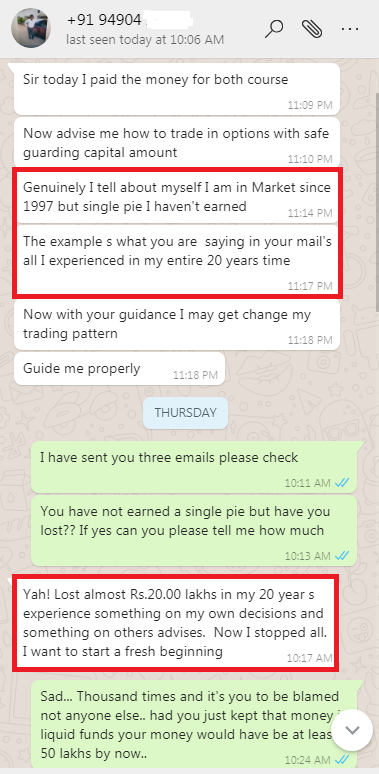 The problem with the above kind of investors is that they are not wiling to learn. They think its a waste of time learning online, reading books, or doing a course. Agreed doing a course will cost a small fees but it can help you make better trading and investing decisions. This small investment in learning to trade is better than losing lakhs in your entire trading career.
Note: I offer a course on becoming a better investor. It gives a lot of information on choosing good stocks to invest and process to follow to select good mutual funds to invest. You can read about it here.
Here are the Common Mistakes First Time Investors And Traders Do In Stock Markets
Getting Emotional / Excited As Soon As Demat / Share Trading Account is Opened and Hitting The Buy Button
Usually it so happens that when an account is opened the broker calls and give them some "guaranteed" stock or idea to invest/trade. Like they call and say buy ABC stock it will surly go up.
The trader gets excited and hits the buy button. (MISTAKE DONE)
After few days the broker calls and says, (if the stock is in profit) – book profit it will go down now. Then when the investor says yes, they give him another "great" idea.
Due to excitement the investor again says "YES". (MISTAKE DONE AGAIN)
If the stock is in loss, the broker calls and says limit your losses, so the investor gets scared and books loss. (MISTAKE DONE AGAIN)
In both the above cases the brokers makes money but the investor either makes money or loses money.
Lesson: Do not get excited and press the buy or sell button just because someone told you, it does not matter if they are your brokers. Press the buy button if you are sure of buying the stock or option.
Basics of investing is Buy Low and Sell High, Basics of Investing is Not Get Emotional and Buy
It is very hard to do buy low and sell high, but if you chose the correct stock, doing this become slightly easier for long term investors.
One of the best way to invest low and sell high is buy quality stocks when they fall for no reason – hold them until you make a profit of at least 10% and sell it. Gone are the days when people used to buy stocks and hold for 10 years. The world of stock markets have become very volatile, so its better to buy-hold-sell a stock if it has given you a decent profit. When your cash becomes free you can enter other stocks.
Never invest all your money in a single stock. Not more than 10% of your portfolio should be invested in a single stock.
No Paper Trading Done Most Start With Direct Trading
Traders forget that just because they have opened a trading account they are not guaranteed to make money. To make money in any business you need knowledge and skills, without them you will surly lose money.
Note: The above happens with most people who lose money in stock markets. Once a trading account is opened most traders dream of making a lot of money trading just because they are allowed to trade in stock markets.
To get a license to trade does not mean you have got license to become rich
When you gain some knowledge it is better to start doing virtual / paper trading.
Where to Virtual / Paper Trade?
NSE Paathshaala – NSE – National Stock Exchange of India Ltd, gives a platform to trade with virtual money.
Here is the link to trade with virtual money:
https://www1.nseindia.com/NP/nse_paathshaala.htm
Note: As on Jul 18, it is not working any more but you can check later if they have started.
Another way is to just write your trades on a sheet of paper, Notepad or on an xlsx (MS-Excel) on your Laptop or Computer and save it. This is Paper Trading.
How Long To Virtual / Paper Trade?
This depends on the trader. If you are comfortable enough to start real trading go ahead and start.
Virtual / Paper trading will give you an idea of how complex is to trade in stock markets. It is not easy at all, but virtual / paper trading will give you the experience you need to start real trading with real money.
Getting Lured and Trying Penny Stocks
Novice investors have seen penny stocks (small stocks) going up and down rapidly in one or two trading sessions. They cost lower than blue chip companies, they swing 10% in a few days, they can be traded in 500 rupees or less, they look promising and for various other reasons investors fall in trap and trade penny stock.
DO NOT TRADE OR INVEST IN PENNY STOCKS. When you invest on a news on penny stock you may see that it hits lower circuit or upper circuit continuously for a fee days and your money may be trapped.
These are rumor spread by interested parties on social media or SMS. These people first buy the penny stock, then spread the rumor that this stock may move 200% in a few days. If they are lucky whoever reads this rumor will invest in the stock taking the stock to a high level within few days. Then the rumor spreaders will book profis and exit leaving the retail investors in huge losses.
In My Books Penny Stocks are a Greed Trap
Let's discuss the truth of penny stocks:
They cost lower than blue chip companies: Yes they do, that does not mean they are good stocks to invest. Lower cost does not mean a stock is a good investment opportunity. Remember Satyam? It went from 200 rupees down to Rs. 10/-. In that case even a 10 rupees share can go down to 1. Just because a stock is priced lower does not mean it is a great stock to invest.
They swing 10% in a few days: Yes they do but what investors see is the swing upside, no one sees it swinging downside. Do not forget that swing can be both sides – up and down. There is no guarantee that when you buy a stock it will only swing upwards, it may go down as well.

In most cases this is what happens. Sometimes the down swing is so fast that lower circuit is hit and the investor is unable to exit the stock.

When a lower or upper circuit is hit, trading is stopped in that stock. No one can enter or exit the stock.

Imagine frustration of a buyer sitting at 50% profit in a few days but unable to book profits. What is the point of investing in a stock from where there is no return?

In case the stock is hitting lower circuit losses are even severe. One, the investor is seeing loses everyday escalating. Two, they cannot even exit and get too stressed.

As you can see how greed trapped them and when they realized their mistakes, they cannot even exit.

Even if circuit is not hit most investor exit at 10% profit or huge loss. Over all investing in penny stocks is a big mistake.
Avoid Investing In Penny Stocks
They are highly volatile
Penny stocks are poor quality companies and often will not give profits
Loosing even a small amount in penny stocks can cause a 50% loss on investment
Penny stocks are not liquid. It is very difficult to enter or exit these stocks because volume of trading is very low
Not much is reported in media about penny stocks therefore it is very difficult to know what is exactly happening in the company and within the management
See this image of trading in a penny stock on 08-Mar-2017 at 1.25 pm. The volume is low and only one trade done till now today:
Lesson: Do not invest in penny stocks just because they have low amounts. Look at what percentage of returns you can make over the long term not in a day or two.
It is better to own a good stock over the long term than try your luck and invest in penny stocks.
If someone made money on a penny stock they were plain lucky not good investors.
TheOptionCourse.com © Copyright Since 2013 ® All Rights Reserved
Click to Share this website with your friends on WhatsApp
COPYRIGHT INFRINGEMENT: Any act of copying, reproducing or distributing any content in the site or newsletters, whether wholly or in part, for any purpose without my permission is strictly prohibited and shall be deemed to be copyright infringement.
INCOME DISCLAIMER: Any references in this site of income made by the traders are given to me by them either through Email or WhatsApp as a Thank You message. However, every trade depends on the trader and his level of risk-taking capability, knowledge and experience. Moreover, stock market investments and trading are subject to market risks. Therefore there is no guarantee that everyone will achieve the same or similar results. My aim is to make you a better & disciplined trader with the stock trading and investing education and strategies you get from this website.
DISCLAIMER: I am NOT an Investment Adviser (IA). I am an Authorized Person (AP) of a Stock Broker. I do not give tips or advisory services by SMS, Email, WhatsApp or any other forms of social media. I strictly adhere to the laws of my country. I only offer education for free on finance, risk management & investments in stock markets through the articles on this website. You must consult an authorized Investment Adviser (IA) or do thorough research before investing in any stock or derivative using any strategy given on this website. I am not responsible for any investment decision you take after reading an article on this website. Click here to read the disclaimer in full.
Disclaimer | Privacy Policy | About Me | Conservative Option Course | Bank Nifty Weekly Options Strategy
Find 200+ testimonials of my course on these pages too posted year-wise:
What Traders Say About This Course
Testimonials Year 2015
Testimonials Year 2015 Page 2
Testimonials Year 2015 & 2016
Testimonials Year 2016
Testimonials Year 2017
Testimonials Year 2018
Testimonials Year 2019
Testimonials Year 2020
Testimonials Year 2021
Testimonials Year 2022
Testimonials Year 2023
Testimonial of one of my client making 25k per week
Emotional Testimonial by a Young Woman Trader and Her Mother
Difference Between other Courses and Mine
What others charge for online courses
What People Say Just After Doing My Course
Bank Nifty Course Testimonials



Traditional brokers charge a lot on brokerage, however this broker does not charge anything for stock buying and selling. Also, you can set a Good Till Cancelled order after buying stock so that the system can sell the stock automatically at your desired price even if you are not monitoring the market. Plus only 25k is blocked for option selling. It takes 5 minutes to open an account online. Click here and Open Stock Buy & Sell Free Account with Them Today >>