To save money on Brokerage I recommend open a Demat account in ZERODHA or UPSTOX - both DO NOT charge any brokerage for stocks buying or selling. Click here to open account in ZERODHA. Click here to open account in UPSTOX.
Last year (Jan-Dec 2017) FINAL Profits of one of my clients:
Ram's testimonial can be found here:
10 tips for new traders to make profits trading faster
. Beginner level support is still there – see this testimonial: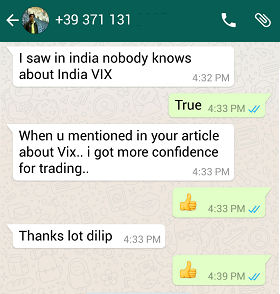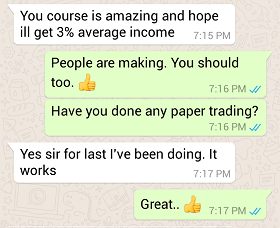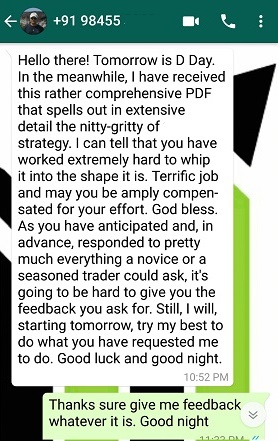 Links to my course testimonials pages:
What Traders Say About This Course
Testimonials Year 2015
Testimonials Year 2015 Page 2
Testimonials Year 2015 & 2016
Testimonials Year 2016
Testimonials Year 2017
Testimonials Year 2018
Testimonials Year 2019
Testimonials Year 2020 to 2023
What People Say Just After Reading My Course
Emotional Testimonial by a Young Woman Trader and Her Mother
One Of My Client Is Making Rs.25k Per Week
What Others Charge for Courses
Bank Nifty Course Testimonials

To know more Call/SMS/WhatsApp me on 9051143004 or email me now. I know English and Hindi.

Privacy Policy | Disclaimer

WhatsApp or Call me: 9051143004

If you have any question you can contact me.

You can read about me here and my trading mistakes here.

TheOptionCourse.com Copyright @ All Rights Reserved
Dilip Shaw, Founder
Copyright Infringement: Any act of copying, reproducing or distributing any content in the site or newsletters, whether wholly or in part, for any purpose without my permission is strictly prohibited and shall be deemed to be copyright infringement.
INCOME DISCLAIMER: Any references in this site of income made by the traders are given to me by them either through Email or WhatsApp as a Thank You message. However every trade depends on the trader and his level of risk taking capability, knowledge and experience. Moreover stock market investments and trading are subject to market risks. Therefore there is no guarantee that everyone will achieve the same or similar results. My aim is to make you a better & disciplined trader with the stock trading and investing education and strategies you get from this website.

DISCLAIMER: I am NOT an Investment Adviser (IA). I am an Authorized Person (AP) of a Stock Broker. In other words I am a sub-broker. I DO NOT give tips or advisory services by SMS, Email, or WhatsApp or any other forms of social media. I strictly adhere to laws of my country. I only offer education for free on finance, risk management & investments in stock markets through the articles in this website. You must consult an authorized Investment Adviser (IA) or do thorough research before investing in any stock or derivative using any strategy given in this website. I am not responsible for any investment decision you take after reading any article in this website. Click here to read the disclaimer in full.