Open ZERO Brokerage FREE Share Trading Account - Buy and Sell Stocks Without Brokerage - Set Good Till Cancelled (GTT) on System and Forget
Traditional brokers charge a lot for brokerage; however, this broker does not charge anything for stock buying and selling. Also, you can set a Good Till Cancelled (GTT) order after buying stock so that the system can sell the stock automatically at your desired price even if you are not monitoring the market. Only 25k is blocked for option selling with hedge. It takes 5 minutes to open an account online. I will help you to learn options hedged trading if your account is opened today. Click here and Open Free Account with Them Today >>
Stock markets have recently seen growth in huge percentage. This kind of amazing growth comes after at least three range bound years.
Nifty – the most popular stock Index in India has grown from 8000 to almost 9900 in few months. From 26-Dec-2016 to 14-Jul-2017 it has increased from 7908.25 to 9886.35.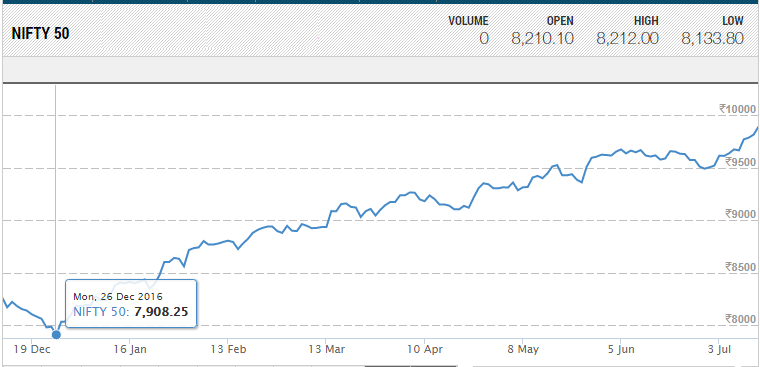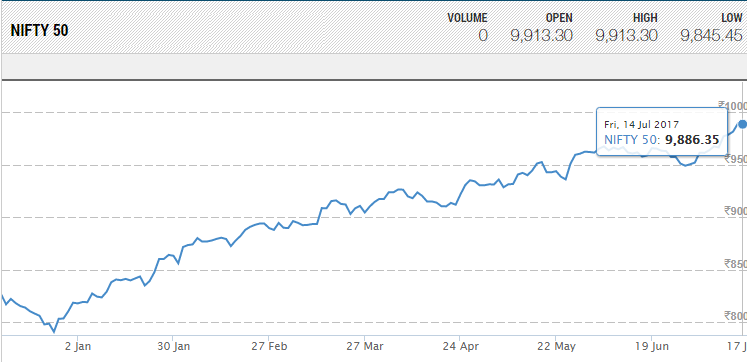 In percentage terms this is: 9886.35-7908.25 = 1978.10 = (1978.10 / 7908.25) * 100 = 25.02% growth in 6 and half months.
Now what is the question in most traders mind. In fact at the time of writing it is 9918.50. Highest in the history of stock markets in India.
What you can do in rising markets? Here are some ideas that you can do:
1. Book Partial Profits: If you are a long term stock investor, this is the time to book profits. Yes stock markets may go even higher but at least take some part of your money out and book partial profit if not all. Now the partial profit depends on how much you want to book profits on your investment. This can vary from 10% to 80%. This comes purely under your financial management plan. Decide and book partial profits on your holdings.
2. Do Not Stop Your Mutual Fun SIPs: History is proof that most mutual fund investors stop their monthly SIP when they see that markets have hit high. This is trying to time the markets. Stock investing is different that mutual fund investing. In mutual funds you allow your fund manager to take decisions on your behalf with you money. Give them a free hand. Mutual funds are always for the long term not short term. Let them grow with time. Do not stop your SIPs in a down market or an up market. Let them continue. However it is very important to chose the right mutual funds that can do wonders to your saved hard earned money. If you do not chose the correct mutual fund you may end up getting returns less than stock markets. This is not good. Therefore choosing the correct mutual fund to invest is very important.
Read: How to choose the correct mutual funds to invest.
3. Futures and Options Traders Must Hedge Their Positions: Naked trading is financial destruction for 95% of traders who lose money. If you are not good at naked trading then it is better you stop trading or learn how to hedge your trading. Hedging is a big arsenal in the hands of stock trader. Hedging not only limits the losses but gives confidence required for trading.
Hedging is a kind of insurance for a trader. It protects your capital to a large extend. Learn good hedging strategies in this course. Once you know hedging methods then you can scale up your trades as you will be confident and fearless in trading. Once you know that 98% of your capital is protected then the fear of trading will go away and you can bring in more money to trade and make more. Naked trading will not allow you to bring more money to trade because of the fear of losing it. Hedging will ensure the fear is gone.
4. Do Proper Financial Planning Even If Trading On Charts: Some traders trade seeing technical charts. Do not forget that charts can also go wrong therefore financial planning is important. Just because your chart says this stock is headed up you must know before investing how much you are willing to risk. My advice is do not risk more than 25% of your capital in one stock. Anything more can be dangerous if the stock does not perform. Moreover you still have 75% capital left to invest in other stocks. So even if the first one does not perform you have some money left to try another stock.
5. Do Not Go Against The Trend: There are many contrarian traders. Contrarian traders bet against the trend. There is nothing wrong in doing but be willing to take a stop loss if markets prove you wrong. I am sure at 9000 – a huge psychological mark of Nifty – a lot of Future traders must have gone short on Nifty. They must have huge lots of money. Contrarian traders have a lot of ego discussed in next point.
6. Do Not Be Egoistic In Trading: Especially the contrarian traders have a lot of ego in rising markets. They think that speculators have taken the markets up and it is bound to fall huge and they take large bets without hedging. Because they are absolutely sure stock markets will fall. Understand that stock markets does not have any ego or does not favour or is against any trader. Stock market is a non-living thing. They will do what most investors do. There is no point showing ego to stock markets. Plan your trades take a stop loss or take out your profits when they come. Trading without a plan is a great way to failure.
TheOptionCourse.com © Copyright Since 2013 ® All Rights Reserved
Click to Share this website with your friends on WhatsApp
COPYRIGHT INFRINGEMENT: Any act of copying, reproducing or distributing any content in the site or newsletters, whether wholly or in part, for any purpose without my permission is strictly prohibited and shall be deemed to be copyright infringement.
INCOME DISCLAIMER: Any references in this site of income made by the traders are given to me by them either through Email or WhatsApp as a Thank You message. However, every trade depends on the trader and his level of risk-taking capability, knowledge and experience. Moreover, stock market investments and trading are subject to market risks. Therefore there is no guarantee that everyone will achieve the same or similar results. My aim is to make you a better & disciplined trader with the stock trading and investing education and strategies you get from this website.
DISCLAIMER: I am NOT an Investment Adviser (IA). I am an Authorized Person (AP) of a Stock Broker. I do not give tips or advisory services by SMS, Email, WhatsApp or any other forms of social media. I strictly adhere to the laws of my country. I only offer education for free on finance, risk management & investments in stock markets through the articles on this website. You must consult an authorized Investment Adviser (IA) or do thorough research before investing in any stock or derivative using any strategy given on this website. I am not responsible for any investment decision you take after reading an article on this website. Click here to read the disclaimer in full.
Disclaimer | Privacy Policy | About Me | Conservative Option Course | What Traders Say About This Course

Traditional brokers charge a lot on brokerage, however this broker does not charge anything for stock buying and selling. Also, you can set a Good Till Cancelled order after buying stock so that the system can sell the stock automatically at your desired price even if you are not monitoring the market. Plus only 25k is blocked for option selling. It takes 5 minutes to open an account online. Click here and Open Stock Buy & Sell Free Account with Them Today >>