Note: Part of newsletter sent on 27 & 28 Dec 2015.
Refer my email dated November 11, 2015 which you can find here: Muhurat Trading Tip Happy Diwali 2015. I quote from the article:
I would suggest start buying Sun Pharmaceutical Industries Ltd in stages like some today, some after a decline of 10% and some after a decline of 20% from here. Its looking very strong at 726.00. Its now at 52 week low as well. A very strong company. Though it is having some issues right now, they are short term and the stock will recover very fast when the management will solve those issues. The stock should give you good returns within a few months – but please do not invest a lot, and, invest in stages. If the stock goes down 10% more from here buy more. Or if the stock goes up 10-12% sell and book your profits.
I had recommended Sun Pharmaceutical Industries Ltd at 726.00. You can exit from the stock today and make a profit of around 10% in 45 days. I think stock can go up to 830-850 soon. But due to recent controversies its better to book profits and exit.
See this: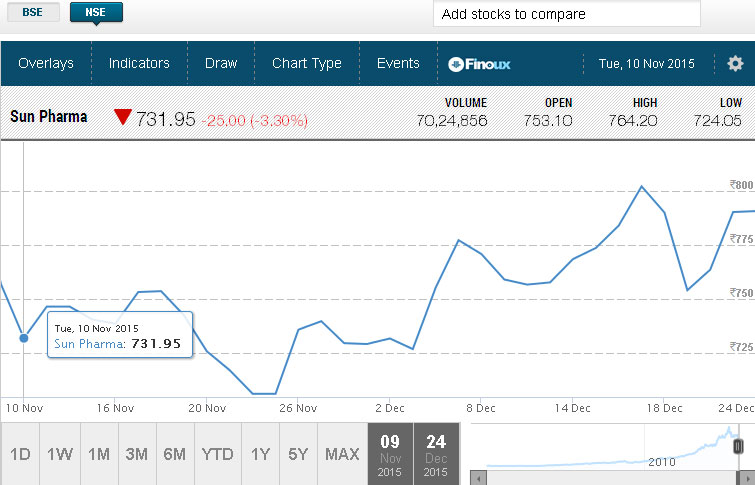 And closing price on 24-Dec-2015: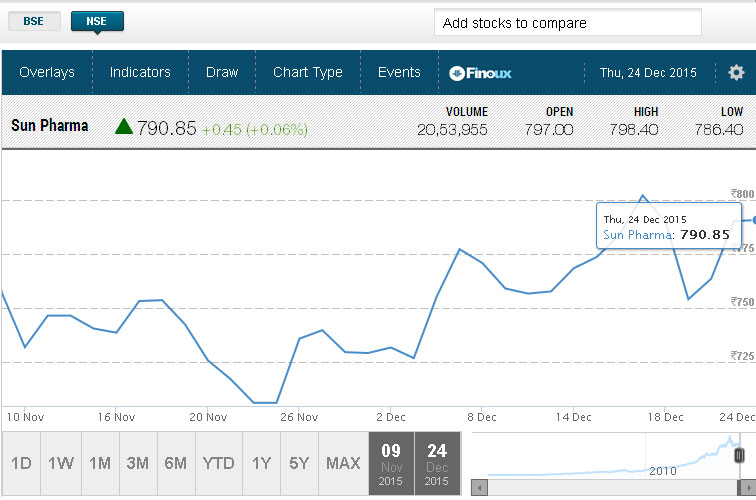 Note that at the time of writing on 10-Nov-2015, it was trading at 726 but closed at 731.95 that day. The newsletter was sent for Muhurat Trading 2015. See how the stock almost reversed from 726. It made a low of 706.20 on 24-Nov-2015; after that straight up.
What We Learn?
If your basics are correct you will always make money. 10% in 45 days is a great return but still risk-management says only a part of your stock markets investments should have gone into Sun Pharmaceutical Ltd even if you are 100% sure it will give a great return soon. That's because if by chance you need the money in between when it was down, you would have been forced to exit in a loss. At any cost this situation must be avoided.
Thanks and Enjoy Profits.
Hey isnt 10% in 45 days is BETTER than 3% a month? 🙂 Yes it is but movement of a stock is NOT in your control, but the options are in YOUR control because you can hedge and lots depends on VIX. And VIX can be guessed. Therefore every stock investor MUST learn options trading.
Learn Conservative Options Trading and Enjoy Consistent Profits.
With My Free Tips I Do Not Make A Single Rupee
Yes I do not earn a single rupee with these free tips and I have given many in this site. Yet its 10.30 pm on Saturday night 26-Dec-2015, I am writing this to help you. This is the time when most Indians are watching TV or are having fun at restaurants, clubs or in movie theaters. Why am I telling you this? Just be passionate in what you do and be honest. I can assure you will live a very happy life. I also love to have fun and I do – I was busy today and tomorrow I have some appointments and may not have time, so I have to finish this today. On Monday morning this post will go live so that you can read it before market opens.
Mind it on Muhurat Trading day this website got more than 500 clicks in a single day. It was on top of Google rankings for Muhurat Trading Tips. Plus thousands of subscribers read this through emails. So I am sure many of those must have bought Sun Pharma that day and will make profits today. The stock actually crossed 800 a few days back, but I was waiting for a better rate, unfortunately again it fell. So I think it is good enough for an exit signal. Some people may have booked profits earlier above 800 and may have made more.
I feel very happy when my subscribers make money and feel very bad when someone loses money. That is the whole point of this site, to educate how to invest, and am working towards it. Frankly, I love doing it whether I am compensated for it or not.
Love what you do. Love your job and make sound investing decisions. Do not be greedy and be happy with small profits. And most importantly – When its Work – its Work – forget everything else. You will start having fun while you work. And you will be very happy in your life.
Added on January 04, 2016:
Please see the comments section of this article. Someone asked an interesting question – "It seems you are saying without base but support and resistance. Where are fundamentals of the stock?"
I have shifted the answer to the article itself as I think it is a great question and the answer deserved a place in the article itself. Lots of people do not read comments.
My answer is this:
If you read this article when I emailed everyone to buy Sun Pharma, it is clearly written:
I would suggest start buying Sun Pharmaceutical. Its looking very strong at 726.00. Its now at 52 week low as well. A very strong company. Though it is having some issues right now, they are short term and the stock will recover very fast when the management will solve those issues. The stock should give you good returns within a few months – but please do not invest a lot, and, invest in stages. If the stock goes down 10% more from here buy more. Or if the stock goes up 10-12% sell and book your profits.
When you are buying a stock to make 10% quick profit, then it is more of a swing trading than a long term fundamental trading. And can't a trader do swing trading in a fundamentally strong stock? It is actually a killer combination. I actually do it, and highly recommend swing trading with fundamentally strong stocks. So even if I need to hold, I know I will NOT hold them for years.
For example even if Jindal Steel & Power Ltd. nose dives 25%, I would not buy that stock. Though a Group "A" stock now – its fundamentals as a company is not strong. I would rather control my greed and never regret not buying the stock even if it jumps back 50% the next day. Greed is a BIG trapper. You will never know when you get trapped. 🙂
Now when Sun Pharma hit the target in 45 days, it DOES NOT matter if there is any controversy in the stock or not – what matters is my investment paid off and I should exit, that's it. That is why I gave an exit call. Interestingly the stock was up more the next day when my subscribers would have exited the stock with more profits (newsletter was sent after market hours). I wanted to wait for it to hit 820, but since the stock was surrounded by another controversy I thought it is better to exit.
So yes, more to do with support BUT Not resistance because we already made up our mind to exit with a 10% profit.
Now please DO NOT ask how I find support. 🙂
Thanks for a good question.
Please like & share my blog with your friends:
Hi, I am Dilip Shaw, owner of this website. I am a trader like you. I have been trading since 2007, but lost a lot of money till 2010. I then stopped trading and studied options like college exams. Started trading again from 2011 and never looked back since. I did a lot of research, read books and did countless paper-trading before being profitable. You can read about me here.
My conservative trading course since 2014 is helping many retail traders just like you who have a job or business make consistent profits like this:
What Traders Say About This Course
Testimonials Year 2015
Testimonials Year 2015 Page 2
Testimonials Year 2015 & 2016
Testimonials Year 2016
Testimonials Year 2017
Testimonials Year 2018
Testimonials Year 2019
Testimonials Year 2020 to 2023
What People Say Just After Reading My Course
Emotional Testimonial by a Young Woman Trader and Her Mother
One Of My Client Is Making Rs.25k Per Week
Difference Between Other Courses And Mine
What Others Charge for Courses

You can do this course from your home. Some traders make amazing profits like Rs. 16.26 lakhs profit in 5 days though results may differ for all.

This course helps you learn to trade conservative option strategies for monthly income. Once you finish the course you can start trading immediately. You can start trading from any day. No need to wait for expiry. You will make profits consistently.

This course is good if you have a regular job or business. You DO NOT NEED to monitor your trades every second.

What You Get?

Before reading please understand that for all 5 strategies, strike selection will be taught. Strike selection while trading Options is the most essential part to succeed.

You get two conservative non-directional strategies on options, one conservative stock option strategy and two conservative directional strategies on Future & Option combination.

Non directional trades are profitable 80% of the times and make 3-5% per trade (Results may vary).

Directional strategy makes money fast. It does not matter which side the stock moves. In fact you make more when you are wrong in the Future trade. 🙂 Some amazing profits possible here.

The stock option trade makes 30,000 in one trade and if SL is hit there is a way to recover losses plus make 30k in that trade.

Technical knowledge is NOT required. No need to monitor trades every second.

In the course you will learn how to select the strike prices. You learn when to trade, which strikes to sell which to buy, how much profit target you should be looking for, the best place to take stop loss and what to do after taking stop loss – means how to get that money back. The success rate is more than 80%.

Since trades are properly hedged there is no stress in trading my strategies.

I am very confident that you will make money trading my strategies. To help you succeed I offer few months support for FREE.

11 Reasons Why You Should Do The Course:
1. TA Knowledge NOT required
2. NO Software Required
3. Regular Monitoring NOT Required
4. Continue with Your Job
5. Do Course From Your Home
6. 100% Hedged
7. Stress-Free Trading
8. Not too much money needed to trade
9. Scaling Possible
10. One Time Fee
11. FREE Support For Months
To know more Call/SMS/WhatsApp me on 9051143004 or email me now. I know English and Hindi.

Read the details of the course here.

If you want to enroll for the course you can do so here.

P.S: So many years of trading has thought me one thing - it is always better to make small profits month after month, rather than lose money month after month trying to make too much money. It never happens. But small money accumulated month after month can become very big in only a few years.


Privacy Policy | Disclaimer

WhatsApp or Call me: 9051143004

If you have any question you can contact me.

You can read about me here and my trading mistakes here.

TheOptionCourse.com Copyright @ All Rights Reserved
Dilip Shaw, Founder
Copyright Infringement: Any act of copying, reproducing or distributing any content in the site or newsletters, whether wholly or in part, for any purpose without my permission is strictly prohibited and shall be deemed to be copyright infringement.
INCOME DISCLAIMER: Any references in this site of income made by the traders are given to me by them either through Email or WhatsApp as a Thank You message. However every trade depends on the trader and his level of risk taking capability, knowledge and experience. Moreover stock market investments and trading are subject to market risks. Therefore there is no guarantee that everyone will achieve the same or similar results. My aim is to make you a better & disciplined trader with the stock trading and investing education and strategies you get from this website.

DISCLAIMER: I am NOT an Investment Adviser (IA). I am an Authorized Person (AP) of a Stock Broker. In other words I am a sub-broker. I DO NOT give tips or advisory services by SMS, Email, or WhatsApp or any other forms of social media. I strictly adhere to laws of my country. I only offer education for free on finance, risk management & investments in stock markets through the articles in this website. You must consult an authorized Investment Adviser (IA) or do thorough research before investing in any stock or derivative using any strategy given in this website. I am not responsible for any investment decision you take after reading any article in this website. Click here to read the disclaimer in full.