Open ZERO Brokerage FREE Share Trading Account - Buy and Sell Stocks Without Brokerage - Set GTT (Good Till Triggered) Orders on System and Forget
Traditional brokers charge a lot for brokerage; however,
this broker
does not charge anything for stock buying and selling
. Also, you can set
GTT (Good Till Triggered) order
after buying a stock, so that the system can sell the stock
automatically
at your target price even if you are
not monitoring the market
.
Only 25k is blocked for option selling with hedge
. Also,
you get a lifetime free account in Sensibull (virtual trading app & strategy builder) which charges Rs.800/-+GST a month. Learn option hedging strategy if you open an account today.
It takes 5 minutes to open an account online.
Click here and Open Free Account with Them Today >>
Today on Diwali day the stock markets will open only for Muhurat Trading.
These are the timings:
5.30 pm to 6.45 pm – Equity & F&O (NSE, BSE, MCX-SX)
5.45 pm to 7.45 pm – Commodity (MCX)
Intraday positions will get automatically squared up around 6.30 pm.
Why You Should Not Trade on Muhurat Trading
My sincere advice is please do not trade on Muhurat Trading. You have just one hour and at least Intraday it does not makes sense. Plus people celebrating the occasion have a lot of things lined up for the evening – Lighting Diyas, Laxmi Puja and Burning Crackers. And of course lovely food. 😛 Obviously your minds will be there and you will not be able to trade peacefully.
So its better do not even open the trading app or your TV to look at whats happening in the markets.
But I know there are some people who will do some trade on this day as they feel its auspicious to do trading on Diwali day.
Well when investments are concerned its your knowledge that brings returns not the day or time when you are trading.
Muhurat Trading Tip 2015
Still if you are forced to trade then I would suggest start buying Sun Pharmaceutical Industries Ltd in stages like some today, some after a decline of 10% and some after a decline of 20% from here. Its looking very strong at 726.00. Its now at 52 week low as well. A very strong company. Though it is having some issues right now, they are short term and the stock will recover very fast when the management will solve those issues. The stock should give you good returns within a few months – but please do not invest a lot, and, invest in stages. If the stock goes down 10% more from here buy more. Or if the stock goes up 10-12% sell and book your profits.
Note: The stock gave a return of 10% in 45 days and I emailed my subscribers on December 28, 2015 to exit the stock when it closed at 790.85. Next day the stock opened over 801 for trading and my subscribers made a profit of more than 10% in 45 days. Please note that the profits may have come earlier, but stock markets investing should be done with proper research and proper money management rules must be followed.
Another good stock is HDFC Bank Ltd. Its looking very strong at 1050 levels. A very strong company – actually an evergreen company and a heavy weight stock. Please note that there can be issues with this company in future like NPA (Non-performing asset is defined as a credit facility in respect of which the interest and/or installment of Bond finance principal has remained 'past due' for a specified period of time. NPA is used by financial institutions that refer to loans that are in jeopardy of default the so called NPL), bad loans (loans that cannot be recovered), some management issues etc, but I am sure with time this stock will prove to be a great stock to invest therefore invest in stages not at one go.
Update on 07-Nov-2018 (Diwali Day) – Let us see how this stock has performed over the last three years:
Closed at 1946.55 on 6-Nov-2018 – this is a return of ((1947-1050)/1050)*100 = 85.43% in just three years.
Hope you made good money in this stock. 🙂
Here is Wishing You All and Your Family A Very Happy Diwali 2015, and a Prosperous New Year.
Disclaimer: Stock market investment is subject to market risk so please do through research yourself before investing in any stock even if the recommendation is coming from me or anyone else. This investment is proposed for a long term and not short term, therefore please invest with the money which you will not need for at least 1 year.
Here are some of the Happy Diwali 2015 Wishes from my customers. Thank You so Much for believing in me and wishing me. I hope your next Diwali is even brighter. (Please note that the signal is missing in images because my mobile got corrupted and these are snapshot from my mobile with a non-working SIM. I had changed my mobile by then.)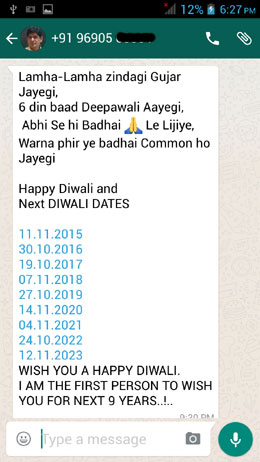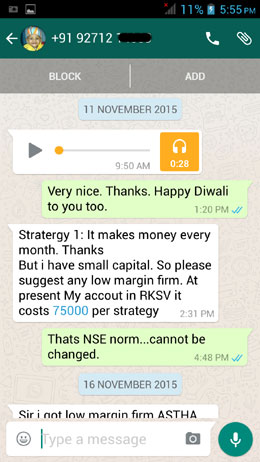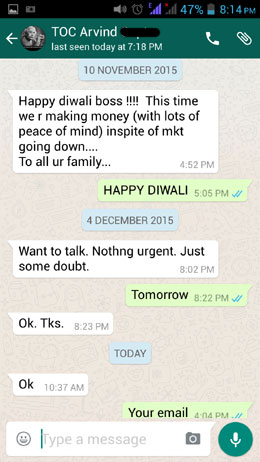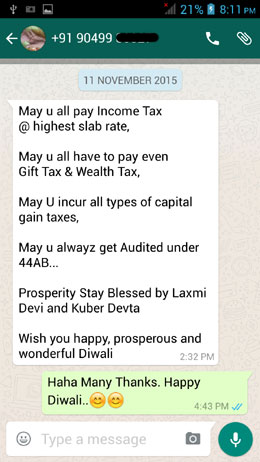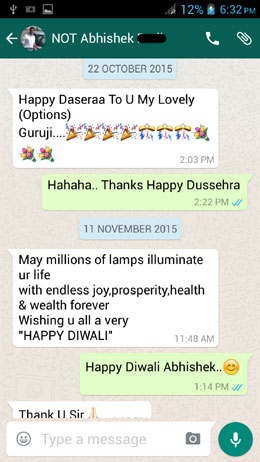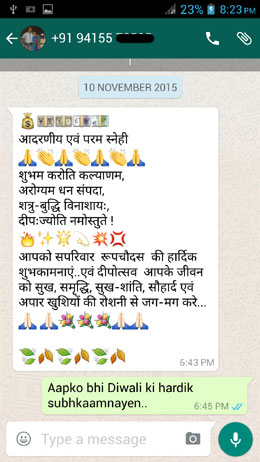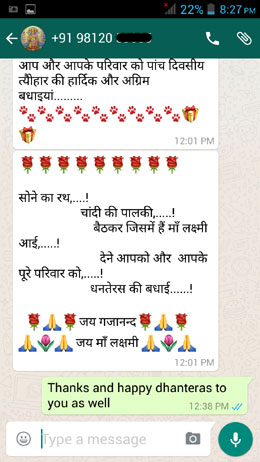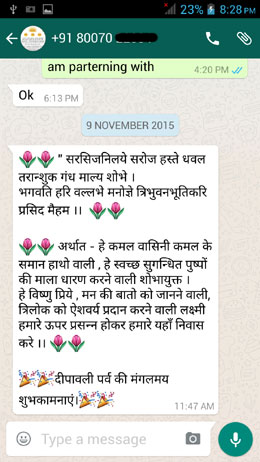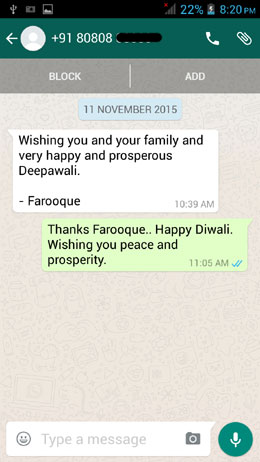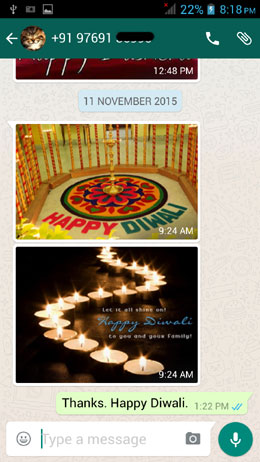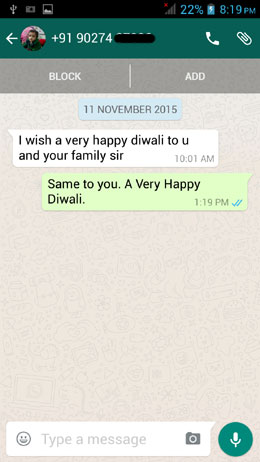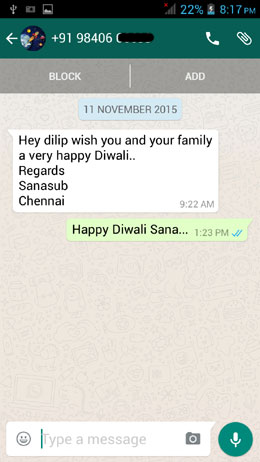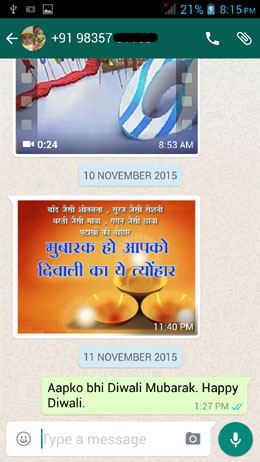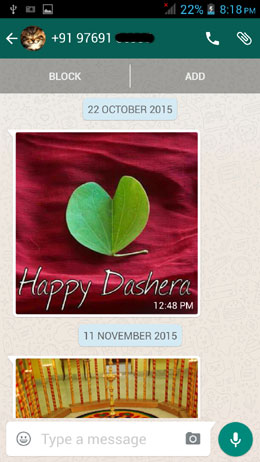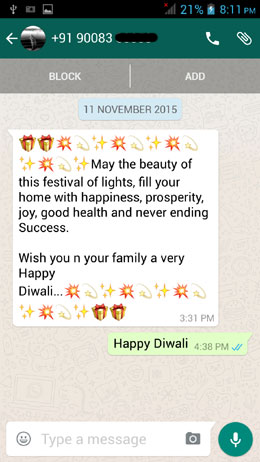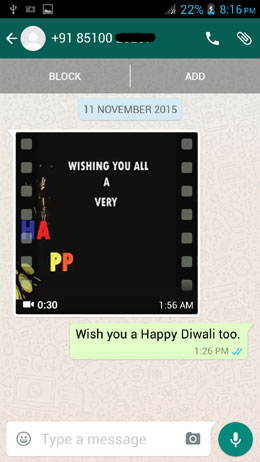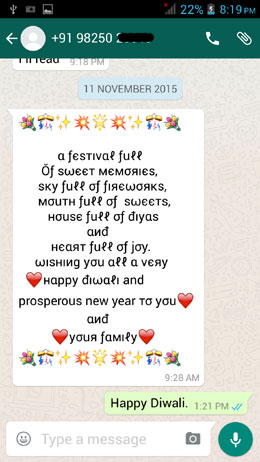 TheOptionCourse.com © Copyright Since 2013 ® All Rights Reserved
Click to Share this website with your friends on WhatsApp
COPYRIGHT INFRINGEMENT: Any act of copying, reproducing or distributing any content in the site or newsletters, whether wholly or in part, for any purpose without my permission is strictly prohibited and shall be deemed to be copyright infringement.
INCOME DISCLAIMER: Any references in this site of income made by the traders are given to me by them either through Email or WhatsApp as a Thank You message. However, every trade depends on the trader and his level of risk-taking capability, knowledge and experience. Moreover, stock market investments and trading are subject to market risks. Therefore there is no guarantee that everyone will achieve the same or similar results. My aim is to make you a better & disciplined trader with the stock trading and investing education and strategies you get from this website.
DISCLAIMER: I am NOT an Investment Adviser (IA). I am an Authorized Person (AP) of a Stock Broker. I do not give tips or advisory services by SMS, Email, WhatsApp or any other forms of social media. I strictly adhere to the laws of my country. I only offer education for free on finance, risk management & investments in stock markets through the articles on this website. You must consult an authorized Investment Adviser (IA) or do thorough research before investing in any stock or derivative using any strategy given on this website. I am not responsible for any investment decision you take after reading an article on this website. Click here to read the disclaimer in full.
Disclaimer | Privacy Policy | About Me | Conservative Option Course | Bank Nifty Weekly Options Strategy
Find 200+ testimonials of my course on these pages too posted year-wise:
What Traders Say About This Course
Testimonials Year 2015
Testimonials Year 2015 Page 2
Testimonials Year 2015 & 2016
Testimonials Year 2016
Testimonials Year 2017
Testimonials Year 2018
Testimonials Year 2019
Testimonials Year 2020
Testimonials Year 2021
Testimonials Year 2022
Testimonials Year 2023
Testimonial of one of my client making 25k per week
Emotional Testimonial by a Young Woman Trader and Her Mother
Difference Between other Courses and Mine
What others charge for online courses
What People Say Just After Doing My Course
Bank Nifty Course Testimonials



Traditional brokers charge a lot on brokerage, however this broker does not charge anything for stock buying and selling. Also, you can set a Good Till Cancelled order after buying stock so that the system can sell the stock automatically at your desired price even if you are not monitoring the market. Plus only 25k is blocked for option selling. It takes 5 minutes to open an account online. Click here and Open Stock Buy & Sell Free Account with Them Today >>