Open ZERO Brokerage FREE Share Trading Account - Buy and Sell Stocks Without Brokerage - Set GTT (Good Till Triggered) Orders on System and Forget
Traditional brokers charge a lot for brokerage; however,
this broker
does not charge anything for stock buying and selling
. Also, you can set
GTT (Good Till Triggered) order
after buying a stock, so that the system can sell the stock
automatically
at your target price even if you are
not monitoring the market
.
Only 25k is blocked for option selling with hedge
. Also,
you get a lifetime free account in Sensibull (virtual trading app & strategy builder) which charges Rs.800/-+GST a month. Learn option hedging strategy if you open an account today.
It takes 5 minutes to open an account online.
Click here and Open Free Account with Them Today >>
Trades wait for result season to trade the long straddle or long strangle in options to take benefit of the stock move either up or down.
If you do not know what is long straddle or long strangle you can read the following articles:
https://www.theoptioncourse.com/how-to-play-a-long-straddle/

https://www.theoptioncourse.com/how-to-trade-long-strangle/
Novice option traders do not know that Theta or time value is a very important factor in options premium. If you do not know Option Greeks you can download this file here:
https://www.theoptioncourse.com/Option-Basic-Course-by-DILIP-SHAW.pdf
You can read in the file that more than 60% of the option premium has time value built in it. That means the more time the stock stays in the same position, the more there in premium decay in options and it increases faster towards the expiry.
Trading the long straddle or long strangle is very common trades done during the earning season. Basically, traders want to play a potential big move after an earnings event. Infosys is a very popular stock traded during earnings season. But does a long straddle or long strangle makes a profit as expected by the trader?
Some traders go by market expectation. It's common in every country where economists/market experts "predict" the result of a company one day before the actual result comes in. Some traders want to go with the market expectation and buy a call or put options as per the expectation. Like they buy a call if the experts feel that the company will perform better or they buy put if the market pundits expect a bad result of a company.
Sometimes they make money sometimes they do not. But the worst nightmare is when the trader sees the stock moving in the correct direction of their trade yet they do not see the option moving in their favour, in fact they see that the option premium has actually declined even when the direction was correct.
Why does this happen?
The enemy is the Implied Volatility (IV) crush that happens after the result is out in the public domain.
Where can you see Implied Volatility (IV) of a stock?
Well NSE website displays it. Take a look at this picture – 16.95 is the IV of Infosys 740 Call Option expiring on 27-Jun-19 as on Jun 17, 2019, 11:40:23 IST: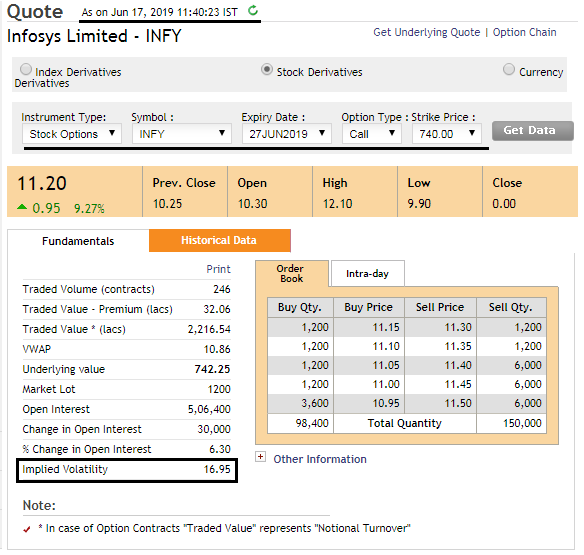 Source:
https://www.nseindia.com/
After Theta (Time Value), IV has the next big impact on option premiums.
Earnings events are very unique as the market does not know where the stock will move after the result is declared. For some strange reason, some stocks do not take the path as per the results. Even after good results some stocks actually decline. Well, I can write a post on this as well but in small it's due to stop loss hitting. After 1 pm the move gets sharp.
In an unknown state, the Implied Volatility (IV) of a stock will increase, in-effect increasing the option premium before the event. The event can be anything like election results, a war-like situation, earning season or some major economic issues.
Theta decreases constantly for every option but Implied Volatility (IV) of a stock depends on the prevailing market situation.
Since result/earning season is one of them, Implied Volatility (IV) increases before the result is declared and decreases VERY FAST once the quarterly earnings are announced in media..
No there is NO manual intervention. Implied Volatility (IV), Theta and other Option Greeks are controlled by software to decide the option premiums. It's hard to manually feed the data for each option traded.
Not sure if the event dates are inserted manually in the software or not, but this is what happens.
Once the result is out – Implied Volatility (IV) crushes and the software re-prices all of the options of the stock immediately. The option is then left with only the Theta value and other Option Greeks which has little impact on option pricing.
This takes out a major profit for the option buyer even if the stock moves in the direction of the option. A lot of times the option buyer loses money. As an option buyer, if you buy a call or a put option before earnings, you're paying for this expected implied volatility and what I see is that more often than not, the stock does not move as far as a trader is paying for the expected premium. In simple language, you are paying for the theta and implied volatility that is guaranteed to crush once the result is out. So if you buy options before results, you are paying for some premium that is not in your favour.
What about those who trade long straddle or long strangle?
A long straddle / strangle will obviously lose money on one side, and the other side where the direction was right – the option premiums get crushed due to Implied Volatility (IV) getting crushed.
Implied Volatility (IV) gets crushed because the expectation of a big move has collapsed as the information is out in the market, it's publicly available.
Does the long straddle or long strangle always lose money?
No. If the stock moves a lot like more than 8% then the long straddle or long strangle will be in good profit. But I have seen that a 5% move does not have much impact on long straddle or long strangle due to IV crush the option premium decay does not increases that much in value even after 5% move especially after the earnings are out in media.
Conclusion:
If you expect a 10% move in a stock then only trade the long straddle or long strangle before the result day.
If not sure of the move you can always trade non-directional strategies. These strategies are direction independent and make money wherever the stock moves. Looses are controlled by hedging the positions. My Nifty and Bank Nifty course teaches exactly that. These strategies make money wherever the stock goes.
TheOptionCourse.com © Copyright Since 2013 ® All Rights Reserved
Click to Share this website with your friends on WhatsApp
COPYRIGHT INFRINGEMENT: Any act of copying, reproducing or distributing any content in the site or newsletters, whether wholly or in part, for any purpose without my permission is strictly prohibited and shall be deemed to be copyright infringement.
INCOME DISCLAIMER: Any references in this site of income made by the traders are given to me by them either through Email or WhatsApp as a Thank You message. However, every trade depends on the trader and his level of risk-taking capability, knowledge and experience. Moreover, stock market investments and trading are subject to market risks. Therefore there is no guarantee that everyone will achieve the same or similar results. My aim is to make you a better & disciplined trader with the stock trading and investing education and strategies you get from this website.
DISCLAIMER: I am NOT an Investment Adviser (IA). I am an Authorized Person (AP) of a Stock Broker. I do not give tips or advisory services by SMS, Email, WhatsApp or any other forms of social media. I strictly adhere to the laws of my country. I only offer education for free on finance, risk management & investments in stock markets through the articles on this website. You must consult an authorized Investment Adviser (IA) or do thorough research before investing in any stock or derivative using any strategy given on this website. I am not responsible for any investment decision you take after reading an article on this website. Click here to read the disclaimer in full.
Disclaimer | Privacy Policy | About Me | Conservative Option Course | Bank Nifty Weekly Options Strategy
Find 200+ testimonials of my course on these pages too posted year-wise:
What Traders Say About This Course
Testimonials Year 2015
Testimonials Year 2015 Page 2
Testimonials Year 2015 & 2016
Testimonials Year 2016
Testimonials Year 2017
Testimonials Year 2018
Testimonials Year 2019
Testimonials Year 2020
Testimonials Year 2021
Testimonials Year 2022
Testimonials Year 2023
Testimonial of one of my client making 25k per week
Emotional Testimonial by a Young Woman Trader and Her Mother
Difference Between other Courses and Mine
What others charge for online courses
What People Say Just After Doing My Course
Bank Nifty Course Testimonials



Traditional brokers charge a lot on brokerage, however this broker does not charge anything for stock buying and selling. Also, you can set a Good Till Cancelled order after buying stock so that the system can sell the stock automatically at your desired price even if you are not monitoring the market. Plus only 25k is blocked for option selling. It takes 5 minutes to open an account online. Click here and Open Stock Buy & Sell Free Account with Them Today >>