Fill this Form to Get 5 Day Free Course on Options And Immediately Get an email to Download eBook on Option Greeks
When there is no movement in Nifty it becomes very difficult for option traders to decide what direction to trade – in fact same for future traders. See this:
Its like a small mountain – down, then up, then down, then up, but over all its just 26 points move – so which direction to trade?
This is confusing for traders.
This is the reason trading volume in derivatives drop when there is little movement in Nifty. By looking at the intraday chart most traders will buy puts only to see Nifty rising to hit stop loss and then fall.
Call buyers will have similar fate.
Its sad that in-spite of this traders keep trading on hope to see success.
Here is one such trader who is my free newsletter subscriber since long but is still not willing to do my course because he believes 3% a month is too less so trying out technical. I do not believe technical analysis because technical analysis is past not future. The 3 or 10 red candles consistently, does not guarantee that next candle will also be red. Then in that case isn't technical pure gambling? In fact I Googled for "person who made a lot of money by trading technical analysis" – the result was like what is technical analysis, will it make money etc. But no names were given in Google search.
See how he is failing in technical too – though now he is slowly understanding the importance of hedging after probably losing money trading by technical indicators: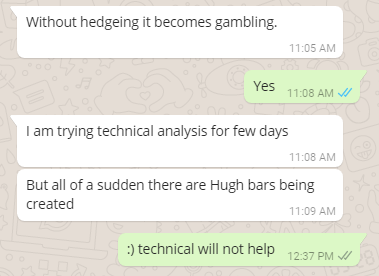 Until and unless you have a plan that works and you have hedged your position properly all you are doing is gambling. If you want to continue gambling in the stock markets I have nothing to say. But if you want to start real trading with proper practice you can do my courses.
Nifty is for beginner traders and bank nifty is for experienced traders. Since the support is for one year its better to do both the courses with a discount. Click here to know the fees and pay for the course.
See this bank nifty intraday profits:
After paper trade client trades one lot:
Then he got exited and traded this:
I told him to calm down and take it slow – stock markets will not close tomorrow:
So this:
Then this:
He is still doing great almost everyday.
If you are a trader losing money my course will help you to make a start like above though it might take you sometime to send me such testimonials.
But somewhere down the line you have to start.
Nifty is for beginner traders and bank nifty is for experienced traders. Since the support is for one year its better to do both the courses with a discount of Rs.3000/-.
Click here to know the fees and pay for the course.
What you should do now
1.
If you have still not subscribed for my free 5 days course you can do by filling the form above. You will learn a lot about option trading.
2.
If you are a new option trader, not much experienced and are making losses you can do my paid course. I recommend
Nifty Conservative Option Course
for beginners because it is easy to understand and easy to trade. Even a 18 year old young trader or a housewife can learn it and start trading from next day. It will help you to earn consistent monthly income without any software or speculation or stress or big risk. You will learn proper hedging strategies that works in any market condition.
3.
If you are banknifty weekly options trader you can do my
Bank Nifty Weekly Options & Futures Strategy Course
. You will learn future and option hedging strategies that works in volatile market condition.
Testimonials
What Traders Say About My Course
Course fees:
Click here to know the course fees
.
Here is complete process of my course
1.
Once you pay I will send you the course materials for studying to your email.
2.
You read and ask me questions via phone/whatsapp/email to clear doubts.
3.
Then you start paper trading and still can ask me questions.
4.
After about one month you can start trading.
5.
Since doubts can come anytime the support will be there for one year.
Within one month you can start trading on your own. No need to depend on anyone once you are on your own.
If you have any question you can
contact me
.
You can read
about me here
and
my trading mistakes here
.
TheOptionCourse.com Copyright @ All Rights Reserved
Dilip Shaw, Founder
Copyright Infringement: Any act of copying, reproducing or distributing any content in the site or newsletters, whether wholly or in part, for any purpose without my permission is strictly prohibited and shall be deemed to be copyright infringement.
INCOME DISCLAIMER: Any references in this site of income made by the traders are given to me by them either through Email or WhatsApp as a Thank You message. However every trade depends on the trader and his level of risk taking capability, knowledge and experience. Moreover stock market investments and trading are subject to market risks. Therefore there is no guarantee that everyone will achieve the same or similar results. My aim is to make you a better & disciplined trader with the stock trading and investing education and strategies you get from this website. Please note that I DO NOT give tips or advisory services by SMS, Email, or WhatsApp or any other form of social media. I strictly adhere to laws of my country. I only offer education on finance, investments on stock markets in the best possible way as much as I can through this website. Still, you must consult an authorized advisor or do thorough research before investing in any stock or derivative before trading any strategy given in this website. I am not responsible for any investment decision you take after reading any article given in this website. Knowledge is the only way to get success in stock markets. I try my best to give stock market investing and trading knowledge through the articles posted in this website. Thanks for visiting my website.