Open ZERO Brokerage FREE Share Trading Account - Buy and Sell Stocks Without Brokerage - Set Good Till Cancelled (GTT) on System and Forget
Traditional brokers charge a lot for brokerage; however, this broker does not charge anything for stock buying and selling. Also, you can set a Good Till Cancelled (GTT) order after buying stock so that the system can sell the stock automatically at your desired price even if you are not monitoring the market. Only 25k is blocked for option selling with hedge. It takes 5 minutes to open an account online. I will help you to learn options hedged trading if your account is opened today. Click here and Open Free Account with Them Today >>
Date of article: 23-Mar-2020
Let me first show you last 6 months graph of NSE: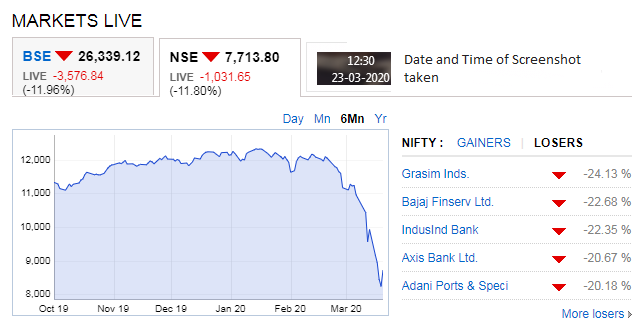 Source: https://money.rediff.com/index.html
On 14-Jan-20, NSE closed at 12362.30, and on 23-Mar-2020 at 12.30 pm it was trading at 7713.80. During this period it has hit two lower circuits. So basically in just last 70 days it has gown down by -37.60%. That is almost 40% of wealth eroded from stock markets in just 70 days.
Where has this money gone? Back to investors bank account. Next time when you hear from media that thousands of crores of investors wealth is lost then do not think that everyone lost money. Fact is even during normal times someone makes and someone loses. Here the story is slightly different.
During normal circumstances investors are not forced to do anything but during bad times especially during markets hitting lower circuits frequently investors panic and take their money out from the stock markets.
Here is the India VIX figures as on 23-Mar-20:

71.81 is rarely seen. This kind of India VIX comes once in many years. India VIX is basically panic indicator in the markets. Right now there is huge panic in the markets.
India VIX is inversely proportional to stock markets.
When stock markets will rebound, India VIX will drop.
So, What To Do In This Lower Circuit Hitting Market
Shop for blue chip stocks available at a discount. Just do some research and buy them. Its good to buy stocks whose fundamental is strong yet it has gone down just because the markets have gone down. You will get approx 30% return in less than a year.
Which Stocks To Buy?
Nifty has already done a great job for investors. Why take more risk when Nifty 50 comprises of top 50 companies in India.
Here is the list of stocks you can buy who have lost most is last 30 days:
https://money.rediff.com/losers/nse/monthly/nifty
Here is the screenshot of Nifty 50 top losers in last 30 days as on 23-Mar-20, 12.55 pm: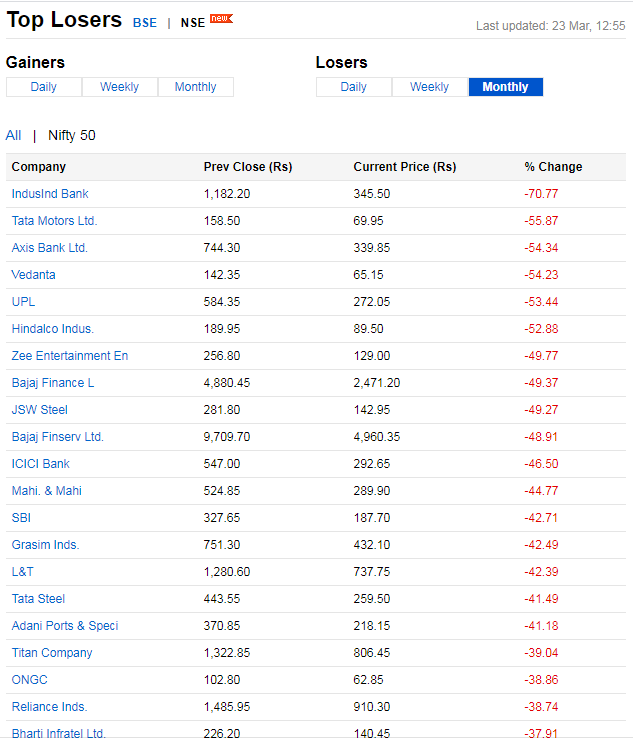 Select 4-5 good stocks and keep accumulating them every few days. Do not buy huge quantity in one go. Markets are falling – you may get a better price in a few days. The idea is to average it out over a few days and wait.
Once NSE bounces back, these stocks will also zoom. You can then book profits when you get over 15% return.
Then you can reinvest this money in another stock that looks attractive to you at that time.
You should not trade future and options during these high volatile times. Future and options should be traded with hedge and only when stock markets are normal and India VIX is below 20.
If you are an investor and looking to learn investing in stock markets and Ocean Wave Profit booking system not thought anywhere you can contact me.
More useful articles:
What to do in a huge stock market fall
TheOptionCourse.com © Copyright Since 2013 ® All Rights Reserved
Click to Share this website with your friends on WhatsApp
COPYRIGHT INFRINGEMENT: Any act of copying, reproducing or distributing any content in the site or newsletters, whether wholly or in part, for any purpose without my permission is strictly prohibited and shall be deemed to be copyright infringement.
INCOME DISCLAIMER: Any references in this site of income made by the traders are given to me by them either through Email or WhatsApp as a Thank You message. However, every trade depends on the trader and his level of risk-taking capability, knowledge and experience. Moreover, stock market investments and trading are subject to market risks. Therefore there is no guarantee that everyone will achieve the same or similar results. My aim is to make you a better & disciplined trader with the stock trading and investing education and strategies you get from this website.
DISCLAIMER: I am NOT an Investment Adviser (IA). I am an Authorized Person (AP) of a Stock Broker. I do not give tips or advisory services by SMS, Email, WhatsApp or any other forms of social media. I strictly adhere to the laws of my country. I only offer education for free on finance, risk management & investments in stock markets through the articles on this website. You must consult an authorized Investment Adviser (IA) or do thorough research before investing in any stock or derivative using any strategy given on this website. I am not responsible for any investment decision you take after reading an article on this website. Click here to read the disclaimer in full.
Disclaimer | Privacy Policy | About Me | Conservative Option Course | What Traders Say About This Course

Traditional brokers charge a lot on brokerage, however this broker does not charge anything for stock buying and selling. Also, you can set a Good Till Cancelled order after buying stock so that the system can sell the stock automatically at your desired price even if you are not monitoring the market. Plus only 25k is blocked for option selling. It takes 5 minutes to open an account online. Click here and Open Stock Buy & Sell Free Account with Them Today >>