Register to Get 5 Days Free Course on Options and Immediately Get an email to Download eBook on Option Greeks Also Get an Equity Intraday Strategy Course for FREE TODAY
Date of Post: 04-Apr-2019
============================
The general election will start from 11th April and end on 19th May 2019. The result day is 23rd May 2019.
This will happen to India VIX – a major factor that decides option premiums.
Here you can see India VIX here:
http://www.moneycontrol.com/indian-indices/india-vix-36.html
India VIX as on 04-Apr-2019, 2.07 pm: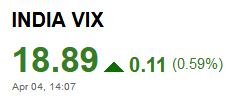 From 11th April 2019 it will start rising and will be in range of 16-18 to 20-22 until 19th May 2019. Then from 20 to 23rd May 2019 it will keep rising and may cross 22-25. After 23rd May 2019 it will start to drop.
What will happen to Nifty?
It will get volatile especially from 19th May 19 until result is declared.
If BJP wins again it may surpass 12300-12500. If BJP loses then Nifty may fall to 10500.
Please trade with keeping the above in mind.
Update: Apr 8, 2019
===================
I had written that India VIX will keep increasing until General Elections are over, then drop. However it's getting faster than what I wrote.
Today itself it crossed 20. Here is a screen shot:

So my advice to all directional traders is to trade very cautiously. Nifty will get very volatile and may change direction at drop of a hat which may hit your stop loss much often.
For non-directional traders these things are not a concern. They are not bothered by which direction Nifty goes yet they make money. So the volatility increase may not affect your trades much. But make sure to hedge your trades.
If you are a conservative trader happy with small profits you can do my Nifty conservative options trading course. It does not require too much of monitoring. You need not keep looking at it all the time. While you do your job these strategies will make money in the background.
Basically positional and plug and play strategies.
Easy to understand and trade. And these events which impact the markets will not bother you much as they make money irrespective of where the market goes – up or down.
I also have more advanced Bank Nifty weekly options course for experienced traders.
If you are serious and want to learn conservative way to trade options with hedge to stay away from speculations (biggest enemy of a trader) and huge losses ever you can pay the fees here and do my courses.
Learn strategies to make money week after week and month after month for your entire life until stock markets exists.
If you have any question you can
contact me
.
You can read
about me here
and
my trading mistakes here
.
TheOptionCourse.com Copyright @ All Rights Reserved
Dilip Shaw, Founder
Copyright Infringement: Any act of copying, reproducing or distributing any content in the site or newsletters, whether wholly or in part, for any purpose without my permission is strictly prohibited and shall be deemed to be copyright infringement.
INCOME DISCLAIMER: Any references in this site of income made by the traders are given to me by them either through Email or WhatsApp as a Thank You message. However every trade depends on the trader and his level of risk taking capability, knowledge and experience. Moreover stock market investments and trading are subject to market risks. Therefore there is no guarantee that everyone will achieve the same or similar results. My aim is to make you a better & disciplined trader with the stock trading and investing education and strategies you get from this website. Please note that I DO NOT give tips or advisory services by SMS, Email, or WhatsApp or any other form of social media. I strictly adhere to laws of my country. I only offer education on finance, investments on stock markets in the best possible way as much as I can through this website. Still, you must consult an authorized advisor or do thorough research before investing in any stock or derivative before trading any strategy given in this website. I am not responsible for any investment decision you take after reading any article given in this website. Knowledge is the only way to get success in stock markets. I try my best to give stock market investing and trading knowledge through the articles posted in this website. Thanks for visiting my website.