Open ZERO Brokerage FREE Share Trading Account - Buy and Sell Stocks Without Brokerage - Set Good Till Cancelled (GTT) on System and Forget
Traditional brokers charge a lot for brokerage; however, this broker does not charge anything for stock buying and selling. Also, you can set a Good Till Cancelled (GTT) order after buying stock so that the system can sell the stock automatically at your desired price even if you are not monitoring the market. Only 25k is blocked for option selling with hedge. It takes 5 minutes to open an account online. I will help you to learn options hedged trading if your account is opened today. Click here and Open Free Account with Them Today >>
Moving Average aka "MA" is a very popular technical analysis tool. This is very useful for short term traders. Moving average is based on past prices. It helps traders to find the direction or the trend of the stock for the short term.
Two commonly used moving averages are the Simple Moving Average (SMA), and the Exponential Moving Average (EMA).
Simple Moving Average is very simple. It is average closing prices of a stock over time.
Exponential Moving Average (EMA), is also the average of closing prices of a stock over time, but it gives more importance recent closing prices.
Moving averages are used to determine the trend of stocks. It can also help to know the support and resistance level of a stock.
Explaining Moving Averages
Assuming stock XYZ closed at the following prices in last 15 trading days:
Week 1) 102, 104, 110, 105, 107
Week 2) 106, 111, 108, 105, 108
Week 3) 112, 109, 113, 115, 119
How To Calculate the 10 Day Moving Average
Adding the first 10 days moving average:
102 + 104 + 110 + 105 + 107 + 106 + 111 + 108 + 105 + 108 = 1066
Moving Average of Day 1 through Day 10 = 1066/10 = 106.60
You can similarly calculate the Day 2 to Day 11 moving average for 10 days.
However for long term prediction 200-day moving average works better.
See the image below – It is a graph of closing prices of last 200 days of a stock: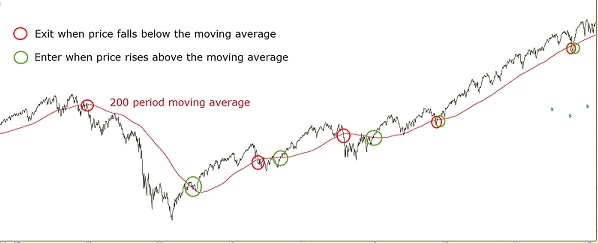 For short term:
When consecutive two highs are less than the previous one it is time to sell. When consecutive two lows are higher than previous one it is time to buy.
As I have said earlier, for long term prediction 200-day moving average works better.
For 200-day moving average follow this rule:
Sell the stock if the price of the stock falls below the 200-day moving average.
Buy the stock if the price of the stock rises above the 200-day moving average.
Important Note:
Please note that 200-day moving average will only predict but not confirm the direction of a stock. Therefore it is not a gurantee that if you follow only the 200-day moving average the stock will move the correct direction. There are other indicators as well that that Technical Analysts follow all over the world.
If you are a long term investor there are simpler ways to find stocks to invest for the long term.
TheOptionCourse.com © Copyright Since 2013 ® All Rights Reserved
Click to Share this website with your friends on WhatsApp
COPYRIGHT INFRINGEMENT: Any act of copying, reproducing or distributing any content in the site or newsletters, whether wholly or in part, for any purpose without my permission is strictly prohibited and shall be deemed to be copyright infringement.
INCOME DISCLAIMER: Any references in this site of income made by the traders are given to me by them either through Email or WhatsApp as a Thank You message. However, every trade depends on the trader and his level of risk-taking capability, knowledge and experience. Moreover, stock market investments and trading are subject to market risks. Therefore there is no guarantee that everyone will achieve the same or similar results. My aim is to make you a better & disciplined trader with the stock trading and investing education and strategies you get from this website.
DISCLAIMER: I am NOT an Investment Adviser (IA). I am an Authorized Person (AP) of a Stock Broker. I do not give tips or advisory services by SMS, Email, WhatsApp or any other forms of social media. I strictly adhere to the laws of my country. I only offer education for free on finance, risk management & investments in stock markets through the articles on this website. You must consult an authorized Investment Adviser (IA) or do thorough research before investing in any stock or derivative using any strategy given on this website. I am not responsible for any investment decision you take after reading an article on this website. Click here to read the disclaimer in full.
Disclaimer | Privacy Policy | About Me | Conservative Option Course | What Traders Say About This Course

Traditional brokers charge a lot on brokerage, however this broker does not charge anything for stock buying and selling. Also, you can set a Good Till Cancelled order after buying stock so that the system can sell the stock automatically at your desired price even if you are not monitoring the market. Plus only 25k is blocked for option selling. It takes 5 minutes to open an account online. Click here and Open Stock Buy & Sell Free Account with Them Today >>