Open a FREE Share Trading Account with ZERO Brokerage - Buy and Sell Stocks without Brokerage - Set on System and Forget
Traditional brokers charge a lot on brokerage, however this broker does not charge anything for stock buying and selling. Also, you can set a Good Till Cancelled order after buying stock so that the system can sell the stock automatically at your desired price even if you are not monitoring the market. Plus only 25k is blocked for option selling. It takes 5 minutes to open an account online. Click here and Open Free Account with Them Today >>
Losing money in stock market trading is common but when I come across heavy losers, I write in my blog.
Some examples are 3 crore loss, 2 crore loss, 40 lakh loss (must read) and now this 60 lakh loss. The total loss of these four traders equals 6 CRORE.
Read this WhatsApp chat: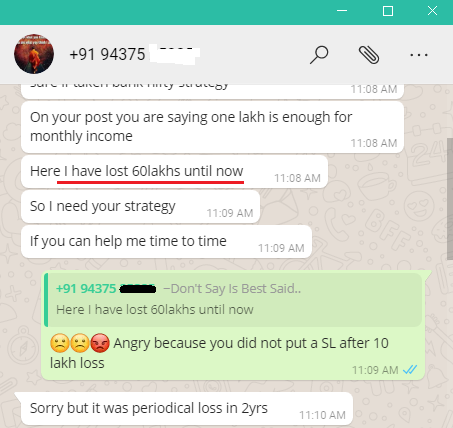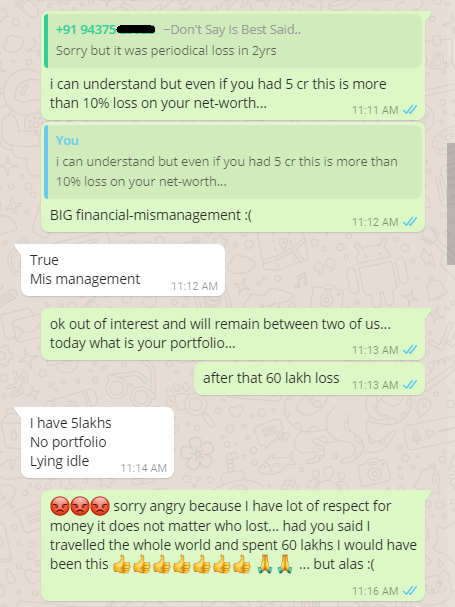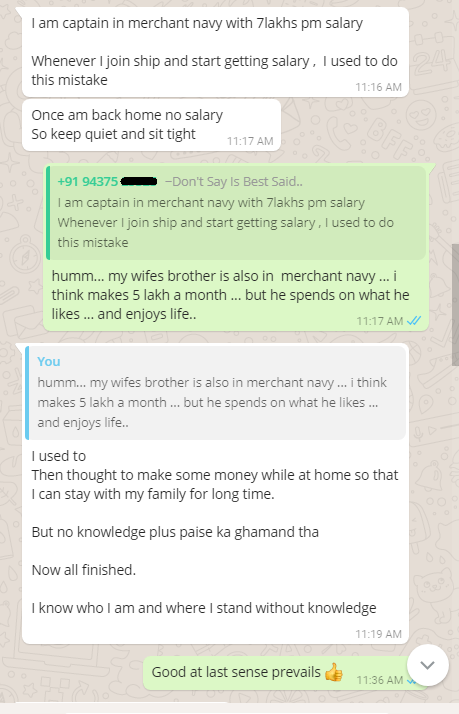 Yes, I feel bad when someone says he/she lost money trading the stock markets. Well if you start a business without knowing the ins and outs of business you are sure to lose money. But then somewhere sense should prevail. You must stop trading and start researching.
Not investing in stock markets is also a big loss. A Fixed Deposit in a bank fetches a mere 5-6% annual return a year. If you bring inflation into account you are just making a 1% return a year. So it's not a loss but neither any profit. Therefore investing in stock markets is important but you must know what you are doing – DO NOT INVEST BLINDLY just because someone said it on TV or someone gave you a tip.
You must be an investor come trader. This means you must first invest in stocks for the long term, then ask for collateral margin on the stocks you hold from your broker and then from that money trader options. If you are doing it well everything will make money – the investments, the trades etc. You will be very happy with what your investments are doing.
This is proper portfolio management. Try to make whatever cent you can make from the markets.
Be diversified, hedge, and trader with lower brokerages – save and make money BOTH are important.
I manage my portfolio in a very disciplined way. I follow the 25-25-25-25 rule to manage my financial portfolio and every 6 months I re-balance. This is very important to make sure all eggs are not in one basket.
I agree that saying is different than implementing, but you have to start somewhere. So if you are reading this article I suggest you open an xl sheet and write down your savings till now, and then see how you can diversify.
You must know the basics of everything – financial management, all investments opportunities in India – which is good which is bad – for example investing in ULIPs (Unit-Linked Insurance Plan) is bad, how to choose good mutual funds and stocks and how to invest in them, how to trade options and futures with a hedge.
If you follow just the basics of financial management I can assure you that you will NOT see losses in any financial year. The kind of losses you are seeing above was due to FINANCIAL MISMANAGEMENT.
There is no need to try to be the next Warren Buffett or Rakesh Jhunjhunwala – just make sure you DO NOT LOSE MONEY TRADING, MAKE AT LEAST 20% PER YEAR IN YOUR TRADING ACCOUNT AND NEVER TAKE A BAD FINANCIAL DECISION OR MAKE A BAD INVESTMENT.
If you can just manage your financials the way I have written above you will live a happy life.
And I hope you live a happy life managing your financials well.
Update: Tuesday, 05-Apr-2022:
After reading the above post a reader Mr Navneet Yadav sent me an email. Since it's a piece of important information I am adding it to this article.
His question:
Dear Sir,
I SHORT SBI APRIL'22 520 CE AND BUY SBI APRIL'22 530 CE
Now:
1) If on the expiry day for some reason I do not square off both the trades then what will happen, and,
2) If there are no sellers and buyers on the expiry day of both the strikes then what will happen?
Thanks,
Navneet
My answer:
If both are Out of Money (OTM) – both the options expire worthless – nothing will happen.
Profit/loss is all yours.
If both are In The Money (ITM) – one sets off the other – so nothing happens and cash settlement is done.
Profit/loss is all yours.
But if SBI finishes between 520 AND 530 on the expiry day then – the buy option is Out of Money (OTM) and expires worthless, but the short call is In The Money (ITM).
How are positions settled which are In The Money (ITM) on expiry day in all stocks in India?
On expiry, various F&O contracts are settled in the following manner if they are In The Money (ITM) once the markets are closed for trading:
Take Delivery (stocks are delivered to your Demat account) – Long Futures, Long In The Money (ITM) CALL and short In The Money (ITM) PUT
Give Delivery (you are required to deliver the stocks to the exchange) – Short Futures, Short In The Money (ITM) CALL and Long In The Money (ITM) PUT
Only In The Money (ITM) options will be physically settled, if the option expires Out of Money (OTM), they expire worthlessly and there won't be any delivery obligation.
2) If there are no sellers and buyers on the expiry day of both the strikes then what will happen?
It's not possible as your position is open, so one more position is also open.
If you both chose not to close the above will happen.
If you too have any questions you can email dilip@theoptioncourse.com or just write in the comment section below. I reply to each email/comment.
TheOptionCourse.com © Copyright Since 2013 ® All Rights Reserved
Click to Share this website with your friends on WhatsApp
COPYRIGHT INFRINGEMENT: Any act of copying, reproducing or distributing any content in the site or newsletters, whether wholly or in part, for any purpose without my permission is strictly prohibited and shall be deemed to be copyright infringement.
INCOME DISCLAIMER: Any references in this site of income made by the traders are given to me by them either through Email or WhatsApp as a Thank You message. However, every trade depends on the trader and his level of risk-taking capability, knowledge and experience. Moreover, stock market investments and trading are subject to market risks. Therefore there is no guarantee that everyone will achieve the same or similar results. My aim is to make you a better & disciplined trader with the stock trading and investing education and strategies you get from this website.
DISCLAIMER: I am NOT an Investment Adviser (IA). I am an Authorized Person (AP) of a Stock Broker. I do not give tips or advisory services by SMS, Email, WhatsApp or any other forms of social media. I strictly adhere to the laws of my country. I only offer education for free on finance, risk management & investments in stock markets through the articles on this website. You must consult an authorized Investment Adviser (IA) or do thorough research before investing in any stock or derivative using any strategy given on this website. I am not responsible for any investment decision you take after reading an article on this website. Click here to read the disclaimer in full.
Disclaimer | Privacy Policy | About Me
Course 1: Conservative Option Course | Course 2: Bank Nifty Weekly Options Course
Course Testimonials Year Wise: | 2015 | 2015 Page 2 | 2015 Page 3 | 2015-16 | 2016 | 2017 | 2018 | 2019 | 2020 | 2021 | 2022 | Instant Reaction After Reading My Course | Emotional Testimonial | 25,000 Per Week | Bank Nifty Course Testimonials


Traditional brokers charge a lot on brokerage, however this broker does not charge anything for stock buying and selling. Also, you can set a Good Till Cancelled order after buying stock so that the system can sell the stock automatically at your desired price even if you are not monitoring the market. Plus only 25k is blocked for option selling. It takes 5 minutes to open an account online. Click here and Open Free Account with Them Today >>