Open a FREE Share Trading Account with ZERO Brokerage - Buy and Sell Stocks without Brokerage - Set on System and Forget
Traditional brokers charge a lot on brokerage, however this broker does not charge anything for stock buying and selling. Also, you can set a Good Till Cancelled order after buying stock so that the system can sell the stock automatically at your desired price even if you are not monitoring the market. Plus only 25k is blocked for option selling. It takes 5 minutes to open an account online. Click here and Open Free Account with Them Today >>
First lets see the fall of NSE in Mar 2021: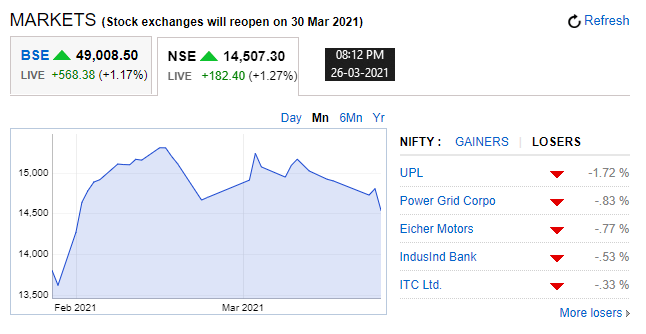 Source: https://money.rediff.com/index.html
On 03-Mar-2021 NSE closed at 15,245.60, and on 26-Mar-2021 closing, its 14,507.30. That is 700+ points fall.
Why Indian stock markets are falling in March 2021?
Disclaimer: This is my personal view not written or told by experts anywhere. Most experts are saying that it is due to resurgence of the Novel Coronavirus (COVID-19) in India. Sudden spike has spooked investors. Well that is also true. I am just adding one more reason of the fall written below.
Indian stock markets are falling because of the state elections in 5 states in the coming month – April 21. Apprehension (fear) is there as central ruling party (BJP) wants to win West Bengal and the fight is very tight between BJP & TMC. Read below for more details.
For some strange reason given below other than West Bengal results neither the stock market investors nor the politicians and general public of India are interested in the results because other than WB the results are clear. Let me explain:
1. Assam – It doesn't matter if BJP wins or loses in Assam. 90% chance that BJP will form the government in Assam. It is very popular here and there is no alternative so a win for BJP is sure. Markets have already taken this into consideration. For stock market investors the result is irrelevant here.
2. Kerala – Well BJP has zero presence here. For stock market investors the result is irrelevant in Kerala except if BJP wins. However, they will not win. Currently there is only one MLA in Kerala. BJP did not even did any marketing here – why waste money 🙂 So only a miracle can make BJP for the government here. Kerala has over 90% literacy so chances are nil. Indian Stock Markets have already taken this into consideration.
3. Puducherry – Totally irrelevant whoever wins here. There is President's rule here now. The Chief Minister seat is Vacant since 22 February 2021.
4. Tamil Nadu – AIADMK along with the National Democratic Alliance parties is ruling here and chances are that they will again. So markets have taken this account and not bothered. Even if AIADMK loses, this will not damage the image of BJP. So for markets the results of Tamil Nadu 2021 elections are irrelevant.
5. West Bengal – Did you notice even in the 2019 General Elections BJP did not advertise and market themselves so aggressively as they are doing in West Bengal? In fact, such aggressive marketing to win an election General or State is historic. I have never seen in my life such an election battle. More than election it is an ego battle between Modi & Mamta Banerjee. The fight is not between BJP & TMC, it is between the ego of Modi & Mamta. Stock market investors know this. So they are booking profits or taking stop losses. Action will happen after May 2, 2021 – the results day.
Not just investors the entire country is looking at this election – I mean the election results in West Bengal. Why? Because the results in West Bengal will decide the faith in this government or not. BJP did very well in the 2019 General Election in West Bengal, so the results here matter.
May 2, 2021, will decide the future direction of the stock markets. Till then unless a sudden reduction of coronavirus cases in India happens, the markets will not be able to cross 15,600.
If BJP wins – obviously its a joy for investors as they will know that the Modi brand is still intact and BJP cannot be defeated in the 2024 General Elections even if they do 100 mistakes more. They are doing a lot of mistakes, if you do not follow TV news channels a.k.a Godi Media, you may know 🙂
If TMC wins – the Modi brand will take a hit and obviously, investors will fear putting their money on the line at least till the results of UP elections are out. Which is next year. Stock markets may fall by at least 7-10% from 15,000. So it may test 13,600 and then bounce back.
If BJP wins then 16,000 is on the cards, of course if the situation of coronavirus also improves by May 2, 2021.
So invest as per your risk and manage accordingly. Do not forget to hedge your option and future trades.
TheOptionCourse.com © Copyright Since 2013 ® All Rights Reserved
Click to Share this website with your friends on WhatsApp
COPYRIGHT INFRINGEMENT: Any act of copying, reproducing or distributing any content in the site or newsletters, whether wholly or in part, for any purpose without my permission is strictly prohibited and shall be deemed to be copyright infringement.
INCOME DISCLAIMER: Any references in this site of income made by the traders are given to me by them either through Email or WhatsApp as a Thank You message. However, every trade depends on the trader and his level of risk-taking capability, knowledge and experience. Moreover, stock market investments and trading are subject to market risks. Therefore there is no guarantee that everyone will achieve the same or similar results. My aim is to make you a better & disciplined trader with the stock trading and investing education and strategies you get from this website.
DISCLAIMER: I am NOT an Investment Adviser (IA). I am an Authorized Person (AP) of a Stock Broker. I do not give tips or advisory services by SMS, Email, WhatsApp or any other forms of social media. I strictly adhere to the laws of my country. I only offer education for free on finance, risk management & investments in stock markets through the articles on this website. You must consult an authorized Investment Adviser (IA) or do thorough research before investing in any stock or derivative using any strategy given on this website. I am not responsible for any investment decision you take after reading an article on this website. Click here to read the disclaimer in full.
Disclaimer | Privacy Policy | About Me
Course 1: Conservative Option Course | Course 2: Bank Nifty Weekly Options Course
Course Testimonials Year Wise: | 2015 | 2015 Page 2 | 2015 Page 3 | 2015-16 | 2016 | 2017 | 2018 | 2019 | 2020 | 2021 | 2022 | Instant Reaction After Reading My Course | Emotional Testimonial | 25,000 Per Week | Bank Nifty Course Testimonials


Traditional brokers charge a lot on brokerage, however this broker does not charge anything for stock buying and selling. Also, you can set a Good Till Cancelled order after buying stock so that the system can sell the stock automatically at your desired price even if you are not monitoring the market. Plus only 25k is blocked for option selling. It takes 5 minutes to open an account online. Click here and Open Free Account with Them Today >>