Open ZERO Brokerage FREE Share Trading Account - Buy and Sell Stocks Without Brokerage - Set Good Till Cancelled (GTT) on System and Forget
Traditional brokers charge a lot for brokerage; however, this broker does not charge anything for stock buying and selling. Also, you can set a Good Till Cancelled (GTT) order after buying stock so that the system can sell the stock automatically at your desired price even if you are not monitoring the market. Only 25k is blocked for option selling with hedge. It takes 5 minutes to open an account online. I will help you to learn options hedged trading if your account is opened today. Click here and Open Free Account with Them Today >>
First here is the growth story of Adani Enterprises Ltd. (Stock symbol: ADANIENT – Group (A) Stock) Listed in both NSE and BSE.
On 01-Apr-2020 it closed at 137.07: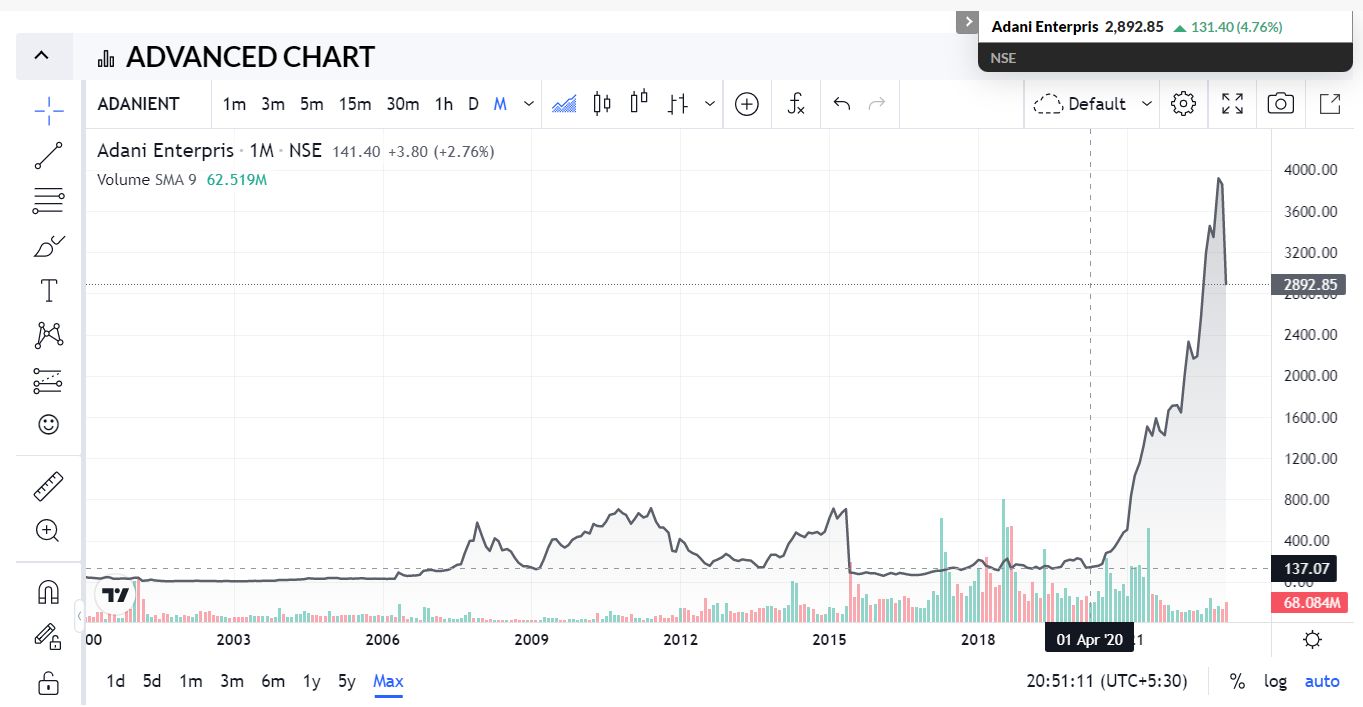 Source:
https://www.moneycontrol.com/india/stockpricequote/trading/adanienterprises/AE13
And on 07-Nov-2022 it closed at 4037.26: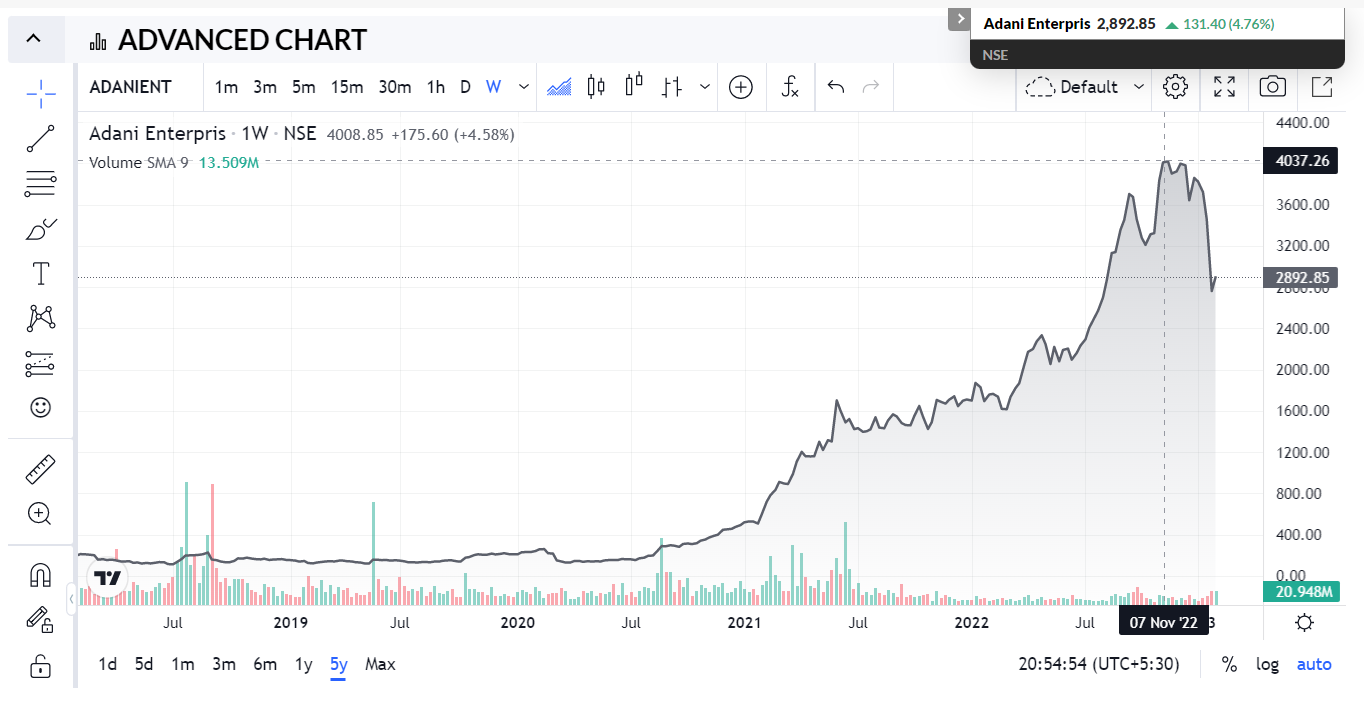 This is an increase of 2845.40% in 2 and a half years.
On January 24, 2023, a USA-based company Hindenburg Research LLC – an investment research firm with a focus on activist short-selling founded by Nathan Anderson, based in New York City published a report with proof that the stock price of all 7 listed Adani companies in India was manipulated.
https://hindenburgresearch.com/adani/
My suggestion is if it is just a tiny quantity like 10-20k of holding in any Adani group shares in total then just keep it because the max loss is 10-20k. This will not have a major impact on your overall portfolio. Other good stocks will eventually recover. But if you hold more than 25k then take a stop loss.
Sell today or if you are willing to wait then make a decision this week.
If you bought the stocks a few months back you are still in profit. In that case, you are lucky. Do not think twice as the Hindenburg Research Report on the Adani group is highly detailed with proof.
It's very big. You must have already known a few points mainly the stock prices of all groups of Adani shares were manipulated in the last 3 years.
This is the most important point:
Gautam Adani, Founder and Chairman of the Adani Group, has amassed a net worth of roughly $120 billion, adding over $100 billion in the past 3 years largely through stock price appreciation in the group's 7 key listed companies, which have spiked an average of 819% in that period.
Here are the seven Adani Companies:
Adani Enterprises – 512599 ADANIENT Group (A)
Adani Ports & Special Economic Zone – 532921 ADANIPORTS Group (A)
Adani Transmission – 539254 ADANITRANS Group (A)
Adani Green Energy – 541450 ADANIGREEN Group (A)
Adani Total Gas – 542066 ATGL Group (A)
Adani Power – 533096 ADANIPOWER Group (A)
Adani Wilmar – 543458 AWL Group (A)
Now the next few points are also important:
1. Our research involved speaking with dozens of individuals, including former senior executives of the Adani Group, reviewing thousands of documents, and conducting diligence site visits in almost half a dozen countries.
This means they have all the proof.
2. Even if you ignore the findings of our investigation and take the financials of Adani Group at face value, its 7 key listed companies have an 85% downside purely on a fundamental basis owing to sky-high valuations.
This is a plain fundamental analysis and true.
3. Adani companies have also taken on substantial debt, including pledging shares of their inflated stock for loans, putting the entire group on precarious financial footing. 5 of 7 key listed companies have reported 'current ratios' below 1, indicating near-term liquidity pressure.
This was already known to investors long back but they kept investing. The company is in 40% debt as on Jan 30, 2023.

4. 4 of Adani's listed companies are on the brink of the delisting threshold due to high promoter ownership.
They have not named them.
So yes Adani shares will fall more unless they prove Hindenburg Research biased and fake/wrong to make a profit on short selling of Adani bonds in the US.
Though Hindenburg Research has clearly said if the Adani group files a case against them – they will give all the proof plus some more and ask for evidence to prove them wrong.
There are many more points. Then they explained each point in detail – this is for the financial experts who want to know everything in detail and media.
So my view is to exit all Adani stocks for now. There are better stocks available to invest in now.
Banking stocks are also falling because they have given loans to the Adani group. I suggest holding them for now.
Update on  01-Feb-2023:
Let me first show you what happened to Adani stocks today 01-Feb-2023:
And the latest acquisition NDTV also hit the lower circuit.
ACC and Ambuja Cements are included as Adani group has acquired a significant stake in these two firms as well.
Within the next 2 years it looks like they will buy my next-door kirana ki dukan (shop) as well… lol… 🙂
If you are my old newsletter subscriber I hope you remember I always keep telling you that in stock trading your biggest enemy is no one else but YOU.
Within you there is GREED. If you have to win in stock markets you have to kill GREED.
I have told you many times but let me repeat that – 1% profit trading in stock markets in the last 10 years is better than a 20 lakh loss. Unfortunately, a lot of traders and a few investors fall into the latter category.
What is more strange is that when I get phone calls inquiring about my courses most people who have lost money laugh and say Sir I have lost a few lakhs. And 1 or 2% of those who made a very small profit feel shy telling the truth. Shouldn't it be the other way around?
Adani has also fallen into that category. As long as his seven companies were there, it was ok. But tell me, what was the need to buy ACC, Ambuja Cements and NDTV?
This is pure greed. The quest to make money honestly is good. But trying to buy every business is a sure-shot way to disaster. One day or the other it had to happen – and it did.
He is trying to make money he will NEVER need. 
Kingfisher owner Vijay Mallya, Cafe Coffee Day owner Late Veerappa Gangaiah Siddhartha Hegde, PNB Scam – Nirav Modi, and Harshad Mehta – all fall in the same category.
There are many more examples but these people just do not learn from history. When they do a mistake they feel nothing will happen to them – but eventually, truth takes over and they find themselves in trouble.
From various sources online:
On an absolute level, it is estimated that the bank debt of Adani companies stood at Rs 70,000-80,000 crore of the Rs 2 lakh crore debt in FY22.
Adani Group's total gross debt in the financial year ended March 31, 2022, rose 40% to 2.2 trillion rupees ($26.83 billion).
A company with 40% debt is very risky to invest in. If the Hindenburg research report comes out to be true all Adani stocks will see the dust. Even if it does not – they will never give the kind of returns Adani stocks gave in the last 3 years.
Advertisement:
Open a ZERO brokerage account and never pay brokerage to buy and sell stocks ever. Set Good Till Canceled Order (GTT) and let the system sell the stock for you for free when in profit, without even login in and monitoring. This feature is also free. The offer is for a LIMITED TIME. Click here to open the account.
TheOptionCourse.com © Copyright Since 2013 ® All Rights Reserved
Click to Share this website with your friends on WhatsApp
COPYRIGHT INFRINGEMENT: Any act of copying, reproducing or distributing any content in the site or newsletters, whether wholly or in part, for any purpose without my permission is strictly prohibited and shall be deemed to be copyright infringement.
INCOME DISCLAIMER: Any references in this site of income made by the traders are given to me by them either through Email or WhatsApp as a Thank You message. However, every trade depends on the trader and his level of risk-taking capability, knowledge and experience. Moreover, stock market investments and trading are subject to market risks. Therefore there is no guarantee that everyone will achieve the same or similar results. My aim is to make you a better & disciplined trader with the stock trading and investing education and strategies you get from this website.
DISCLAIMER: I am NOT an Investment Adviser (IA). I am an Authorized Person (AP) of a Stock Broker. I do not give tips or advisory services by SMS, Email, WhatsApp or any other forms of social media. I strictly adhere to the laws of my country. I only offer education for free on finance, risk management & investments in stock markets through the articles on this website. You must consult an authorized Investment Adviser (IA) or do thorough research before investing in any stock or derivative using any strategy given on this website. I am not responsible for any investment decision you take after reading an article on this website. Click here to read the disclaimer in full.
Disclaimer | Privacy Policy | About Me | Conservative Option Course | What Traders Say About This Course

Traditional brokers charge a lot on brokerage, however this broker does not charge anything for stock buying and selling. Also, you can set a Good Till Cancelled order after buying stock so that the system can sell the stock automatically at your desired price even if you are not monitoring the market. Plus only 25k is blocked for option selling. It takes 5 minutes to open an account online. Click here and Open Stock Buy & Sell Free Account with Them Today >>