Open ZERO Brokerage FREE Share Trading Account - Buy and Sell Stocks Without Brokerage - Set Good Till Cancelled (GTT) on System and Forget
Traditional brokers charge a lot for brokerage; however, this broker does not charge anything for stock buying and selling. Also, you can set a Good Till Cancelled (GTT) order after buying stock so that the system can sell the stock automatically at your desired price even if you are not monitoring the market. Only 25k is blocked for option selling with hedge. It takes 5 minutes to open an account online. I will help you to learn options hedged trading if your account is opened today. Click here and Open Free Account with Them Today >>
Part of my newsletter to my subscribers dated 29-Nov-18
I have written this before that Nifty and India VIX are inversely proportional. Today I want to just write again because it has again proved that they both are inversely proportional.
See last 3 months graph of India VIX and Nifty – Source: MoneyControl.com: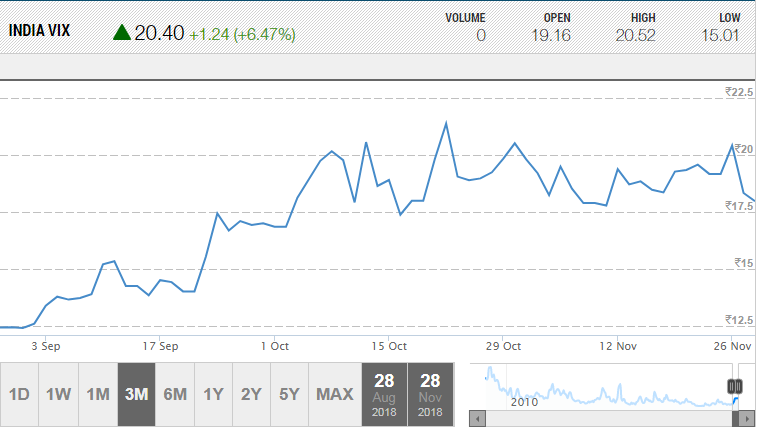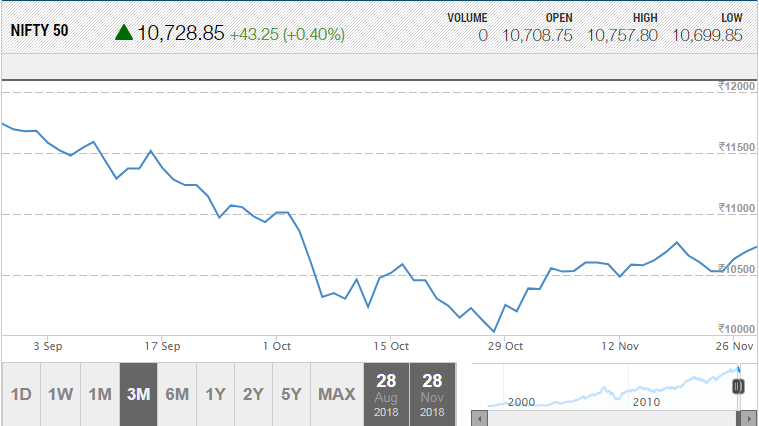 Can you see from Sep to Nov 18 India VIX kept on rising and Nifty in the same period kept on falling?
If you read my emails thank you. Hope you remember what I said on 27-Nov-18 that Nifty at 10600 is looking very strong and at the time of writing this email on 29-Nov-18 Nifty is at 10824.25.
Here is the image of my email on 27-Nov-18:
This is good – but what next?
Now Nifty has reached a point where it gets difficult to guess where it will go. So the best way out is hedge your directional trades too.
See this testimonial of the Nifty course directional strategy – where a trader learns to hedge a directional trade:
Rs.12,500.00 profit is a single trade on just 2 days on 1 Lakh margin block. 12.5% ROI.
Hedging is a beauty – it saves you when you are wrong and it keeps you strong when right. And of course if you want stay away from trading direction you will also learn the non-directional strategies in my course.
Naked trading is dangerous, it can ruin your wealth. You cannot win every-time – when you lose it takes away whatever you made in last few trades. For overnight protection hedging is very important.
Good news is India VIX is falling down after being near 19 in last two months.
You can see India VIX here. Please note that India VIX will change when you see. When I was writing this post it was near 17 falling from 19 a few days back.
This means that Nifty will become more stable now if India VIX does not increase.
Let us hope for the best.
Do you see India VIX and trade or you just trade on hope? Do write in the comments section below.
TheOptionCourse.com © Copyright Since 2013 ® All Rights Reserved
Click to Share this website with your friends on WhatsApp
COPYRIGHT INFRINGEMENT: Any act of copying, reproducing or distributing any content in the site or newsletters, whether wholly or in part, for any purpose without my permission is strictly prohibited and shall be deemed to be copyright infringement.
INCOME DISCLAIMER: Any references in this site of income made by the traders are given to me by them either through Email or WhatsApp as a Thank You message. However, every trade depends on the trader and his level of risk-taking capability, knowledge and experience. Moreover, stock market investments and trading are subject to market risks. Therefore there is no guarantee that everyone will achieve the same or similar results. My aim is to make you a better & disciplined trader with the stock trading and investing education and strategies you get from this website.
DISCLAIMER: I am NOT an Investment Adviser (IA). I am an Authorized Person (AP) of a Stock Broker. I do not give tips or advisory services by SMS, Email, WhatsApp or any other forms of social media. I strictly adhere to the laws of my country. I only offer education for free on finance, risk management & investments in stock markets through the articles on this website. You must consult an authorized Investment Adviser (IA) or do thorough research before investing in any stock or derivative using any strategy given on this website. I am not responsible for any investment decision you take after reading an article on this website. Click here to read the disclaimer in full.
Disclaimer | Privacy Policy | About Me | Conservative Option Course | What Traders Say About This Course

Traditional brokers charge a lot on brokerage, however this broker does not charge anything for stock buying and selling. Also, you can set a Good Till Cancelled order after buying stock so that the system can sell the stock automatically at your desired price even if you are not monitoring the market. Plus only 25k is blocked for option selling. It takes 5 minutes to open an account online. Click here and Open Stock Buy & Sell Free Account with Them Today >>