Open ZERO Brokerage FREE Share Trading Account - Buy and Sell Stocks Without Brokerage - Set GTT (Good Till Triggered) Orders on System and Forget
Traditional brokers charge a lot for brokerage; however,
this broker
does not charge anything for stock buying and selling
. Also, you can set
GTT (Good Till Triggered) order
after buying a stock, so that the system can sell the stock
automatically
at your target price even if you are
not monitoring the market
.
Only 25k is blocked for option selling with hedge
. Also,
you get a lifetime free account in Sensibull (virtual trading app & strategy builder) which charges Rs.800/-+GST a month. Learn option hedging strategy if you open an account today.
It takes 5 minutes to open an account online.
Click here and Open Free Account with Them Today >>
On Feb 6, 2018 I had told my newsletter subscribers to buy stocks because Nifty may reverse anytime. See what happens after I send newsletters: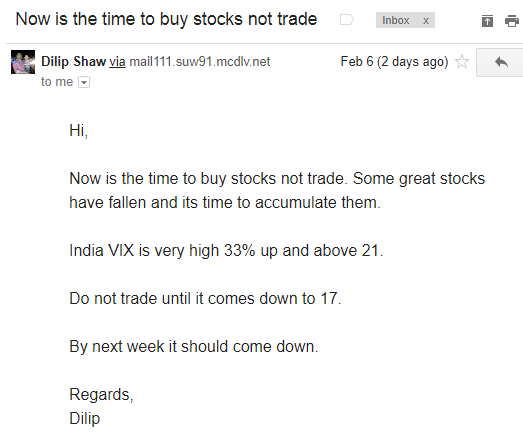 Exactly after that see how Nifty has rallied: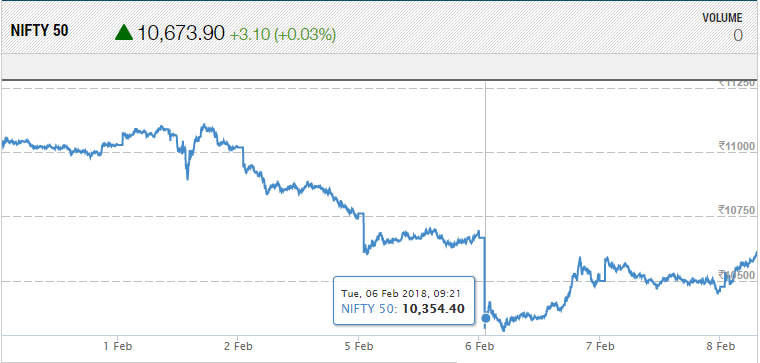 Today already 124 points up.
However these are sent occasionally not regularly.
If you want to make regular profits and not depend on my free newsletters you can do my course.
Learn to trade yourself, it will help you for life. Do not depend on anyone else – especially tip providers as they will not make you money. Moreover can you get tips and become rich? Can you trade 10 lakhs on someone tips? You will keep paying someone or many people for months if you go for tips and you will lose money plus still not be able to trade on your own.
Depending on someone's tip to trade is a blunder. Educate yourself and became a better trader
TheOptionCourse.com © Copyright Since 2013 ® All Rights Reserved
Click to Share this website with your friends on WhatsApp
COPYRIGHT INFRINGEMENT: Any act of copying, reproducing or distributing any content in the site or newsletters, whether wholly or in part, for any purpose without my permission is strictly prohibited and shall be deemed to be copyright infringement.
INCOME DISCLAIMER: Any references in this site of income made by the traders are given to me by them either through Email or WhatsApp as a Thank You message. However, every trade depends on the trader and his level of risk-taking capability, knowledge and experience. Moreover, stock market investments and trading are subject to market risks. Therefore there is no guarantee that everyone will achieve the same or similar results. My aim is to make you a better & disciplined trader with the stock trading and investing education and strategies you get from this website.
DISCLAIMER: I am NOT an Investment Adviser (IA). I am an Authorized Person (AP) of a Stock Broker. I do not give tips or advisory services by SMS, Email, WhatsApp or any other forms of social media. I strictly adhere to the laws of my country. I only offer education for free on finance, risk management & investments in stock markets through the articles on this website. You must consult an authorized Investment Adviser (IA) or do thorough research before investing in any stock or derivative using any strategy given on this website. I am not responsible for any investment decision you take after reading an article on this website. Click here to read the disclaimer in full.
Disclaimer | Privacy Policy | About Me | Conservative Option Course | Bank Nifty Weekly Options Strategy
Find 200+ testimonials of my course on these pages too posted year-wise:
What Traders Say About This Course
Testimonials Year 2015
Testimonials Year 2015 Page 2
Testimonials Year 2015 & 2016
Testimonials Year 2016
Testimonials Year 2017
Testimonials Year 2018
Testimonials Year 2019
Testimonials Year 2020
Testimonials Year 2021
Testimonials Year 2022
Testimonials Year 2023
Testimonial of one of my client making 25k per week
Emotional Testimonial by a Young Woman Trader and Her Mother
Difference Between other Courses and Mine
What others charge for online courses
What People Say Just After Doing My Course
Bank Nifty Course Testimonials



Traditional brokers charge a lot on brokerage, however this broker does not charge anything for stock buying and selling. Also, you can set a Good Till Cancelled order after buying stock so that the system can sell the stock automatically at your desired price even if you are not monitoring the market. Plus only 25k is blocked for option selling. It takes 5 minutes to open an account online. Click here and Open Stock Buy & Sell Free Account with Them Today >>