Register to Get 5 Days Free Course on Options and Immediately Get an email to Download eBook on Option Greeks Also Get an Equity Intraday Strategy Course for FREE TODAY
Part of my free newsletter dated: 24-Oct-2018
Last few days volatility has become average but India VIX is still high. By the time you check it may have changed but right now at 11.17 am on 24-10-18 it is 18.51 – down -2.78% from yesterdays close.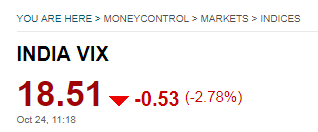 Below 16 is comfortable zone to trade derivatives. I feel within 10 days it should come down to near 16.
What you can do?
You can chose to trade or not. My principal of trading is very different than what you keep reading in other websites or videos. When in confusion or very volatile times go non-directional or just do not trade. Not forcing yourself to trade should also be mastered. Just trading for the sake of trading is fun not business. And business is not fun – you have to be serious.
Stock hunting (buy equity) is also a great idea when stocks are being sold at a discount. You know who are selling them? Those who bought them at peak when markets were at 11500. Its sad but this happens. It is happening since the days stocks started trading and it will happen thousands of years from now.
Why this happens?
Because when stock markets goes up very fast people who were sitting aside suddenly jump in to make some money very fast – that does not happen and they take losses very fast. Exactly opposite of what should be done.
If you do my Nifty Option course you will get sometimes name of stocks that may go up to 20% in one year time. You will get this by email only until your subscription which is one year from the date of payment.
Please note that Nifty course is one time fees only.
Here is complete process of my course:
1. Once you pay I will send you the course materials for studying to your email.
2. You read and ask me questions via phone/whatsapp/email to clear doubts.
3. Then you start paper trading and still can ask me questions.
4. After about one month you can start trading.
5. Since doubts can come anytime the support will be there for one year.
Then you can start trading on your own. No need to depend on anyone once you are on your own.
Click here to see the course fees.
Update: Part of my newsletter dated: 29-Oct-18
===================================================
Check how Nifty behaved today:
And how India VIX behaved:
Look at the above images – India VIX is still over 20 and has risen 5.56% over last close.
This is not a good sign for the markets.
Nifty non directional strategy will work out in these situations with lower lot size – the point is when India VIX is over the danger mark its better to trade with lower risk or lot size.
Do not take any huge risk now as anything might happen in this high VIX market.
Its strange that though India VIX is inversely proportional to Nifty today both have increased.
So even you want to trade options better take do a debit spread to lower your risk.
Trading without hedge is financial destruction. I know I am saying to limit your profits and losses due to hedge – which is totally different than what you read in other websites and media. But a fact is fact – a limited profit with hedge is much better trade than naked (not-hedged trading). Rest up to you.
If you have any question you can
contact me
.
You can read
about me here
and
my trading mistakes here
.
TheOptionCourse.com Copyright @ All Rights Reserved
Dilip Shaw, Founder
Copyright Infringement: Any act of copying, reproducing or distributing any content in the site or newsletters, whether wholly or in part, for any purpose without my permission is strictly prohibited and shall be deemed to be copyright infringement.
INCOME DISCLAIMER: Any references in this site of income made by the traders are given to me by them either through Email or WhatsApp as a Thank You message. However every trade depends on the trader and his level of risk taking capability, knowledge and experience. Moreover stock market investments and trading are subject to market risks. Therefore there is no guarantee that everyone will achieve the same or similar results. My aim is to make you a better & disciplined trader with the stock trading and investing education and strategies you get from this website. Please note that I DO NOT give tips or advisory services by SMS, Email, or WhatsApp or any other form of social media. I strictly adhere to laws of my country. I only offer education on finance, investments on stock markets in the best possible way as much as I can through this website. Still, you must consult an authorized advisor or do thorough research before investing in any stock or derivative before trading any strategy given in this website. I am not responsible for any investment decision you take after reading any article given in this website. Knowledge is the only way to get success in stock markets. I try my best to give stock market investing and trading knowledge through the articles posted in this website. Thanks for visiting my website.