Fill this Form to Get 5 Day Free Course on Options And Immediately Get an email to Download eBook on Option Greeks. You can also get an Equity Intraday Strategy for FREE
=====The Article=====
Selling a put option is a slightly bullish strategy wherein the stock has to move up else the put seller may face a loss. Its better to sell a put option slightly OTM – Out of The Money. You must have read in lots of places that its better to sell an ATM (At The Money) put option, but my experience has been good with selling put options slightly out of the money. Out of the money put option gives you time to decide to book profit or take a stop loss.
Suppose you are very bullish on a stock then there are four things you can do:
1. Buy the stock in cash
2. Buy its Future
3. Buy an ATM Call option
4. Sell an ATM or OTM Put option
No. 1 is the best if you have enough cash to buy the stock and hold. There is no tension or worry about the trade finishing on expiry day. You can hold the stock till you retire.
No. 2 Future is the most dangerous trade of all four. In this month Jul, 2019 Yes Bank is going up 10% one day and falling 10% the next day – imagine the situation of a future buyer or seller caught on the wrong direction. But if it was a call or a put buy the trader would have managed to escape with a limited loss.
No. 3 is ok but you must have strong view on the stock. Plus the IV of the stock must be low to buy an option whether its call or put. But the biggest enemy is time value or theta decay. Sometimes even when the option buyer is right in direction, he loses the trade. Read this post to know issues with buying options.
No. 4 is good option if the trader wants to eat the time value premium of the option. However a stock crash might be dangerous so the trader must have a strong bullish view in the stock.
You must read news about the company before selling its put option. A company having financial, management or any other issue do not qualify for this strategy. In fact no trades must be done on such a stock.
After reading such news will you trade in Yes Bank?
One man alone lost Rs 7,000 crore in YES Bank rout since August 2018
Yes Bank Shares Fall 13% After Earnings Miss
Yes Bank drops 20% as bad loans mount, provisions surge
Yes Bank's investors are desperate for a buyer amid fears of a massive quarterly loss
Obviously, the answer is NO. Still, look at option chain and volume in Yes Bank as on 18-07-19 – there is heavy volume in options trading: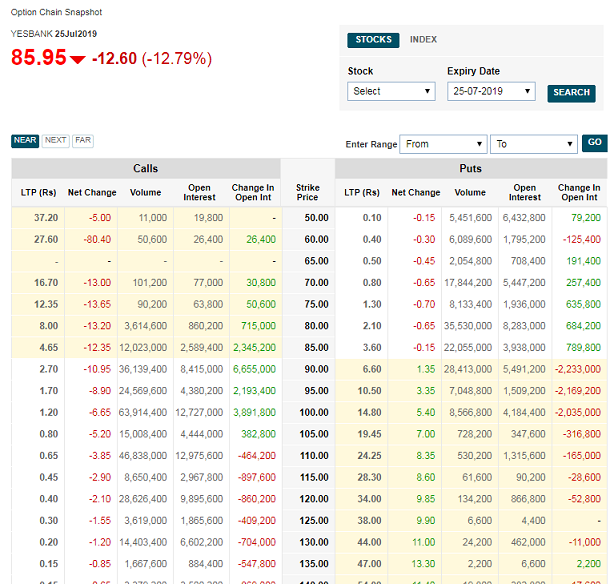 Source:
https://www.moneycontrol.com/stocks/fno/view_option_chain.php?sc_id=YB&sel_exp_date=2019-07-25
This is speculative trading at its best.
If you are reading this – make sure not to trade such stocks going in a bad new phase. It does not matter how bad the news is. Avoid trading in such a stock. You may suffer even if you short the stock because you do not know when the stock will rebound.
So selling a put option in such a stock is a Big NO.
What you can do if you have a very bullish long-term outlook in a stock? You can consistently sell its OTM put option month after month. Of course you must keep a limit to the loss you want to take in the trade. If that is reached you have to stop the trade. Same with profit booking. The stock will not keep rising forever so put a stop to your profits too if you are selling a put option of the stock consistently.
If you compare the results between a stock buyer and a put option seller you will see that the put option seller wins more times when the stock falls to the limit of the strike price of the option sold, stays at the same place at expiry, or goes a very small percentage.
What should you do when you sell a put option?
Keep limit to the money that you are willing to lose in the trade. Its not required for you to take this trade till expiry if the stock has fallen down. You are free to exit the trade if you see that the stock is falling and reached the level of the put option sold.
Note that selling put option strategy is a neutral to bullish strategy. You can sell a put option if the result of the stock has come better than expected, or the stock is not moving much or is witnessing huge spike up everyday.
Important points to note:
1. Do not use all money in your account to sell a put option.
2. Always hedge your put option sold.
3. Keep extra cash for adjusting the position in case you want to close the losing sold option and move to a lower strike.
4. Standard deviation volatility of the stock will give you an idea of how far you can sell a put option. However this does not guarantee that the stock will not hit the strike – but it does give you a general idea.
What you should do now
1.
If you have still not subscribed for my free 5 days course you can do by filling the form above. You will learn a lot about option trading.
2.
If you are a new option trader, not much experienced and are making losses you can do my paid course. I recommend
Nifty Conservative Option Course
for beginners because it is easy to understand and easy to trade. Even a 18 year old young trader or a housewife can learn it and start trading from next day. It will help you to earn consistent monthly income without any software or speculation or stress or big risk. You will learn proper hedging strategies that works in any market condition.
3.
If you are banknifty weekly options trader you can do my
Bank Nifty Weekly Options & Futures Strategy Course
. You will learn future and option hedging strategies that works in volatile market condition.
NOTE: Here is one more help. You can open a trading account in UPSTOX and send me a WhatsApp message on 9051143004. I will send you a FREE Equity Intraday Strategy that you can start trading and make approx 200 a day. You need 5000 to start trading this strategy.
CLICK HERE AND REGISTER IMMEDIATELY TO OPEN AN ACCOUNT IN UPSTOX. If you do not register immediately you will not be mapped under me which is very important to get the free strategy.

UPSTOX is a low cost broker where buying and selling of stocks is FREE.
Testimonials
What Traders Say About My Course
Course fees:
Click here to know the course fees
.
Here is complete process of my course
1.
Once you pay I will send you the course materials for studying to your email.
2.
You read and ask me questions via phone/whatsapp/email to clear doubts.
3.
Then you start paper trading and still can ask me questions.
4.
After about one month you can start trading.
5.
Since doubts can come anytime the support will be there for one year.
Within one month you can start trading on your own. No need to depend on anyone once you are on your own.
If you have any question you can
contact me
.
You can read
about me here
and
my trading mistakes here
.
TheOptionCourse.com Copyright @ All Rights Reserved
Dilip Shaw, Founder
Copyright Infringement: Any act of copying, reproducing or distributing any content in the site or newsletters, whether wholly or in part, for any purpose without my permission is strictly prohibited and shall be deemed to be copyright infringement.
INCOME DISCLAIMER: Any references in this site of income made by the traders are given to me by them either through Email or WhatsApp as a Thank You message. However every trade depends on the trader and his level of risk taking capability, knowledge and experience. Moreover stock market investments and trading are subject to market risks. Therefore there is no guarantee that everyone will achieve the same or similar results. My aim is to make you a better & disciplined trader with the stock trading and investing education and strategies you get from this website. Please note that I DO NOT give tips or advisory services by SMS, Email, or WhatsApp or any other form of social media. I strictly adhere to laws of my country. I only offer education on finance, investments on stock markets in the best possible way as much as I can through this website. Still, you must consult an authorized advisor or do thorough research before investing in any stock or derivative before trading any strategy given in this website. I am not responsible for any investment decision you take after reading any article given in this website. Knowledge is the only way to get success in stock markets. I try my best to give stock market investing and trading knowledge through the articles posted in this website. Thanks for visiting my website.