Before reading you should know that in India Government is planning to move a bill to ban all private cryptocurrencies. So be careful before investing in any cryptocurrency, if banned you may not be able to sell the cryptocurrencies that you bought..
For the last few years, BITCOIN And CryptoCurrency Trading is making a lot of news. Investors especially in the western countries, and now in India too have shown a lot of Interest in BITCOIN And CryptoCurrency Trading.
What is BITCOIN?
Bitcoin is a new currency that was created in 2009 by an unknown person using the alias Satoshi Nakamoto. Transactions are made with no middlemen – meaning, no banks! There are no transaction fees and no need to give your real name. Some merchants in a few countries especially the USA are beginning to accept them. You can buy Webhosting services, pizza or even manicures using BITCOINS.
Why Bitcoins?
Bitcoins can be used to buy merchandise anonymously. In addition, international payments are easy and cheap because bitcoins are not tied to any country or subject to regulation. Small businesses may like them because there are no credit card fees. Some people just buy bitcoins as an investment, hoping that they'll go up in value. Plus Bitcoins have shown strong growth in the last few years. Merchants accept them at the current rate hoping to cash the benefits years later, though there is risk involved.
Acquiring Bitcoins
Buy on an Exchange: Several marketplaces called "bitcoin exchanges" allow people to buy or sell bitcoins using different currencies. Here is a list of the top cryptocurrency exchanges.
Can You Trade BITCOIN in India?
Yes, you can. There are brokers who allow you to trade BITCOIN and CryptoCurrency in India but it's not recommended to trade because the Indian Government is planning to move a bill to ban all private cryptocurrencies. So be careful before investing in any cryptocurrency, if banned you may not be able to sell the cryptocurrencies that you bought..
There are many other reasons not to invest or trade in BITCOIN and CryptoCurrency. Here are they:
Reason 1 not to trade BITCOIN:
Look at ONE BITCOIN price in Rupees as of 24-Nov-2021, time 1.54 pm India Time: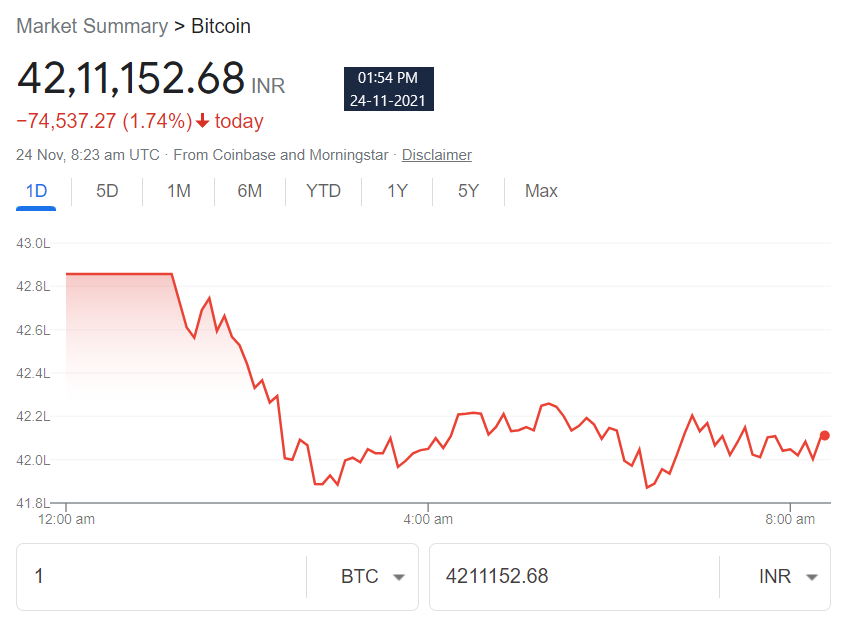 In other words, 1 BITCOIN equals ₹42,11,152.68. Or ₹42 lakh, 11 thousand, 152.68. Will you risk that much money to buy just 1 BITCOIN? At least I will NEVER.
BITCOIN price in USD as of 24-Nov-2021 time 2.04 pm India Time is USD $56,756.80: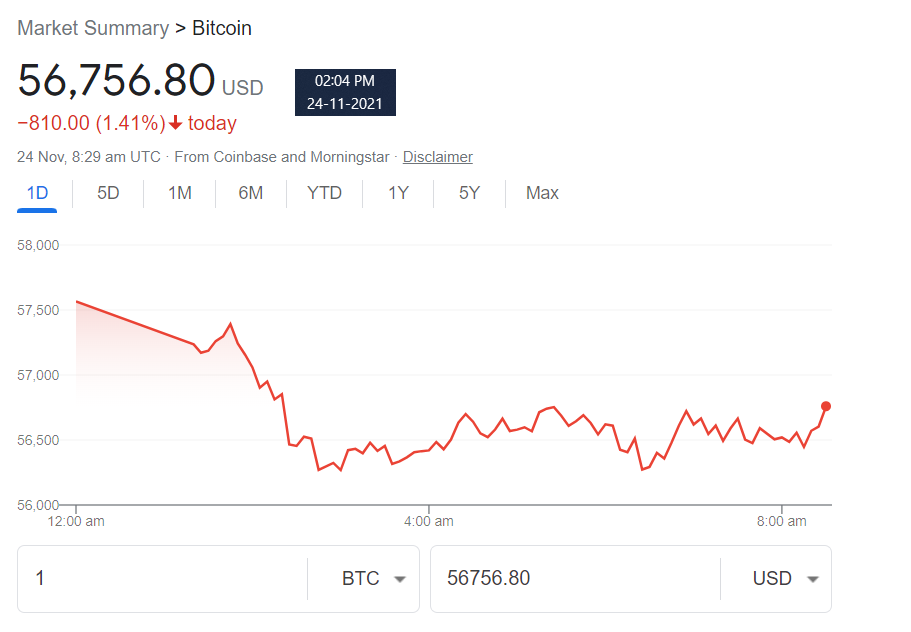 Reason 2 not to trade BITCOIN:
As of today, this is what I see in most BITCOIN trading websites:
₹ 4,86,800.00 BUY
₹ 4,84,000.00 SELL
If you buy and decide to sell straight away you are set to lose ₹ 2800 + brokerage (though brokerage is low and there is no tax as BITCOIN is not controlled by governments).
Reason 3 not to trade BITCOIN:
Most people do not understand BITCOIN, so it is better not to invest in a business that you do not understand. Moreover, governments all over the world are against it. Read this:
Big Governments Will Crush Bitcoin, But Won't Kill It
Big Governments Are Crushing Cryptocurrencies
So you don't know what LAW will KILL BITCOIN & CryptoCurrency Trading. The day governments kill it all your investments become ZERO on BITCOIN or CryptoCurrency.
Reason 4 not to trade BITCOIN:
Another point: Let us say someone invested $7000 in BITCOIN and made $14000 in 3 months.
In percentage terms that is 100% return in 3 months but in real-world that's just $7000 made with too much risk. BITCOIN can go up and down 10% in one day. 🙁 Read this:
Bitcoin makes a dramatic comeback after CRASHING over the weekend
Bitcoin prices plummeted by 29 per cent from a record-high $7,882 last Wednesday, dropping to as low as $5,605 on Monday
Bitcoin Crashes and Then Surges
I will never invest in anything that can crash as much as 29% in a day at such a high price.
BITCOIN or any other speculative product is great only if I invest 15k and make at least a quarter/half a million in 10-15 years – something that can change my life. These only good stocks can do LEGALLY – BITCOIN & CryptoCurrency Trading cannot. BITCOIN is rising because people are investing in this shining object like 10k to 15k – this bubble will burst once Govt takes action or people know the reality what I told you – 7k becoming 14k that's all – and people lose interest because this will NOT happen always – there is a risk of huge decline.
Greed is the biggest killer of money – BITCOIN And CryptoCurrency Trading is one of them.
When you have better options to make monthly income peacefully why should you invest in such a risky trade?
– Dilip
The peaceful trading that makes money slowly but DOES make money without thinking about the direction of markets:
Learn How To Trade Options Conservatively For Monthly Income
Testimonials since 2015:
You can pay the fees here by credit card:
https://www.theoptioncourse.com/bank-details/
Save Money on Options and Futures Trading
Traditional brokers take away a lot of money by charging high brokerage in each lot traded, however
this broker
does not charge for each lot. If you trade 5/10/100 lots in a single order they charge only Rs.20/- for each order traded irrespective of lots being traded at different times. Same for exiting. If you exit all 5/10/100 lots in a single order your total brokerage comes to Rs.40/-. And they do not charge anything for buying & selling stocks. It takes 5 minutes to open an account online.
Click here and Open Free Account with them today >>
TheOptionCourse.com Copyright Since 2014 @ All Rights Reserved
Dilip Shaw, Founder
COPYRIGHT INFRINGEMENT: Any act of copying, reproducing or distributing any content in the site or newsletters, whether wholly or in part, for any purpose without my permission is strictly prohibited and shall be deemed to be copyright infringement.
INCOME DISCLAIMER: Any references in this site of income made by the traders are given to me by them either through Email or WhatsApp as a Thank You message. However every trade depends on the trader and his level of risk taking capability, knowledge and experience. Moreover stock market investments and trading are subject to market risks. Therefore there is no guarantee that everyone will achieve the same or similar results. My aim is to make you a better & disciplined trader with the stock trading and investing education and strategies you get from this website.
DISCLAIMER: I am NOT an Investment Adviser (IA). I am an Authorized Person (AP) of a Stock Broker. I do not give tips or advisory services by SMS, Email, or WhatsApp or any other forms of social media. I strictly adhere to laws of my country. I only offer education for free on finance, risk management & investments in stock markets through the articles in this website. You must consult an authorized Investment Adviser (IA) or do thorough research before investing in any stock or derivative using any strategy given in this website. I am not responsible for any investment decision you take after reading any article in this website. Click here to read the disclaimer in full.