Open ZERO Brokerage FREE Share Trading Account - Buy and Sell Stocks Without Brokerage - Set GTT (Good Till Triggered) Orders on System and Forget
Traditional brokers charge a lot for brokerage; however,
this broker
does not charge anything for stock buying and selling
. Also, you can set
GTT (Good Till Triggered) order
after buying a stock, so that the system can sell the stock
automatically
at your target price even if you are
not monitoring the market
.
Only 25k is blocked for option selling with hedge
. Also,
you get a lifetime free account in Sensibull (virtual trading app & strategy builder) which charges Rs.800/-+GST a month. Learn option hedging strategy if you open an account today.
It takes 5 minutes to open an account online.
Click here and Open Free Account with Them Today >>
What is NAKED Trading?
Naked trading either in options and futures means NOT hedging the Futures and Options Trades. Naked trading is VERY RISKY and MUST be avoided to save huge losses from trading options or futures.
(Updated on: October 31, 2017) Let me take an example. On October 25, 2017 shares of State Bank of India (SBI) were up nearly 20% at around 10 AM, posting their highest one-day gain since their listing in 1994 after the government announced a Rs 2.11 lakh crore recapitalization plan for state-owned banks. Look at this graph:
Now imagine loss of a trader who must have Sold Naked Call Option / Naked Future on Oct 24, 2017 or before. 🙁 Therefore selling naked options or buying/selling naked futures must be avoided.
One day loss can take away years of profit if you do naked selling of options or do naked future trading.
When traders start selling named options?
When they start losing money buying options.
Buying naked options results are something like this:
LOSE – LOSE – LOSE – LOSE – WIN – WIN – LOSE – LOSE – LOSE – LOSE ….
Selling naked options results are something like this:
WIN – WIN – WIN – BIG LOSE – WIN – WIN – BIG LOSE – BIG LOSE – WIN – WIN – BIG LOSE…
But there is a catch – BIG LOSE – sometimes the seller is caught in a storm from where they find it difficult to get out and lose heavily.
I don't usually sell naked options anymore. I used to do it long back, when I used to think I am very smart. A beginners luck may have done it. I did made a decent profit in the first two trades, but then next four were big losses and I have almost stopped selling naked options.
Yes I still sell naked options – but on principles and strict stop loss and only when markets give me an opportunity. This is mostly done when the expiry is very near and there is a decent chance for that option to expire worthless. Frankly even then I do not wait till expiry. I close the position early and am happy taking a small profit or loss as the case may be. Waiting to eat the last few nickels and dime of a soon to be worthless option may give a great kick when that actually happens – but I am better off taking the risk. If something goes wrong even in that last few hours – an option that was profitable a few hours ago may become very costly to buy back.
Update on 16-Oct-2014: I don't do this anymore as I feel the risk is not worth the reward.
When does one becomes option seller?
Well most of the option traders start by buying options. Well when they learn that buying options is not making money for them they start selling. 🙂
Unfortunately whether buy or sell, 95% of traders lose money.
For those who do not know, selling naked options means you take unlimited losses for limited profits. (Though frankly I hate the words "unlimited loss". Unlimited loss is only on paper. Do you think an option seller is a fool to take unlimited loss? Then why would they sell options in the first place? There are ways to limit losses when a position goes against a seller. Unlimited losses only unnecessarily glorifies the cons of selling options. Furthermore I would say that option buyers face more losses than option sellers. Frankly selling or buying does not matter as long as you are hedging your position.)
Ok enough of talking, lets take an example of naked selling. If you think XYZ stock will close above 100 this month you can sell the 100 put options for the current month or even the next month to collect more premium. If the stock actually closes above 100 you keep the premium else you pay for the losses.
Can you predict the markets? No one can. So why do people sell naked options? They sell when they are absolutely sure that the option they sell will expire worthless. But it ain't that easy, if it were everybody would have sold options and be rich!!!
Moreover its true that you cannot predict where the markets will go, but you can to some extent predict where the markets will NOT go!!! Sell your naked options there.
Here is the profit and loss graph of naked option selling: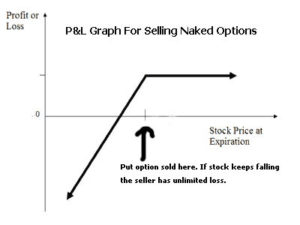 Note: Technically naked put option selling in NOT unlimited loss. Why? Because the stock can fall up to zero. It cannot fall further. You can easily calculate your maximum loss when selling naked or not-hedged puts. However selling uncovered or naked call options involves real unlimited loss. Because the stock can rise to an unlimited level which you can never figure out. Therefore in the US most retail traders sell put options more than the call option. That does not mean you should start selling uncovered or naked puts because you can still face huge loses.
Here are some things you should keep in mind when you sell naked options:
Disclaimer: Naked option selling is very risky. These are some ideas I have developed while actually trading naked options or by doing some research. If you want to sell it naked please keep the following in mind and do virtual trading for at least 3 months before putting your money on the line.
So lets go:
1. When selling naked sell only deep out of the money (OTM) options possibly with options that have deltas =< .1. For example if a stock is around 100 – sell 130 call option or 70 put option, or both. This will give you a good chance of winning. After all what are the chances that the stock will rise or fall by 30% in the same series. Yes you make less profit but the chances of making a profit are more.
2. If in doubt take more time. That is sell the next-month options not the near month as if anything goes wrong – the stock opens gap up or gap down heavily, you will have enough time to give stock come back to a comfortable level to buy back your options at a profit. Highly risky as the stock may not reverse.
3. Or if there is very less time expiry is near and you are getting good premium (this happens when the volatility is very high), you can sell the options to make a quick buck in very less time. Say 2-3% in a few trading sessions.
4. You must have a strategy whenever you are trading options. Whether you are buying or selling. You must have calculated your profit and loss. That is if a position is going against you, what exactly you need to do? Keep a stop loss. When that stop loss is reached you must exit the position.
The choice is yours to keep a stop loss or not, but you have to limit your losses. If you are able to limit losses you will survive in your trading business. The problem will be when an underlying opens gap up or down with a huge percentage. If your prediction was right you can buy back your options at a profit, however you can lose a lot when it is against your view. Therefore hedging is important.
Buying insurance when needed may be very costly, but at least it will limit your losses from that point. However if the movement continues in the same direction for sometime, the losses will be severely restricted. Unfortunately a whipsaw or market reversal will become costly as the insurance options you bought may start to lose money. It could be that out of frustration you close both your original trade and the insurance trade for a loss. Worst situation to be in.
Therefore even if you are 100% sure the option will expire worthless – do buy some protection using the cash you got when you sold it. Maybe 25% of it. Spend it on buying cheaper calls or puts. At least you will be wearing your underwear. 🙂
5. Also you must be having strict stop loss in your system. If your target was to make 100 points you should exit when you are making a loss of 50 or less points. Losses can escalate very fast, so you should be ready to quit if the market goes against you badly.
6. During the life of the options you sold, you should watch them like an owl. Never let go your OTM option in-the-money. Take action quick.
7. Don't get emotional when the market makes a move against you. Emotion is your biggest enemy. I have done it several times and almost always have lost. If you are emotional, you will keep delaying taking a stop-loss and markets will not work in your favor. You will only suffer more losses. You should make sure you don't lose too much capital, else just 2 big losses will take you out of the game forever. Hoping that the markets will reverse in your favor is not a good strategy.
Important Note: Even though you may think you are smart and can make huge returns with selling naked options, I highly recommend you don't do it. Think about this – your profits are limited and losses unlimited. If you make profits 10 times, one huge loss can take away all that profits plus some more and you do not want to be in that situation, do you?
Let me take an example of myself. In 30-days time once markets tanked 10%. I sold two lots of puts thinking markets usually change trends after a 10% move and my puts will expire worthless. As you can easily guess I got good premium for the puts as the markets were down. Well I was not wrong. However the next day Nifty went down another 2.5%. My stop-loss got violated. Exactly almost from that point Nifty reversed – and that too 10%. 🙁 My puts expired worthless but not before making losses for me. What do you learn from this? That even if you are right in your judgment, sometimes we do not have that patience to wait and watch while accumulating losses. Stop-loss can sometimes be your friend or be your enemy – the problem is you don't know.
Therefore if there is something you don't know, then its better to hedge that position. In my trading course you will know how to hedge your positions and trade peacefully. Most of the times you win, but when you lose you will see that the great hedge will save you.
Had I bought some OTM puts of lower strikes with half of the money I received as premium, I would have had the courage to let it go few points down and eventually made a profit or at least made less loss. Had I left because of the hedge, though small – I would have made a profit. This tells you – no matter what you must not sell naked options. You must always hedge your position.
I know a lot of you sell naked options on Nifty and Stocks. What you do when the stock starts moving against the option sold? Do you take a stop-loss? Do you panic and leave everything to the almighty?
Praying to Gods for help when the markets are going against your sold option is entirely different topic which cannot be discussed here. What if God comes from heavens and asks why you did not take stop loss when the position was manageable? You know what your answer will be – GREED!!! 🙂 Why should Gods help you if you are greedy – almost all traders are. How can he help everyone?
What exactly do you do when your naked shorted options goes in the money? If someone is facing this situation right now write in the comments section.
Stop selling naked options. Learn conservative trading and NEVER face huge losses.
TheOptionCourse.com © Copyright Since 2013 ® All Rights Reserved
Click to Share this website with your friends on WhatsApp
COPYRIGHT INFRINGEMENT: Any act of copying, reproducing or distributing any content in the site or newsletters, whether wholly or in part, for any purpose without my permission is strictly prohibited and shall be deemed to be copyright infringement.
INCOME DISCLAIMER: Any references in this site of income made by the traders are given to me by them either through Email or WhatsApp as a Thank You message. However, every trade depends on the trader and his level of risk-taking capability, knowledge and experience. Moreover, stock market investments and trading are subject to market risks. Therefore there is no guarantee that everyone will achieve the same or similar results. My aim is to make you a better & disciplined trader with the stock trading and investing education and strategies you get from this website.
DISCLAIMER: I am NOT an Investment Adviser (IA). I am an Authorized Person (AP) of a Stock Broker. I do not give tips or advisory services by SMS, Email, WhatsApp or any other forms of social media. I strictly adhere to the laws of my country. I only offer education for free on finance, risk management & investments in stock markets through the articles on this website. You must consult an authorized Investment Adviser (IA) or do thorough research before investing in any stock or derivative using any strategy given on this website. I am not responsible for any investment decision you take after reading an article on this website. Click here to read the disclaimer in full.
Disclaimer | Privacy Policy | About Me | Conservative Option Course | Bank Nifty Weekly Options Strategy
Find 200+ testimonials of my course on these pages too posted year-wise:
What Traders Say About This Course
Testimonials Year 2015
Testimonials Year 2015 Page 2
Testimonials Year 2015 & 2016
Testimonials Year 2016
Testimonials Year 2017
Testimonials Year 2018
Testimonials Year 2019
Testimonials Year 2020
Testimonials Year 2021
Testimonials Year 2022
Testimonials Year 2023
Testimonial of one of my client making 25k per week
Emotional Testimonial by a Young Woman Trader and Her Mother
Difference Between other Courses and Mine
What others charge for online courses
What People Say Just After Doing My Course
Bank Nifty Course Testimonials



Traditional brokers charge a lot on brokerage, however this broker does not charge anything for stock buying and selling. Also, you can set a Good Till Cancelled order after buying stock so that the system can sell the stock automatically at your desired price even if you are not monitoring the market. Plus only 25k is blocked for option selling. It takes 5 minutes to open an account online. Click here and Open Stock Buy & Sell Free Account with Them Today >>