Fill this Form to Get 5 Day Free Course on Options And Immediately Get an email to Download eBook on Option Greeks
A few days back I got this email.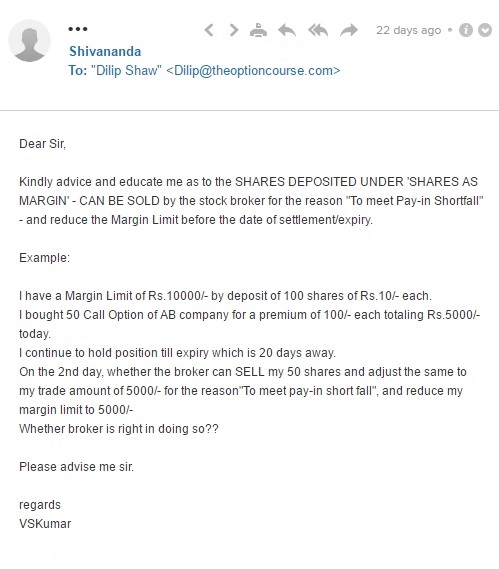 Subject: SALE OF SHARES BY THE STOCK BROKER THAT ARE KEPT UNDER "SHARES AS MARGIN"

Email:

Dear Sir,

Kindly advice and educate me as to the SHARES DEPOSITED UNDER 'SHARES AS MARGIN' – CAN BE SOLD by the stock broker for the reason "To meet Pay-in Shortfall" – and reduce the Margin
Limit before the date of settlement/expiry.

Example:

I have a Margin Limit of Rs.10,000/- by deposit of 100 shares of Rs.10/- each.

I bought 50 Call Option of AB company for a premium of 100/- each totalling Rs.5000/- today.

I continue to hold position till expiry which is 20 days away.

On the 2nd day, whether the broker can SELL my 50 shares and adjust the same to my trade amount of 5000/- for the reason – "To meet pay-in short fall", and reduce my margin limit to 5000/-?

Whether broker is right in doing so?

Please advise me sir.

Regards
VSKumar
This is one thing that is not clear in a lot of traders mind.
Lets us go back to the simple question.
What is Collateral Margin?
Collateral is either shares or property or mutual funds, anything that has monitory value. For example when you take a home or mortgage loan, your home becomes a collateral for the loan.
If you default paying loan EMI for any reason the lender has the right to sell your property and recover his money.
I hope you now understand the meaning of Collateral.
The same law is applied in almost all brokerage firms.
This is known as Collateral Margin.
For example you have bought a few shares totaling Rs. 1 lakh and you do not have any more money in your trading account. For some reason you want to do equity intraday, options and futures trading, but how can you do if you do not have money in your account?
You can ask for "Collateral Margin" from your broker.
Basically you are keeping your shares as a "Collateral" with him to take a loan from him and do derivative trading.
Please note: Collateral Margin percentage differs from stock to stock and broker to broker. Since there are thousands of brokers in India it is impossible to list Collateral Margin given by each broker. Please consult your broker for exact Collateral Margin you will get from the stocks you hold in your demat share trading account.
MAJOR AND IMPORTANT READ THIS CAREFULLY:
1. You cannot buy shares to hold for the long term using Collateral Margin. You can do only equity intraday day trading on any stock allowed for day trading.
2. You can do intraday or positional trading using Collateral Margin in Options and Futures on any stock or Index.
3. If you are losing money in MTM (Mark To Market) at the end of the day, your broker has the right to sell a portion of any stock in your demat account/portfolio to clear the risk of the losses he may face. Note that only that much is sold where the risk becomes zero for the broker.
If MTM losses increases the next day he/she may sell more of your stocks to reduce the risk. They have a limitation of the risk. If the losses exceeds a certain percentage of Collateral Margin given to you, they may sell stock and close your option or future trading to stop the losses from increasing.
In some cases the brokers inform their clients, in some cases, actually most cases, all this is done automatically. The system or trading software takes care of selling the stocks and reduce the risk of losses and send email to the client.
According to the Terms of Collateral Margin, brokers have the right to sell the stocks without informing their clients to reduce the risk as they cannot risk money on their clients behalf.
What you should do now
1.
If you have still not subscribed for my free 5 days course you can do by filling the form above. You will learn a lot about option trading.
2.
If you are a new option trader, not much experienced and are making losses you can do my paid course. I recommend
Nifty Conservative Option Course
for beginners because it is easy to understand and easy to trade. Even a 18 year old young trader or a housewife can learn it and start trading from next day. It will help you to earn consistent monthly income without any software or speculation or stress or big risk. You will learn proper hedging strategies that works in any market condition.
3.
If you are banknifty weekly options trader you can do my
Bank Nifty Weekly Options & Futures Strategy Course
. You will learn future and option hedging strategies that works in volatile market condition.
Testimonials
What Traders Say About My Course
Course fees:
Click here to know the course fees
.
Here is complete process of my course
1.
Once you pay I will send you the course materials for studying to your email.
2.
You read and ask me questions via phone/whatsapp/email to clear doubts.
3.
Then you start paper trading and still can ask me questions.
4.
After about one month you can start trading.
5.
Since doubts can come anytime the support will be there for one year.
Within one month you can start trading on your own. No need to depend on anyone once you are on your own.
If you have any question you can
contact me
.
You can read
about me here
and
my trading mistakes here
.
TheOptionCourse.com Copyright @ All Rights Reserved
Dilip Shaw, Founder
Copyright Infringement: Any act of copying, reproducing or distributing any content in the site or newsletters, whether wholly or in part, for any purpose without my permission is strictly prohibited and shall be deemed to be copyright infringement.
INCOME DISCLAIMER: Any references in this site of income made by the traders are given to me by them either through Email or WhatsApp as a Thank You message. However every trade depends on the trader and his level of risk taking capability, knowledge and experience. Moreover stock market investments and trading are subject to market risks. Therefore there is no guarantee that everyone will achieve the same or similar results. My aim is to make you a better & disciplined trader with the stock trading and investing education and strategies you get from this website. Please note that I DO NOT give tips or advisory services by SMS, Email, or WhatsApp or any other form of social media. I strictly adhere to laws of my country. I only offer education on finance, investments on stock markets in the best possible way as much as I can through this website. Still, you must consult an authorized advisor or do thorough research before investing in any stock or derivative before trading any strategy given in this website. I am not responsible for any investment decision you take after reading any article given in this website. Knowledge is the only way to get success in stock markets. I try my best to give stock market investing and trading knowledge through the articles posted in this website. Thanks for visiting my website.