Open ZERO Brokerage FREE Share Trading Account - Buy and Sell Stocks Without Brokerage - Set Good Till Cancelled (GTT) on System and Forget
Traditional brokers charge a lot for brokerage; however, this broker does not charge anything for stock buying and selling. Also, you can set a Good Till Cancelled (GTT) order after buying stock so that the system can sell the stock automatically at your desired price even if you are not monitoring the market. Only 25k is blocked for option selling with hedge. It takes 5 minutes to open an account online. I will help you to learn options hedged trading if your account is opened today. Click here and Open Free Account with Them Today >>
Hope you know that our RBI governor Mr. Raghuram Rajan on Saturday 18th of June 2016 said that he will not continue as RBI governor when his tenure ends on 3rd of September 2016. Hope you also must have seen how all market pundits jumped into conclusion that on Monday Stock Markets will see a major fall because of his exit news.
This was in fact printed in all leading newspapers also the very next day. Because of this reason I was also flooded with emails and WhatsApp messages by my clients on what to trade on Monday.
You know what I wrote them? Stick to the rules of trading as written in the document. Markets do not work on somebody retiring from their job. Let markets do what they want to do. If Stop Loss is hit exit, else stay on. Do not worry on silly news of somebody joining or resigning from their jobs. The world does not care for one persons' job.
Let us see what exactly happened:
Nifty did open in the red today but recovered very fast. Right now at the time of writing this post at 10.19 am Nifty is in fact 20 points up from previous close at 8190.
But didn't the so called Market Pundits said on Saturday that Markets will open in negative and will see a sharp downfall? Yes they said. But what happened in reality? It did open in red but proved them all wrong by going pretty fast up. I am sure many Future traders must have sold Nifty Futures at 9.15 am today as soon as markets opened for trading and were dreaming of making millions in one day. The result? All of them lost money. 100% of them. Because of whom? All those speculators' who show that they are great Market Pundits.
So what you want to say Dilip?
I want to say that make rules of trading on what works for you best and stick to discipline and risk management rules in spite of what's being told by speculators.
I also could have written an email about this on Sunday and made some quick money by selling some ideas. But like I said my integrity, peace and my jest of teaching you all to control greed and trade well with proper risk management comes first. Money comes later. A printed paper with ones and zeros printed on it me does not inspire me. I am teaching you the right thing and getting a thank you from you inspires me more than money. I do not care for people who live and die for money. Its not that I am not making money but for me peace and happy living comes first, money is secondary.
When every market pundit said on Saturday and Sunday, "Market would see sharp downfall on Monday on Raghuram Rajan's retirement news" – I did not care for this news neither was thinking on what to trade on Monday to make more money.
I have said this and will repeat again – I am a positional conservative trader and just stick to my rules and do not care what others say about the markets movement. When I used to listen to them I lost money. When I got the knowledge to trade and was happy with even 1 or 2% a month I started making money. 🙂
So what I want to say is do not fall for greed because of some news. And even if you make money in one day of trading will that make you very rich? I mean will that make 10 lakhs or more? No, maybe you end up with 5000 profit. Next news trading will take you down by 10000. So there is no benefit in trading according to news. Yes you may get some fun and excitement but you must never trade for fun. It comes at a huge cost.
Some people might tell me that VIX increased. But let me tell you that VIX is increasing due to focus on the June 23, 2016 Brexit voting in Britain. After that whatever the results VIX will surely fall. I will write an email later on Brexit voting.
VIX has nothing to do with Raghuram Rajan Retirement News. One person vs a country. Its obvious markets will give more importance to a country than just one person's job.
Did you notice that people who are too excited to make money because of news and Intraday trading actually end up giving their peace and money. And people who are disciplined traders and are happy with small profits live in peace and make money too.
Now it's your choice what you want to do? I will always walk on the path which is peaceful and makes money too although slowly, not a path with full of surprises, no peace and speed of losing money far exceeds speed of making money.
One of my clients yesterday asked me the same thing what to trade on Monday because of this news. I replied I do not care for such news but you can go ahead if you are interested but do not blame me if you lose money. Had he traded he would have lost. See this: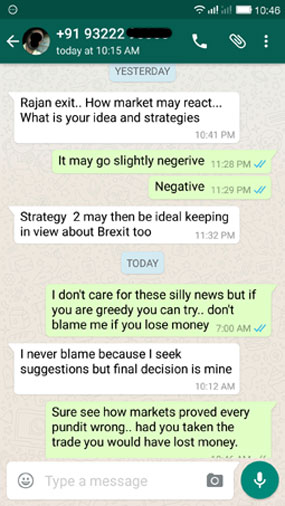 Humm just in actually he traded, did not listen to me and lost money: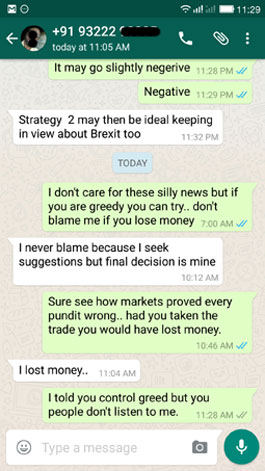 Imagine what must have happened to Future trades. They must be scratching their heads.
I am sure people who were eager to short Nifty on Monday must not have slept well on Saturday, Sunday and since they have lost money on Monday, will not be able to sleep well even today.
Walk on the right path then see how both peace and money will come your way.
Conclusion:
Read, research and seek knowledge of trading.
Once you find the best trading strategy for you, make your own rules of trading on what works best for you. Then do not listen to others and fall for greed.
Be happy with even small profits. Small profits means you are not losing money and are better than 95% of traders who lose money.
Lots of people may say a lot of things everyday about markets, but do what your trade rules says. Ignore the noise that's much better than trading in noise.
Read newspaper for knowledge on what's happening around you but do not try Intraday trading on them.

I would like to hear from you on do you trade on what others say and have you made money over a long time based on what others say? Please leave your thoughts in the comments section.




TheOptionCourse.com © Copyright Since 2013 ® All Rights Reserved

Click to Share this website with your friends on WhatsApp






COPYRIGHT INFRINGEMENT: Any act of copying, reproducing or distributing any content in the site or newsletters, whether wholly or in part, for any purpose without my permission is strictly prohibited and shall be deemed to be copyright infringement.

INCOME DISCLAIMER: Any references in this site of income made by the traders are given to me by them either through Email or WhatsApp as a Thank You message. However, every trade depends on the trader and his level of risk-taking capability, knowledge and experience. Moreover, stock market investments and trading are subject to market risks. Therefore there is no guarantee that everyone will achieve the same or similar results. My aim is to make you a better & disciplined trader with the stock trading and investing education and strategies you get from this website.

DISCLAIMER: I am NOT an Investment Adviser (IA). I am an Authorized Person (AP) of a Stock Broker. I do not give tips or advisory services by SMS, Email, WhatsApp or any other forms of social media. I strictly adhere to the laws of my country. I only offer education for free on finance, risk management & investments in stock markets through the articles on this website. You must consult an authorized Investment Adviser (IA) or do thorough research before investing in any stock or derivative using any strategy given on this website. I am not responsible for any investment decision you take after reading an article on this website. Click here to read the disclaimer in full.




Disclaimer | Privacy Policy | About Me | Conservative Option Course | What Traders Say About This Course

Traditional brokers charge a lot on brokerage, however this broker does not charge anything for stock buying and selling. Also, you can set a Good Till Cancelled order after buying stock so that the system can sell the stock automatically at your desired price even if you are not monitoring the market. Plus only 25k is blocked for option selling. It takes 5 minutes to open an account online. Click here and Open Stock Buy & Sell Free Account with Them Today >>