Open ZERO Brokerage FREE Share Trading Account - Buy and Sell Stocks Without Brokerage - Set GTT (Good Till Triggered) Orders on System and Forget
Traditional brokers charge a lot for brokerage; however,
this broker
does not charge anything for stock buying and selling
. Also, you can set
GTT (Good Till Triggered) order
after buying a stock, so that the system can sell the stock
automatically
at your target price even if you are
not monitoring the market
.
Only 25k is blocked for option selling with hedge
. Also,
you get a lifetime free account in Sensibull (virtual trading app & strategy builder) which charges Rs.800/-+GST a month. Learn option hedging strategy if you open an account today.
It takes 5 minutes to open an account online.
Click here and Open Free Account with Them Today >>
You must have opened a Demat investing & trading account, if not click here to open a stock buying/selling brokerage Free Demat Account. Now if you do not know from where to start or what to do, then you are sure to do investing mistakes.
Before you start your trading/investing journey you must know the difference between intraday trading, swing trading and investing so that you know where to focus and expertise yourself. This is important because everybody's lifestyle is different. Some people work 9 am to 7 pm and some work from 12 pm and some have night duty (security personnel, software engineers working from home for a US country etc). Plus patience plays an important part in investing and trading.
Therefore it is very important to know your trading psychology to know which style of trading suits you best and trade that.
In this article, I will discuss the difference between day trading (intraday trading), swing trading and investing so that you can trade as per your trading psychology.
And you will also read some good financial management tips in this post.
In this article, I will discuss what is the difference between day trading (intraday trading), swing trading and investing.
In the year 2007, (I was in my early 30s then, newly married and wanted to invest in stock markets, but has no idea from where to start) – a few people from a local stock brokering firm came to my house to explain about stock markets and I was done. I opened a Demat investing & trading account the next day. What happened after that you can read here. Now the story has changed but it was after a lot of struggle.
I remember in those days the most popular word in trading was Intraday trading. Not sure after years if it's still popular among the young traders. 
Intraday trading was in my mind but I feared it because I had no idea so I started with stock investing and failed more so because I wanted to be in profit as soon as I invested in the stock. Unfortunately even today even experienced investors want to be in profit as soon as they invested. When the target was to make a profit in the long term then why think intraday? 
So as you may have guessed I failed in investing and moved to Intraday trading as it was already there in my mind. Unfortunately except for the beginner's luck, I started failing in intraday trading as well.
I have seen that with most of the customers the story is the same. They also find some luck when they start trading intraday then they start to lose.
In those days equity intraday was more popular than options/futures intraday trading as most people did not have enough money to keep as margin to trade derivatives and most traders did not know trading options or futures.
Well, that's a guess but I am sure that is the reason option trading became popular in 2010. See this graph: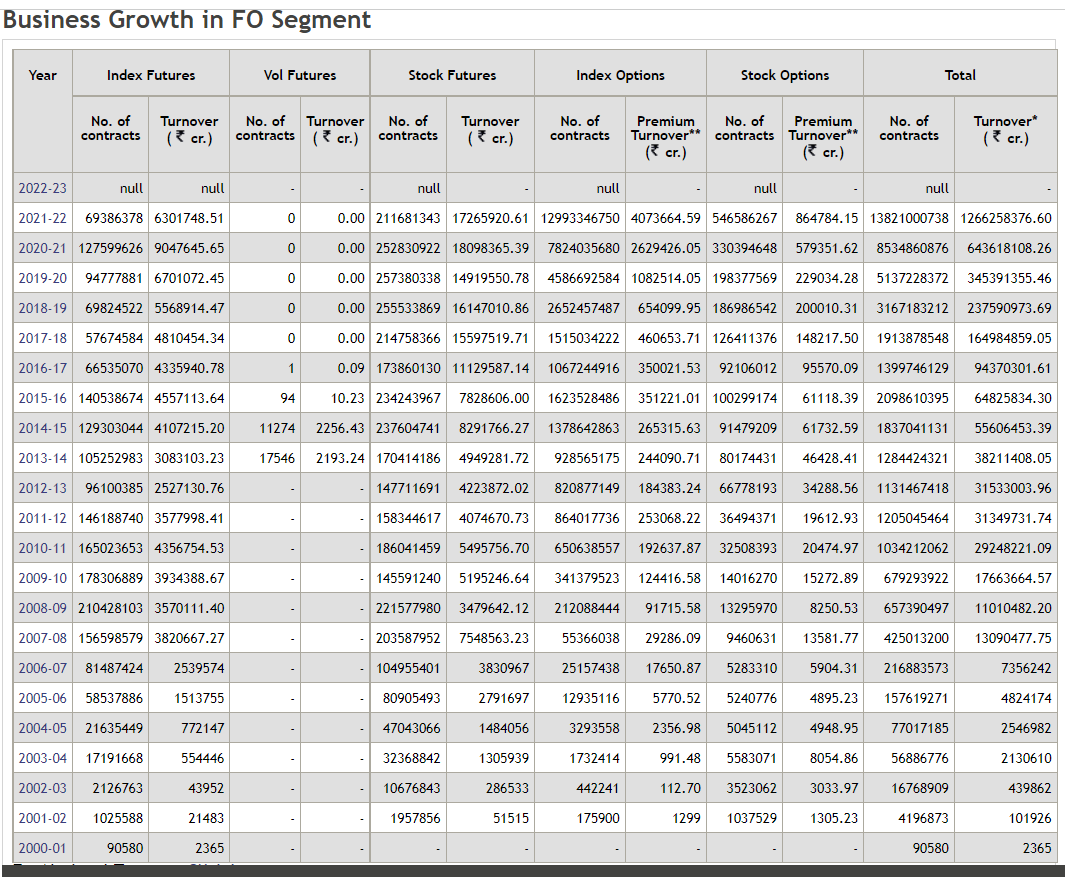 Source: https://www1.nseindia.com/products/content/derivatives/equities/historical_fo_bussinessgrowth.htm
As you can see the growth in the Index options far out beats other derivative segments of trading. I had read somewhere that 70% of that volume in derivative trading comes in Intraday trading. 
TIP: If you want to trade derivatives master index options trading because there will be good liquidity. Please note that liquidity is very important in derivative trading else you may not be able to enter/exit a position.
What Is Intraday Trading?
Intraday Trading is a trade that is closed on the SAME DAY. This is the reason why Intraday trading is very popular. Traders get a kick/fun while trading Intraday because the profit or loss is known the same day, while in positional trading traders have to wait for a few days to make money which gets boring.
What Is the Difference between Swing Trading and Investing?
Swing trading is a trade that is NOT closed the same day and is carried forward to the next day to make a profit. However, there is a very thin line of difference between Swing Trading and Investing.
If a trader trades/invest either in equities, futures or options basically for a short term to make a profit then it is termed as Swing Trading. Swing Trading in derivatives can go up to a few days because they have an expiry date. Derivatives cannot be carried forward after their expiry day. Swing Trading in stocks can go from stock coming in the Demat account (T+2) to up to a few months but not exceeding a year. Once the investment crosses 365 days or a year then it can be called investing.
I failed 
Well from Intraday to swing investing to derivative trading – initially, I failed in each segment. However, there was one sector where I have achieved a 90% success rate – that is investing. 
Stock Investing is good but you need patience. Stock investing should be done after reading the financials of the company. One should invest only after researching well. And one should keep that money invested for a while to make a reasonable income.
I lost 7 lakhs mainly trading derivatives without hedge and proper planning. It was speculative trading. Speculative trading is nothing but gambling or buying a lottery. Gambling will never make you rich. You must first properly learn FnO strategies then only trade. My life changed after I realized that even 2% a month is a good return from stock markets. Let the Telegram channel owners or Youtube video makers say anything like make 50k per day from 10k or something like that, if I can make 2-3% a month I will stock to that and move my profits to liquid funds when I will start making 70k a month. 
That came in 2016. Till then I kept the job for financial security reasons. I left my job in the year 2016 when a comfortable income started coming from stocks markets. Today I am pretty happy that my conservative option course is helping a lot of traders since 2015. Testimonials.
My course will help you to learn 7 such well-planned strategies. You can check the course fee here. Go for the discount and do both the courses. you will learn both monthly options and weekly options strategies.
Finally What My Experience says:
You must invest your money in stock markets but wisely after learning, researching, reading etc. but not blindly on hope or doing speculative trading or on someone's tips even if it's free.
Start as soon as possible to enjoy the compounding effect till you retire.
Do not stop learning about stock markets (I still read about an hour a day).
If you become a successful trader bring more money into your trading account until it surpasses your current income from salary/business – THEN ONLY leave your job. I have done that 🙂
Once you are making enough monthly income take all money out every month and invest in liquid funds. Do not invest the money male from trading in equity mutual funds because you are taking a risk and winning – so that money should not get into stock markets again – either via trading / investing or equity funds. If you want to invest in equity mutual funds keep a different budget for that. The money saved in liquid funds will help you after retirement or if you leave your job early then the interest earned will help you to sustain your family initially. After leaving the job if you depend on stock market income then the first six months will be highly stressful. this time the liquid funds will keep you afloat. Therefore profits made from stocks/derivating trading should either go into a Fixed Deposit or be invested into liquid fu\nds. I prefer liquid funds they are safe and not binding. you can not partially break a Fixed Deposit – but you can take out 500 or more rupees from liquid funds from the very next day without an exit load. 
Learning to trade well is not impossible but is not an overnight process. But nothing worthwhile comes easy. The freedom, independence, and scaling of income in trading cannot be found in any other profession.

I made the mistake of trying to figure out how to trade stocks on my own or by taking tips and lost. It took me years to become profitable because I didn't seek to find proper education or a mentor to guide me in the beginning. Today the world is a different place. There are many courses available. However, to date, I have not found a single site that has content like my site (the one you are reading) and such testimonials on the site.
Details of my Course 1, details of my course 2, course fee.
Thanks for reading. Please bookmark my site because I will keep writing new articles each week. You can come back and learn a new topic every week.
TheOptionCourse.com © Copyright Since 2013 ® All Rights Reserved
Click to Share this website with your friends on WhatsApp
COPYRIGHT INFRINGEMENT: Any act of copying, reproducing or distributing any content in the site or newsletters, whether wholly or in part, for any purpose without my permission is strictly prohibited and shall be deemed to be copyright infringement.
INCOME DISCLAIMER: Any references in this site of income made by the traders are given to me by them either through Email or WhatsApp as a Thank You message. However, every trade depends on the trader and his level of risk-taking capability, knowledge and experience. Moreover, stock market investments and trading are subject to market risks. Therefore there is no guarantee that everyone will achieve the same or similar results. My aim is to make you a better & disciplined trader with the stock trading and investing education and strategies you get from this website.
DISCLAIMER: I am NOT an Investment Adviser (IA). I am an Authorized Person (AP) of a Stock Broker. I do not give tips or advisory services by SMS, Email, WhatsApp or any other forms of social media. I strictly adhere to the laws of my country. I only offer education for free on finance, risk management & investments in stock markets through the articles on this website. You must consult an authorized Investment Adviser (IA) or do thorough research before investing in any stock or derivative using any strategy given on this website. I am not responsible for any investment decision you take after reading an article on this website. Click here to read the disclaimer in full.
Disclaimer | Privacy Policy | About Me | Conservative Option Course | Bank Nifty Weekly Options Strategy
Find 200+ testimonials of my course on these pages too posted year-wise:
What Traders Say About This Course
Testimonials Year 2015
Testimonials Year 2015 Page 2
Testimonials Year 2015 & 2016
Testimonials Year 2016
Testimonials Year 2017
Testimonials Year 2018
Testimonials Year 2019
Testimonials Year 2020
Testimonials Year 2021
Testimonials Year 2022
Testimonials Year 2023
Testimonial of one of my client making 25k per week
Emotional Testimonial by a Young Woman Trader and Her Mother
Difference Between other Courses and Mine
What others charge for online courses
What People Say Just After Doing My Course
Bank Nifty Course Testimonials



Traditional brokers charge a lot on brokerage, however this broker does not charge anything for stock buying and selling. Also, you can set a Good Till Cancelled order after buying stock so that the system can sell the stock automatically at your desired price even if you are not monitoring the market. Plus only 25k is blocked for option selling. It takes 5 minutes to open an account online. Click here and Open Stock Buy & Sell Free Account with Them Today >>