In my last post I discussed 7 reasons why you should not trade on budget day.
Look how these words came true from that post:
Nifty will move swiftly up and down as the budget speech progresses. One good news and Nifty will jump 25-50 points, one bad and it will dip 50-70 points. You can never predict the direction of the markets that day. However watching Nifty dance will be fun if you are not trading. Moreover since Nifty will move very fast it will be hard to trade.
In this post I will analyze what may have happened to Intraday traders on the Budget Day. Look at the image below. See how Nifty danced: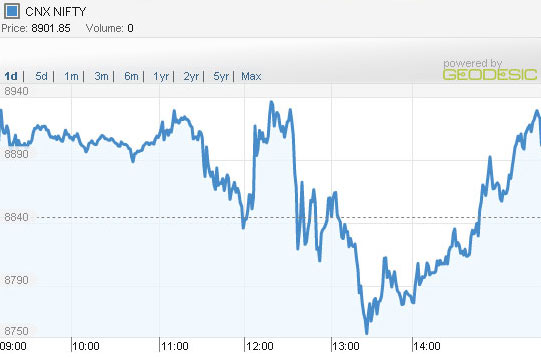 Photo credit: moneycontrol.com
On 28-Feb-2015, the budget day Nifty opened at 8913.05, went to a high of 8941.10, hit a low of 8751.35 and closed at 8901.85.
From low to high the points difference is: 8941.10 – 8751.35 = 189.75. In terms of percentage it is: (189.75/8751.35)*100 = 2.17%. It looks small but see how Nifty danced from 8900 to 8840 to 8900 and then again back to 8840, then hit a low of 8750, then back to 8840, then again back to 8900 – closing almost flat since the days' opening. All this in few hours.
Its not about budget, but any day when a big news is being declared Nifty will behave like this. This makes life difficult for Intraday traders. For positional and conservative traders however this movement means nothing.
Turnover was Rs. 10,064.41 crores. On normal days the turnover is around 6,000-7,000 crore. That's more than 40% increase in turnover.
Such an increase in turnover on a single day is a proof that there was too much of Intraday trading. You can easily guess that most of them may have lost money.
On top of that India VIX dropped 13.29% from the previous day's closing. It dropped to 16.97 from 19.57. (Read my previous article, I had mentioned that VIX will drop). Dropping Vega means the option premium will not appreciate well even if Nifty appreciates. It means most option buyers may not have made money.
All those who made some money had to time Nifty well. This means taking a contrarian call. They must have bought ATM Call option when Nifty was at around 8800 and sell it when it went back to 8900 levels. How many traders can do that?
Intraday traders mostly want to go with the trend. They do not go against the trend.
Which means when Nifty went up they must have bought calls, hit stop loss when Nifty was around 8750, then they must have bought Puts, but Nifty again changed trend, hitting stop loss in Puts again.
This is a guess, but this is what happens with Intraday traders during most trading days.
With option sellers (though only a small percentage of Intraday traders are option sellers), the problem may have been more psychological than technical. Imagine selling options and taking unlimited risk for a limited unknown profit on the budget day. I do not think anyone should do that. Just thinking selling naked options on a budget day makes me nervous. I do not have that guts.
Of course if you hedge your positions then profits and losses both are limited and that takes fun out of Intraday trading on such a huge day. I am sure most of them did not hedge their positions. And lost money. 🙂
Some Intraday players trade on budget day just to satisfy their egos. They know fully well the dangers involved, but still trade. If they make even 1 point profit they feel great. But then they take a large position only to lose more than they made. Egos don't work in stock markets.
If you are also an Intraday trader, I urge you to stop trading Intraday as soon as possible. You will only make your brokers rich. You will lose money trading Intraday, if not you can never compound Intraday trading with large positions. Even if you are a smart Intraday trader, your profits will not be significant even years from now.
Have you heard of any Intraday trader supporting his family from his trades or increasing his wealth through Intraday trading significantly over last decade?
Did you trade Intraday on the budget day? If yes what was the result?
Please like & share my blog with your friends:
Hi, I am Dilip Shaw, owner of this website. I am a trader like you. I have been trading since 2007, but lost a lot of money till 2010. I then stopped trading and studied options like college exams. Started trading again from 2011 and never looked back since. I did a lot of research, read books and did countless paper-trading before being profitable. You can read about me here.
My conservative trading course since 2014 is helping many retail traders just like you who have a job or business make consistent profits like this:
What Traders Say About This Course
Testimonials Year 2015
Testimonials Year 2015 Page 2
Testimonials Year 2015 & 2016
Testimonials Year 2016
Testimonials Year 2017
Testimonials Year 2018
Testimonials Year 2019
Testimonials Year 2020 to 2023
What People Say Just After Reading My Course
Emotional Testimonial by a Young Woman Trader and Her Mother
One Of My Client Is Making Rs.25k Per Week
Difference Between Other Courses And Mine
What Others Charge for Courses

You can do this course from your home. Some traders make amazing profits like Rs. 16.26 lakhs profit in 5 days though results may differ for all.

This course helps you learn to trade conservative option strategies for monthly income. Once you finish the course you can start trading immediately. You can start trading from any day. No need to wait for expiry. You will make profits consistently.

This course is good if you have a regular job or business. You DO NOT NEED to monitor your trades every second.

What You Get?

Before reading please understand that for all 5 strategies, strike selection will be taught. Strike selection while trading Options is the most essential part to succeed.

You get two conservative non-directional strategies on options, one conservative stock option strategy and two conservative directional strategies on Future & Option combination.

Non directional trades are profitable 80% of the times and make 3-5% per trade (Results may vary).

Directional strategy makes money fast. It does not matter which side the stock moves. In fact you make more when you are wrong in the Future trade. 🙂 Some amazing profits possible here.

The stock option trade makes 30,000 in one trade and if SL is hit there is a way to recover losses plus make 30k in that trade.

Technical knowledge is NOT required. No need to monitor trades every second.

In the course you will learn how to select the strike prices. You learn when to trade, which strikes to sell which to buy, how much profit target you should be looking for, the best place to take stop loss and what to do after taking stop loss – means how to get that money back. The success rate is more than 80%.

Since trades are properly hedged there is no stress in trading my strategies.

I am very confident that you will make money trading my strategies. To help you succeed I offer few months support for FREE.

11 Reasons Why You Should Do The Course:
1. TA Knowledge NOT required
2. NO Software Required
3. Regular Monitoring NOT Required
4. Continue with Your Job
5. Do Course From Your Home
6. 100% Hedged
7. Stress-Free Trading
8. Not too much money needed to trade
9. Scaling Possible
10. One Time Fee
11. FREE Support For Months
To know more Call/SMS/WhatsApp me on 9051143004 or email me now. I know English and Hindi.

Read the details of the course here.

If you want to enroll for the course you can do so here.

P.S: So many years of trading has thought me one thing - it is always better to make small profits month after month, rather than lose money month after month trying to make too much money. It never happens. But small money accumulated month after month can become very big in only a few years.


Privacy Policy | Disclaimer

WhatsApp or Call me: 9051143004

If you have any question you can contact me.

You can read about me here and my trading mistakes here.

TheOptionCourse.com Copyright @ All Rights Reserved
Dilip Shaw, Founder
Copyright Infringement: Any act of copying, reproducing or distributing any content in the site or newsletters, whether wholly or in part, for any purpose without my permission is strictly prohibited and shall be deemed to be copyright infringement.
INCOME DISCLAIMER: Any references in this site of income made by the traders are given to me by them either through Email or WhatsApp as a Thank You message. However every trade depends on the trader and his level of risk taking capability, knowledge and experience. Moreover stock market investments and trading are subject to market risks. Therefore there is no guarantee that everyone will achieve the same or similar results. My aim is to make you a better & disciplined trader with the stock trading and investing education and strategies you get from this website.

DISCLAIMER: I am NOT an Investment Adviser (IA). I am an Authorized Person (AP) of a Stock Broker. In other words I am a sub-broker. I DO NOT give tips or advisory services by SMS, Email, or WhatsApp or any other forms of social media. I strictly adhere to laws of my country. I only offer education for free on finance, risk management & investments in stock markets through the articles in this website. You must consult an authorized Investment Adviser (IA) or do thorough research before investing in any stock or derivative using any strategy given in this website. I am not responsible for any investment decision you take after reading any article in this website. Click here to read the disclaimer in full.