Fill this Form to Get 5 Day Free Course on Options And Immediately Get an email to Download eBook on Option Greeks
How many of us keep getting calls from advisory/tip service providers promising huge returns from the markets?
I fail to understand how they get our phone numbers? Have you noticed they do not know our names? They start with do you trade stock markets?
Anyway before I say anything you can see this email sent to me. This person is in deep debt. Lost 15 Lakhs in stock markets because he took tips from advisory companies.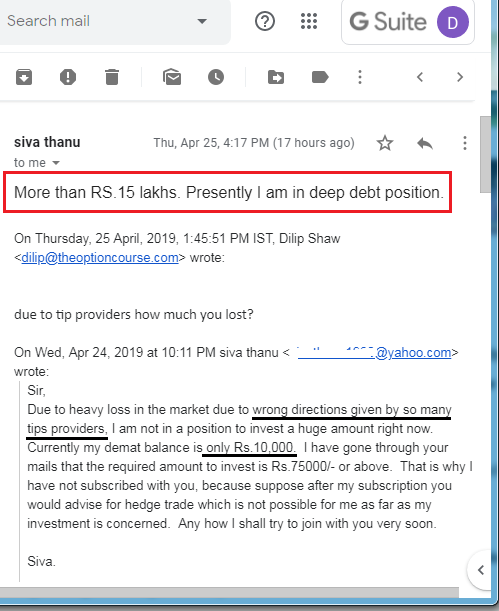 His email:
Sir,
Due to heavy loss in the market due to wrong directions given by so many tips providers, I am not in a position to invest a huge amount right now. Currently my demat balance is only Rs.10,000. I have gone through your mails that the required amount to invest is Rs.75000/- or above. That is why I have not subscribed with you, because suppose after my subscription you would advise for hedge trade which is not possible for me as far as my investment is concerned. Any how I shall try to join with you very soon.
Siva.
After reading I asked him:
Due to tip providers how much you lost?
His reply:
More than RS.15 lakhs. Presently I am in deep debt position.
15 lakhs is not a matter of joke. Once you reach a certain level like 5 to 7 lakh loss you must stop immediately. Your hard earned money should not go down the drain just because someone you did not know called you and promised you huge returns without any proof whatsoever.
Moreover forget about 10% a day, even 10% a month is impossible to make month after month for continuously even 6 months.
The fact that no one in the world has ever done 10% a month continuously for even 6 months proves that 10% a month is not possible ever. Stock market is no 2-3 years old it's more than 25 years yet no one has ever made. So if you are thinking you are the one who will make that 10% a month then you are the one who will enter the history books. If you think you can enter the history books then please keep try making 10% a month – a feat never being achieved for long by anyone.
Think about it – peaceful trading with 2-3% a month is good or never achievable 10% a month with lots of stress?
What you should do now
1.
If you have still not subscribed for my free 5 days course you can do by filling the form above. You will learn a lot about option trading.
2.
If you are a new option trader, not much experienced and are making losses you can do my paid course. I recommend
Nifty Conservative Option Course
for beginners because it is easy to understand and easy to trade. Even a 18 year old young trader or a housewife can learn it and start trading from next day. It will help you to earn consistent monthly income without any software or speculation or stress or big risk. You will learn proper hedging strategies that works in any market condition.
3.
If you are banknifty weekly options trader you can do my
Bank Nifty Weekly Options & Futures Strategy Course
. You will learn future and option hedging strategies that works in volatile market condition.
Testimonials
What Traders Say About My Course
Course fees:
Click here to know the course fees
.
Here is complete process of my course
1.
Once you pay I will send you the course materials for studying to your email.
2.
You read and ask me questions via phone/whatsapp/email to clear doubts.
3.
Then you start paper trading and still can ask me questions.
4.
After about one month you can start trading.
5.
Since doubts can come anytime the support will be there for one year.
Within one month you can start trading on your own. No need to depend on anyone once you are on your own.
If you have any question you can
contact me
.
You can read
about me here
and
my trading mistakes here
.
TheOptionCourse.com Copyright @ All Rights Reserved
Dilip Shaw, Founder
Copyright Infringement: Any act of copying, reproducing or distributing any content in the site or newsletters, whether wholly or in part, for any purpose without my permission is strictly prohibited and shall be deemed to be copyright infringement.
INCOME DISCLAIMER: Any references in this site of income made by the traders are given to me by them either through Email or WhatsApp as a Thank You message. However every trade depends on the trader and his level of risk taking capability, knowledge and experience. Moreover stock market investments and trading are subject to market risks. Therefore there is no guarantee that everyone will achieve the same or similar results. My aim is to make you a better & disciplined trader with the stock trading and investing education and strategies you get from this website. Please note that I DO NOT give tips or advisory services by SMS, Email, or WhatsApp or any other form of social media. I strictly adhere to laws of my country. I only offer education on finance, investments on stock markets in the best possible way as much as I can through this website. Still, you must consult an authorized advisor or do thorough research before investing in any stock or derivative before trading any strategy given in this website. I am not responsible for any investment decision you take after reading any article given in this website. Knowledge is the only way to get success in stock markets. I try my best to give stock market investing and trading knowledge through the articles posted in this website. Thanks for visiting my website.